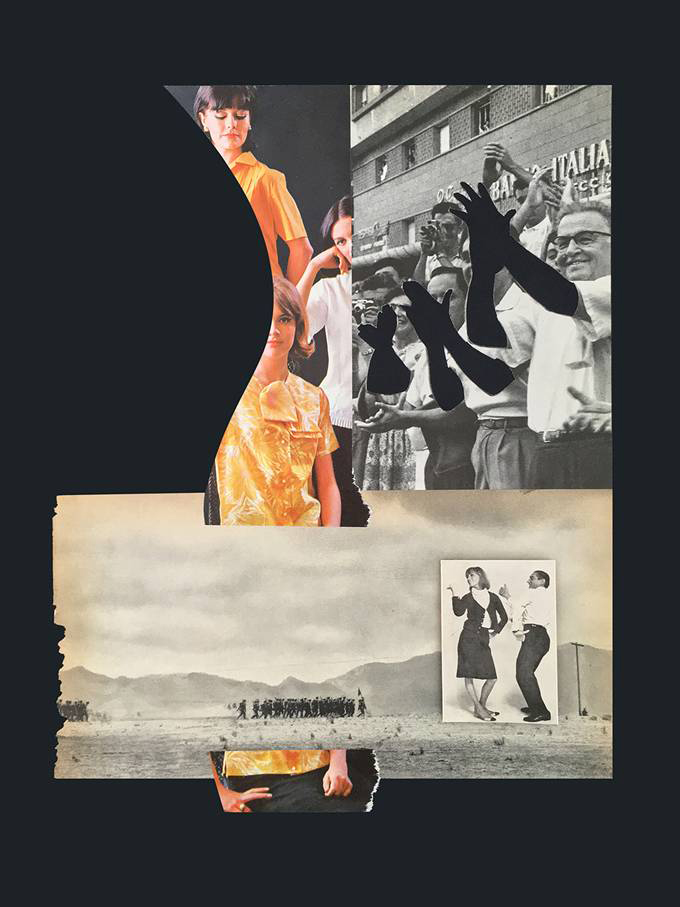 ART ON VIEW
"¡Pero Primero Bailamos!"
Stephen Tierney at Convivio Oaxaca
1-30 September 2017
"¡Pero Primero Bailamos!…Guía para ignorar el fin del mundo" (But first let's dance…a guide for ignoring the end of the world) is an exhibition of 12 mixed media works on paper, as well as one large-scale installation piece, by Australian collagist Stephen Tierney.
As with his previous exhibitions, a satirical sense of humour and critique of social behaviour underline the work, which sets out to reveal the dark side of ignorance and our innate ability to carry on with daily life, even when it seems to be crumbling around us. Images of beautiful women, couples dancing and people celebrating life are assembled beside children carrying guns and soldiers marching into war.
Created in Oaxaca, where Tierney is currently based, "¡Pero Primero Bailamos!" is presented the artist's permanent studio space. Tierney first arrived in Oaxaca in 2013 and has spent the last four years collaborating on various creative projects in Mexico and internationally. He has exhibited in solo and group exhibitions in the USA, Mexico, Cambodia, the Netherlands, Japan and Australia since 2003.
(adapted from the artist's press materials)
---
INFORMATION
Convivio Oaxaca
Avenida Benito Juarez 805
Ruta Independencia, Centro
68000 Oaxaca, Oaxaca, Mexico
+52 951 319 9438
Hours:
Monday-Friday, 9AM-8PM
Saturday, 9AM-2PM
Image:
untitled work by Stephen Tierney from "¡Pero Primero Bailamos!"