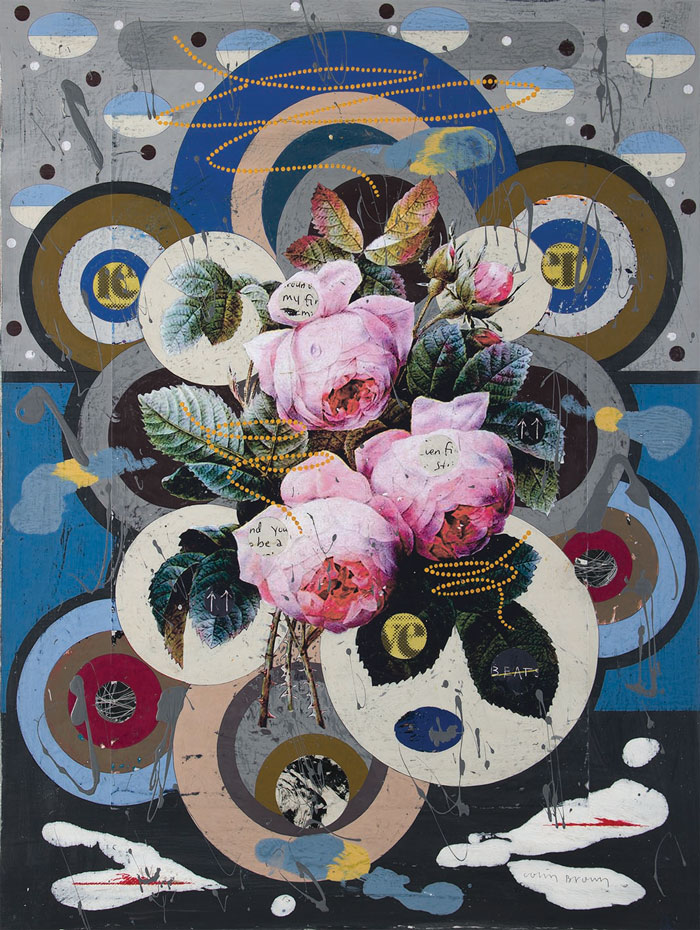 COLLAGE ON VIEW
Colin Brown: Primavera
at The Scottish Gallery in Edinburgh, Scotland, United Kingdom
31 March-30 April 2022
Colin Brown's collection of collages, "Primavera", is made from a range of materials including acrylic and oil paints, collage, glazes and varnishes. The paintings employ a variety of mixed media to explore human histories, random and specific mark making, urban imagery and a mix of personal hand writing and printed script.
Colin Brown is a mixed media artist and painter based in the North East of Scotland. "Primavera" pays homage to the 18th century Belgian flower painter Pierre-Joseph Redouté. Taking a Redouté image as the starting point, Brown alters, paints over and adds collage elements to produce a contemporary response to Redouté's work.
Colin Brown says about this work, "For me the essence of these new works is the setting up of a direct conversation with an artist from a different age. A single Redouté flower is the basis of each composition. I then introduce a range of modern day elements including repeated circular forms, fragments of text, dot patterns and paint splashes. Traces of humankind float through these images of nature."
Georgina Coburn reviewed Brown's Redouté works in Kolaj 35.
(text adapted from the gallery's press materials)
---
INFORMATION
The Scottish Gallery
16 Dundas Street
Edinburgh, Scotland EH3 6HZ United Kingdom
+44 131 558 1200
Hours:
Tuesday-Friday, 11AM-6PM
Saturday, 11AM-2PM