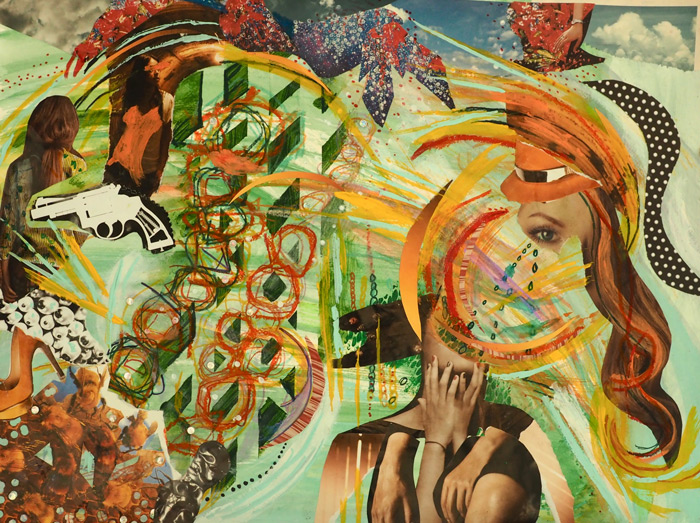 COLLAGE ON VIEW
Quebec Collage
at BRiX in Montreal, Quebec, Canada
17 October 2019-3 January 2020
Quebec Collage, a community of artists, presents a selection of analog collage merging pure pieces of paper collage and mixed media. These original works contain origami assembly, mosaics, the reorganization of pieces of original drawings, and compositions of unusual various materials such as wood, recycled paintings and even Pop Tarts.
Created in May 2018, Quebec Collage is an initiative to promote collage in Quebec through web diffusion, local and some international open calls, interviews, workshops, exhibitions and opportunities for creators to get together and collaborate.
The artists featured in this exhibition are professional collagists from Quebec, alongside a few newcomers in the collage world who were initiated during a collage workshop hosted by Virginie Maltais, Quebec Collage founder and artist, including Jesse Bouffard, Stéphanie Filion, Mara Laika, Patricia Doucet, Karine Demers, Camille Nepveu, Francois-Xavier Vigneault-Marcil, Alain Lapierre, and Frédérick Ouellet.
There will be a Holiday Market at BRiX on Sunday, 15 December from 11AM-4PM where members of Quebec Collage will be selling some of their art.
(text adapted from the curator's press materials)
---
INFORMATION
BRiX
1090 de Bleury
Montreal, Quebec H2Z 0B7 Canada
(514) 800-2558
Hours:
Holiday Market, Sunday 15 December, 11AM-4PM
and by appointment only on these days and times:
Wednesday, 9AM-5PM
Thursday-Friday, Noon-7PM
Saturday-Sunday, Noon-5PM
Email Cynthia to schedule a visit