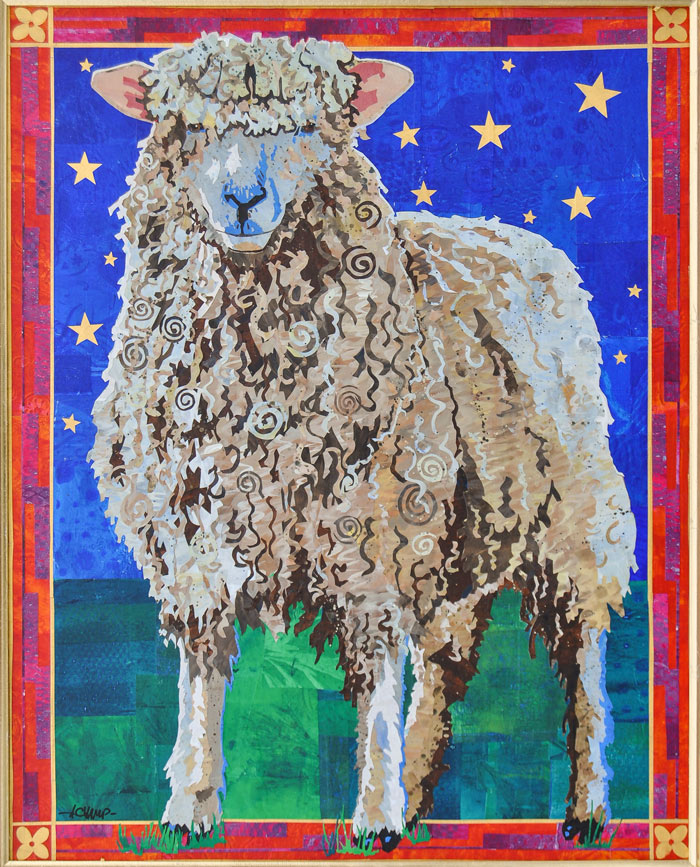 COLLAGE ON VIEW
"Rare Beasts": Alyson Champ
at Alfred Langevin Cultural & Community Hall
in Huntingdon, Quebec, Canada
4-29 April 2018
"Rare Beasts: a bestiary of rare and endangered farm animals", presented in collaboration with the Quebec Council for Arts and Letters (CALQ) and the Haut-Saint-Laurent MRC, offers a series of twenty works inspired by illuminated medieval manuscripts representing twenty heritage farm animals in danger of disappearing. "When you think about endangered animals, snow leopards or the exotic birds come to mind. We do not imagine that this status could apply to farm animals. The aim of this exhibition is to provoke a debate about the consequences of the disappearance of these breeds which form our agricultural heritage," says artist Alyson Champ.
Alyson Champ, a resident of St. Chrysostome, Quebec, is a collage artist who approaches her medium from the point of view of a painter, which was her original discipline. Rather than using readymade or found papers, the artist's unusual method of making collages involves creating her palette of colours by hand painting paper, and gelatin plate monotype printmaking.
Alyson Champ studied drawing and painting at Vanier College, The Saidye Bronfman School of Fine Arts, and Concordia University. Her work has been exhibited throughout the US and Canada by such organizations as the National Collage Society and the Nonesuch Art of Paper Awards, and at venues such as l'Artothèque Galerie d'art Stewart Hall in Pointe-Claire, Quebec, and the Marietta-Cobb Museum of Art in Marietta, Georgia, USA.
(adapted from the artist's press materials)
---
INFORMATION
Alfred Langevin Cultural & Community Hall
10 King Street
Huntingdon, Quebec J0S 1H0 Canada
(450) 264-5411
Hours:
Saturday-Sunday, 1-4PM
other days by appointment
Image:
Cotswold Sheep
by Alyson Champ
Image courtesy of the artist