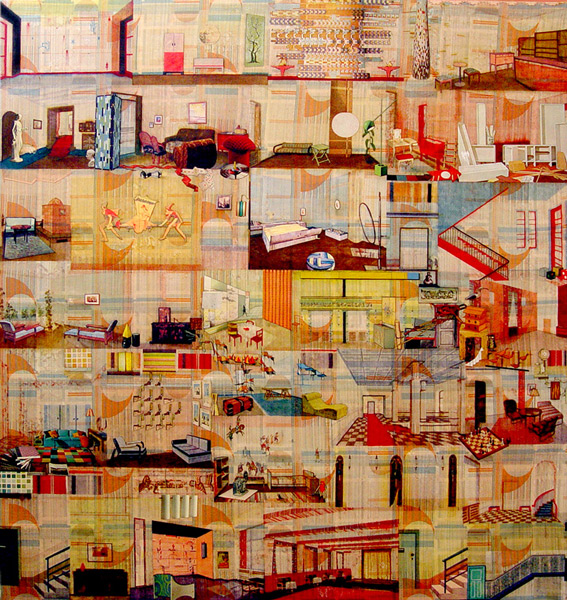 10 January-9 February 2013
Raven Schlossberg crates "collage landscapes", "floating worlds" hovering between multiple realities. By employing superimposed, or ghost images, Schlossberg conjures a double-exposure in which events real and invented write themselves onto shifting planes. By exploring this spatial duality she gathers the disparate threads of ancient tales to tell stories of love, loss, discovery and devotion.
The collage paintings in this exhibition draw heavily from the artist's experiences traveling and exhibiting her work across Europe over the past several years, losing herself intentionally and unintentionally. Schlossberg conjures the memory of a Roman-built amphitheater in far Western Germany where she could swear she heard the echoed roar of caged lions. Down from the ruin, along the banks of the Mosel River, was revealed the faint glint of Roman coins, once the epitome of power, now lost to nature and time. In Rome, a random turn down a narrow alleyway eventually opened onto an imposing pair of intricately wrought iron gates, behind which stood a tomb composed entirely of human skulls. This hidden, sacred place built atop strata upon strata of buried treasure and refuse. Schlossberg's works are composed from and built upon this concept of cultural accretion. Her landscapes are terraced with layers of paper collage, painted, printed, drawn and superimposed images that create a kind of historical time line punctuated by characters or travelers acting out scenarios that verge on theater.
(from the gallery's press materials)
---
INFORMATION
Pavel Zoubok Gallery
533 West 23rd Street
New York, New York 10011
USA
Image:
Anonymous Rooms With Automatons
by Raven Schlossberg
36″x34″
acrylic and ink on fabric with paper collage on birch panel
2012
Image courtesy of Pavel Zoubok Gallery