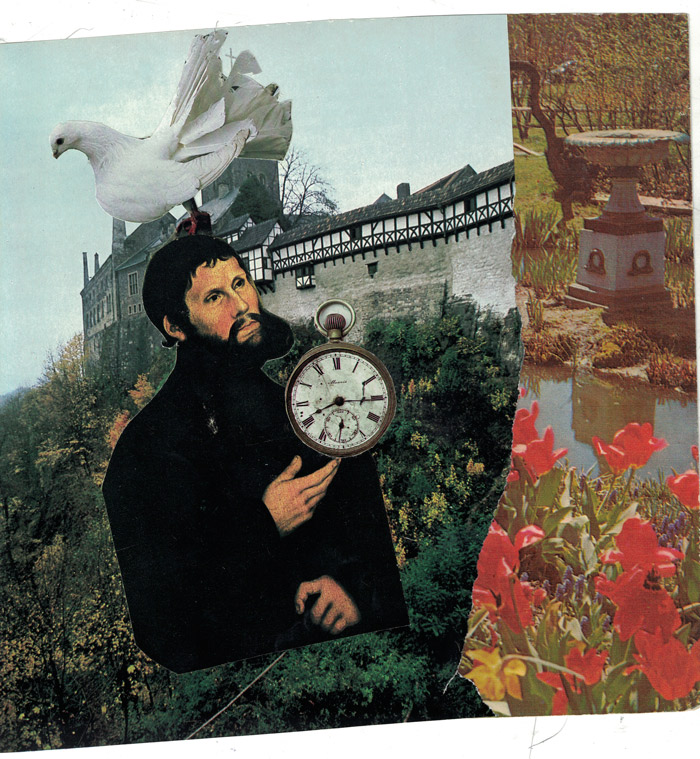 COLLAGE ON VIEW
Retailles: Khouni Island & Nicolas Brassard
at Gallery Parfois in Montreal, Quebec, Canada
20-22 September 2019
"Retailles" (which can be translated as scraps, clippings or cuttings) is a collection of new work by Montreal collage artists Khouni Island and Nicolas Brassard. Opening reception: Friday, 20 September, 6-10PM with live music by Bucket Hat Pap starting at 9PM.
"Retailles" is the result of a fortuitous encounter in a picture framing shop, when two local artists bonded over their mutual reverence for the medium of collage, with its free and intuitive approach to the arrangement of forms and its characteristic smell of freshly cut paper. Though each artist clearly inhabits a distinct visual style as well as his own idiosyncratic approach to the form, their creative visions overlap in a common desire to evoke a felt impact through strong imagery and in their shared penchant for minimalism.
Khouni Island is the name under which Vincent Khouni, a multidisciplinary artist based in Montreal, has been practicing the art of collage since 2009. drawing on popular culture and historical landmarks of the twentieth century, his work is imbued with retro influences, cinematic references, dark humour as well as a curious mix of glamour and kitsch. With the aim of deconstructing cultural signs, codes and symbols, he incorporates album covers, old hockey cards, advertisements, posters, magazines, and mewspapers to create vivid scenes in a rock n roll world. The artist is an active member of the local music scene (Orchids, Double Date With Death).

After several underground exhibitions in Montreal, Khouni Island exhibited in Europe. During the summer of 2017, his collages were showcased in France at Le Pop-up du Label de Paris. He was selected to participate to MAOW, an exhibition in Brussels in June 2019 that brought together nearly fifty international artists. Over the past ten years, Khouni Island's work has been featured in Luxuriant Magazine, Aye Mag, Supplementaire, Retard Magazine, Fricote Magazine, Garagisme, and Distorsion Psych Fest, as well as Collage Artist Trading Cards, Pack 5.
Nicolas Brassard is a Montreal-based collage artist, photographer and printmaker whose practice is deeply influenced by both his involvement in the world of book publishing and his job as a picture framer. In his collages he uses old books, disaggregated bindings, yellowed pages and faded halftone photos to evoke specific moods and to express his bibliophilic nature. Brassard believes there exists a symbiotic relationship between art and its frame and he builds all his frames with great care. "Retailles" is his his first exhibition.
(adapted from the artists' press materials)
INFORMATION
Gallery Parfois
4064 Saint Laurent Boulevard
Montreal, Quebec H2W 1Y8
(438) 989-1414
Hours for the exhibition:
Friday, 6-10PM
Saturday-Sunday, 10AM-5PM