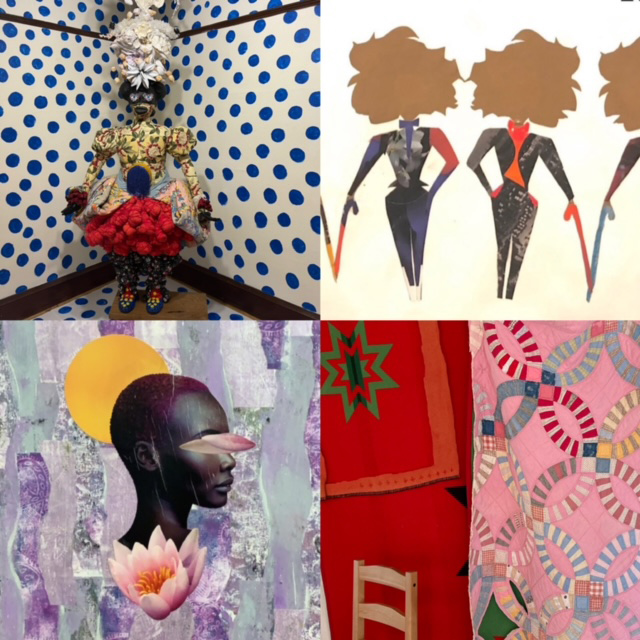 COLLAGE ON VIEW
Seattle Deconstructed Art Fair
at Wa Na Wari: Black Art Center in Seattle, Washington, USA
6 August-31 December 2021
The Seattle Deconstructed Art Fair at Wa Na Wari features four exhibitions: Adetola Abatan's "Tell Our Stories"; selected artworks by Natalie Ball; Amber Flame's "dandElion"; and Vanessa German's "W E". The exhibitions were curated by Wa Na Wari's Co-founder and Curator Elisheba Johnson.
Adetola Abatan is a collage artist, storyteller, dancer, drummer, and recent arrival to Seattle. Her artwork was recently featured in the 2021 ACES conference by Shunpike as well as the Collage Artists of America's "Parallel Dimensions" exhibit, and she recently completed an artist residency at Wa Na Wari. She holds a PhD in Chemical Engineering and is currently earning an MFA in Arts Leadership at Seattle University. Her arts leadership plans include creating and curating the stories of Africans in the Diaspora.
Natalie Ball was born and raised in Portland, Oregon. She holds a Bachelor's degree in Ethnic Studies and Art from the University of Oregon; a Master's degree focused on Indigenous contemporary art from Massey University; and an MFA in Painting & Printmaking from the Yale University School of Art. Her work has been shown nationally and internationally in British Columbia, California, France, New York, Oregon, and Washington. She is the recipient of the 2021 Native Arts and Cultures Foundation's Oregon Native Arts Fellowship, 2020 Bonnie Bronson Award, 2020 Joan Mitchell Painters & Sculptors Grant, 2019 Pollock-Krasner Foundation Grant, and the 2018 Betty Bowen Award from the Seattle Art Museum.
Born in Milwaukee, Wisconsin, and based in Pittsburgh, Pennsylvania, Vanessa German is a self-taught citizen artist who centers the exploration of human technologies. These technologies are a vital force in her artistic work that reckons and contends with the historical and ongoing dimensional catastrophes of structural racism, white supremacy, heteropatriarchy, resource extraction, and misogynoir. German creates sculpture, performance, communal rituals, immersive installation and photographic works that repair and reshape disrupted human systems, spaces, and connections. German has received numerous prestigeous awards and her work is held in private and public collections including the Nelson-Atkins Museum of Art, the West Virginia University Museum, Everson Museum of Art, Figge Art Museum, Flint Institute of Arts, Spelman College Museum of Fine Art, Crystal Bridges Museum of American Art, David C. Driskell Center, Snite Museum of Art, Wadsworth Atheneum Museum of Art and Wellin Museum of Art at Hamilton College.
Amber Flame is an interdisciplinary artist, writer, activist and educator. She is Program Director for Hedgebrook, a residency for women-identified writers, and continues to serve as an activist and educator while working on a third poetry collection, remounting her full-length play, developing a few nonfiction anthologies, and raising her child. She is a queer Black dandy mama who falls hard for a jumpsuit and some fresh kicks. Her writing has appeared in numerous publicatiotns and she was a Pushcart Prize nominee in 2016 and 2017. Her first full-length poetry collection, Ordinary Cruelty, was published in 2017 through Write Bloody Press. Her first solo exhibition, "::intrigue:: 8", a multimedia installation that featured musical compositions inspired by the text of eight poets with original video content as well as text from the original poems, through Jack Straw Production's Artist Support and New Media Gallery fellowships. Hugo House's 2017-2019 Writer-in-Residence for Poetry, Flame's second book of poetry, titled apocrifa, is forthcoming from Red Hen Press.
(text adapted from the art center's press materials)
---
INFORMATION
Wa Na Wari: Black Art Center
911 24th Avenue
Seattle, Washington 98122 USA
(206) 485-7563
Hours:
Friday, 5-8PM
Saturday, 11AM-5PM
Sunday, 10AM-5PM