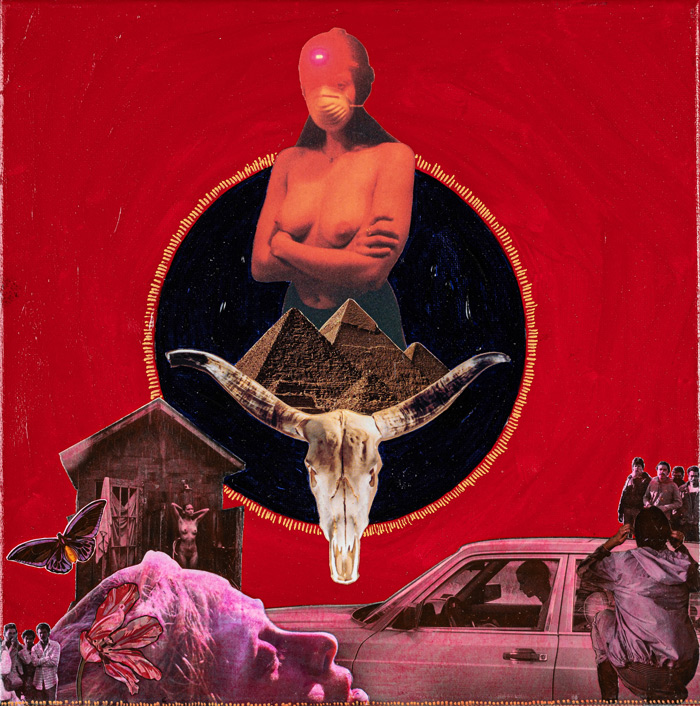 COLLAGE ON VIEW
Sisters of the Dune
at Bread & Butter in St. Johnsbury, Vermont, USA
6 December 2019-26 February 2020
An exhibition of 24 collage works by Vermont artist Vanessa Compton that investigates America's brutal settler-colonial history. Using a combination of hand-cut paper, acrylic, ink, spray paint and oil, Compton's work is a kaleidoscopic framing of the American landscape that is set in the past, present and future. The heartbreakingly beautiful mess of cultures, spiritualities, shared histories and epic landscapes are at the center of Compton's work.
Weary of technology and specifically drawn to the act of wandering the American West, where time is on the loose, the artist is reminded of her European ancestors' seemingly endless penchant for violence and obsessions of discovery. Her work has a specific lens on the First Nations people of North America but follows a trail of broken promises the world over. Compton says "The bullied and persecuted come too and I find pain and beauty in this quilt of many colors."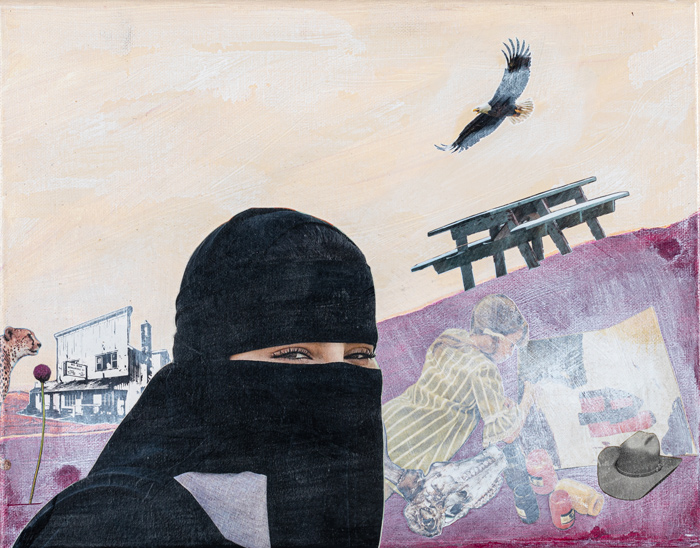 This exhibition is a collaboration between Bread & Butter and the Northeast Kingdom Artisan's Guild to help bring more art into the lives of those in Vermont's rural Northeast Kingdom.
Drawn to rural environments where landscapes are vast and people are few, Vanessa grew up in northern Vermont where her singer-songwriter father and artist mother inspired her to create from an early age. She devoted her school years to theater, sculpture, cello and world music. Vanessa has lived in Dakar, Senegal studying the kora and its influence on hip hop music, and Kumasi, Ghana learning palm wine guitar with living master Koo Nimo. After falling in love with rock climbing, she moved to Colorado and graduated with a Bachelor of Fine Arts from CU-Boulder. Her sculptures and collages have been exhibited in galleries across the US and appear in private collections around the world. She has been awarded fellowships from The Wallace Stegner House, Vermont Studio Center, Hubbell Trading Post & National Historic Site, The Brush Creek Foundation, and Jentel Arts. Currently, Vanessa maintains a semi-nomadic lifestyle, creating art throughout the American West and the Northeast Kingdom of Vermont. To view more of Compton's work please visit www.krinshawstudios.com and follow @krinshawstudios.
(text adapted from the curator's press materials)
---
INFORMATION
Bread & Butter
139 Eastern Avenue
St. Johnsbury, Vermont 05819 USA
(802) 424-1590
Hours:
Monday-Wednesday, 7AM-4PM
Thursday-Friday, 7AM-6PM
Saturday, 7AM-2PM