COLLAGE ON VIEW
Cecil Touchon: Songs of the Ineffable
at Nüart Gallery in Santa Fe, New Mexico
9-25 July 2021
"Songs of the Ineffable" is a solo exhibition of new works by Cecil Touchon. Touchon's art is created based on his understanding and inquiry about mark making, poetry, collage, painting, asemic writing and visual musicality. Through his artwork, Touchon's intention is to communicate an underlying harmony that continuously unfolds into the infinite recesses of the ineffable–the unspoken and the unspeakable.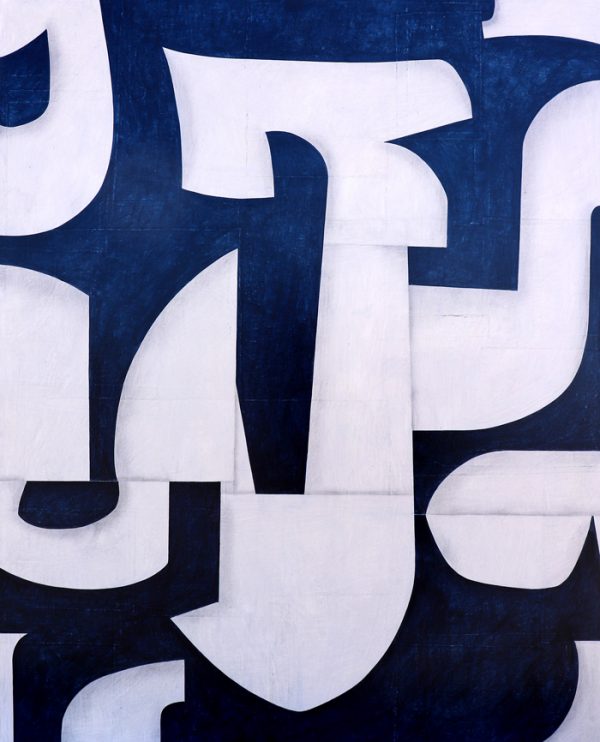 The new artwork in "Songs of the Ineffable" builds on Touchon's continued exploration of letters as carriers of sound and meaning. Touchon dissects letters to remove their original meanings, so that they exist in a state of silence in order to become carriers of purely visual rhythms and relationships of shifting positive and negative space.
Touchon's paintings use trompe l'oeil techniques to painstakingly create the illusion of large collage abstractions. They are characterized by warmly colored geometric shapes–overlapping rectangles and rounded wedges–that seem to revolve and recede into the background. The resulting works are a play of lightness and mass that are both visually striking and, because of the hints of letters, intellectually satisfying.
Cecil Touchon is a painter, performance artist, collector, draftsman, photographer, and curator. But it is through his collage work that he has made his most lasting mark. His collages are the seeds that grow into his other practices.
(text adapted from the gallery's press materials)
---
INFORMATION
Nüart Gallery
670 Canyon Road
Santa Fe, New Mexico 87501 USA
(505) 988-3888
Hours:
Daily, 10AM-5PM