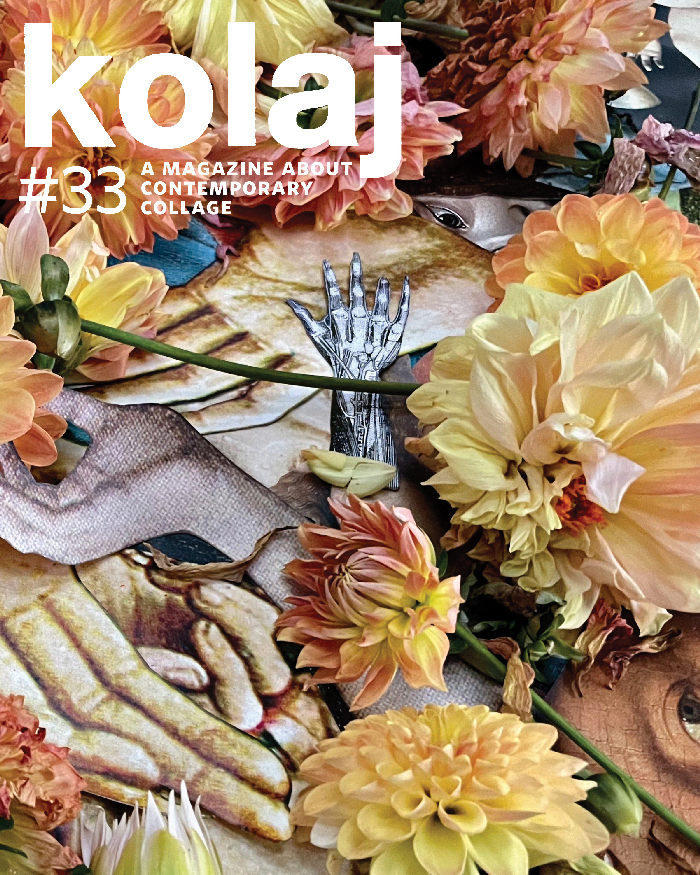 ABOUT THE ISSUE
Handling from "The Lives of Dahlias" series by Leslie Fry is on the cover. The blending of human, natural, and architectural motifs is a hallmark of Surrealism. Fry steps into this arena with a sword of feminist thinking and cuts through the dogma. Her work shows how Surrealism can reorient our thinking about nature. An article about her work appears in the issue.
In the issue editorial, Ric Kasini Kadour shares his thoughts on how we go about making a new normal in a post-pandemic world. 
In collage news, we report on festivals and events popping up around the world: Cutout Festival in Kyiv, Ukraine; Empty Columns at Birr Vintage Week in County Offaly, Ireland; and Kolaj LIVE Milwaukee.
Friedl Dicker-Brandeis (1898-1944), a Vienna-born, Jewish collagist was arrested in 1934 in Vienna after government agents searched her studio and found forged passports. Her original collages were probably destroyed during this search, but somehow the negatives of photographs of the works survived. In prison, she was brutally interrogated but remained silent under pressure. She was murdered in Auschwitz-Birkenau in 1944. Ginger Sedlarova profiles this astonishing woman. 
We remember Toronto-based Inuk artist Floyd Kuptana (1964-2021), whom Richard Mohr profiled in a previous issue. 
We review the collage book, GorMatt StrangePeak: Great Art Undone in the Happenstance Years, 2018-2020, and find that sometimes fiction holds a greater truth. 
The article "Call & Response" tells the story of Trish Crapo & Missy-Marie Montgomery, who have been exchanging collage and poetry, each reacting off the other. 
Katrina Slavik interviews Lesley Schiff, a New York City-based artist who has been making photocopy collage for four decades.
We share our interview with Ken Weichel where he talks about independent culture publishing in the seventies and eighties and how he built a community of collage artists and writers. 

ARTIST PORTFOLIOS
Rashad Ali Muhammad
Clinton, Maryland, USA
"At the core of my art practice, my mission is to empower and uplift the African diasporic identity. I want to reveal the power bestowed upon this group of people by their collective ancestors, in a way that negates contemporary social stereotypes." 
Michelle Concetta Parchini
Saudi Arabia
"The processing of trauma and reclaiming power speaks to society today as victims seek justice and empowerment against abuse and marginalization. The project is about moving beyond feeling like a victim and towards a sense of healing and survivorship."
Christian Wischnewski
Berlin, Germany
"At times I get the feeling that collaging is somewhat of a byproduct of my actual passion and that's collecting and curating materials. For me this is the most vital and most time-consuming aspect of the process." 
Celia Crane
Rochester, New York, USA
"Celia turned to collage as a method of inducing the hypnotic state she felt necessary to advance her writing work. The resulting analog collages reflect the artist's ongoing struggle to maintain equilibrium while living on the edge of society." 
Marlene Weisman
Brooklyn, New York, USA
"I joke that I am a one-woman group show. Like another of my many art muses, Bruce Conner, I do a lot of different series, lots of very different kinds of work. Collage on paper, sculptural assemblage pieces, Xerox transfer collage/drawings, Mail Art…small pieces, big pieces, wearable pieces, I keep evolving, reinventing and experimenting." 
Kolaj Magazine relies on our subscribers. Their support of this magazine keeps us going and makes it possible for us to investigate and document collage and to promote a deeper, more complex understanding of the medium and its role in art history and contemporary art.