Tell Me If You Find It: Dave Laro & John Joseph Hanright
8 July-13 August 2017
In this two-person exhibition, artists Dave Laro and John Joseph Hanright repurpose vintage ephemera and found objects to create pop-inspired works in varied media. Combining elements of collage, text, and oil painting, John Joseph Hanright mines original publications, advertisements, comics and Pop Art iconography to create densely layered assemblages, both in terms of content and imagery. Dave Laro's sculptural "pop constructions" give forgotten relics, thoughtfully plucked from flea markets and neglected attic corners, a second chance. Graphic patterns, bold colors, and clever compositions carry an immediate visual impact that lures viewers into the artists' work, but it is the elements of nostalgia and curious storytelling that persuade them to linger.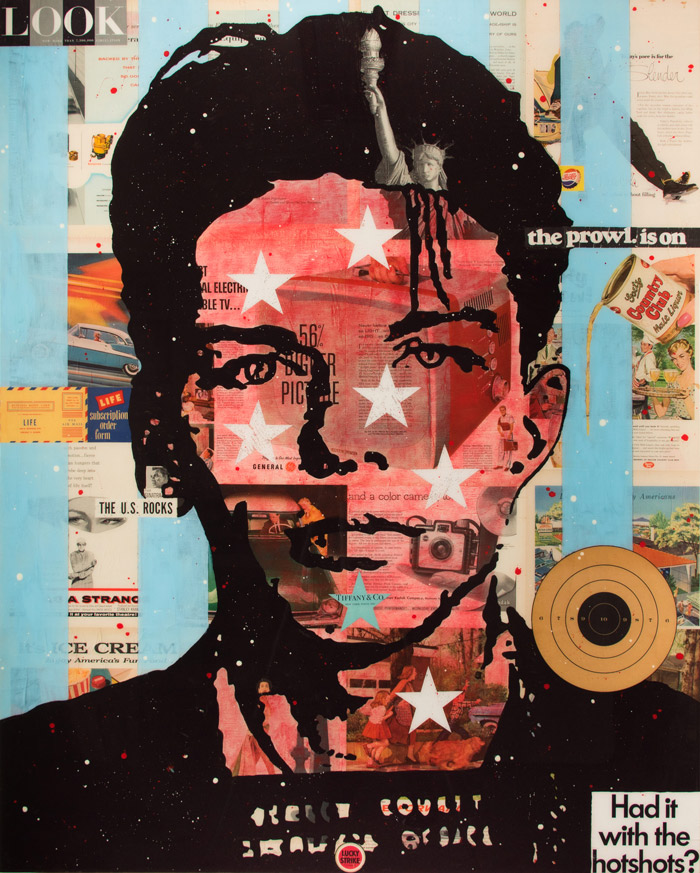 Removing items, images, and salvaged materials from their original contexts, both artists suggest new readings of these objects and challenge viewers to independently resolve intentional plot holes in the narrative. The artists may deliberately encourage certain associations with particular works, whether through politically suggestive titles or provocative imagery, but as the late sociologist John Berger wrote, "… the story's voice makes everything its own." Personal experience and opinion fundamentally colour one's reading of pieces like Hanright's America's First and Laro's Don't Ask, Don't Tell. And so, regardless of provenance and clues courtesy of the artist, viewers are called on to finish the story.
(text adapted from the gallery's press materials)
---
INFORMATION
West Branch Gallery & Sculpture Park
17 Towne Farm Lane
Stowe, Vermont 05672 USA
(802) 253-8943
Hours:
Tuesday-Sunday, 10AM-5PM
Image: (top)
Altruistic
by Dave Laro
16″x16″
Pop construction
2016
Image: (centre)
"Had It With The Hotshots?"
by John Joseph Hanright,
50″x40″
ephemera, acrylic, oil, resin on panel
2017