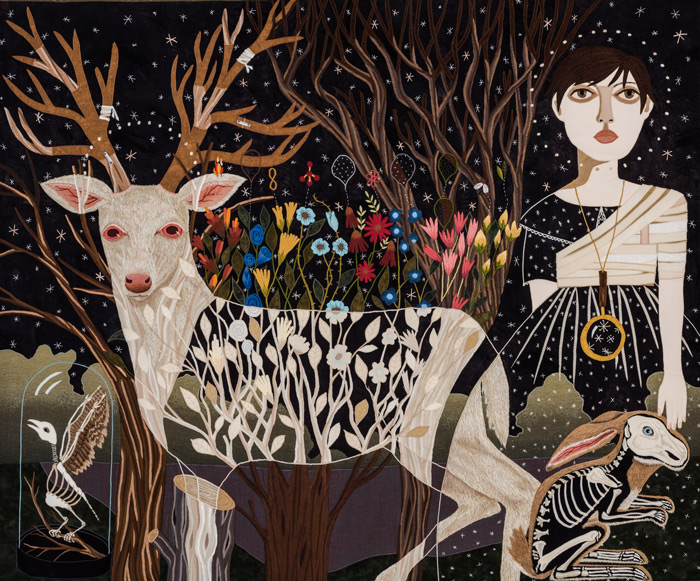 "The Big Hope Show"
3 October 2015-4 September 2016
"The Big Hope Show" opened on the eve of the American Visionary Art Museum (AVAM)'s 20th anniversary celebration and is an original and unabashedly idealistic art exhibition that champions the radiant and transformative power of hope. Over twenty-five visionary artists, among them many "super survivors" of enormous personal traumas, exhibit soulful creations reflecting their personal transcendence, and, often, a heightened or newfound creativity and sense of humour.
In playful tribute to this national museum's much-in-need-of-hope, beloved hometown of Baltimore City, Maryland, Bobby Adams (an exuberant outsider artist, dog lover and Christmas addict) share never-before-seen photos, scrapbooks and assemblages. Adams documents his strange, mid-century Baltimore upbringing as well as his multi-decade immersion in filmmaker John Waters' band of inclusive renegades, the "Dreamlanders".
Inspired by the great Emily Dickinson's poetic definition of hope: "Hope is the thing with feathers/That perches in the soul/And sings the tune without the words/And never stops/at all," three artists, one a former Penthouse Pet, coloured pencil master and wise woman, Margaret Munz-Losch displays her lifesized, mind-boggling, intricate work Early Bird; cancer survivor, artist and performer Chris Roberts-Antieau shares her most elaborately embroidered fabric story pieces to date; and Nancy Josephson takes center stage with her 10-ft tall, beaded Bird Goddess sculpture.
"The Big Hope Show"'s curator is the American Visionary Art Museum's founder and director, Rebecca Alban Hoffberger. Hoffberger remarks, "For me, hope is the acknowledgement that you are in a narrow space but you have had a glimpse, some flutter, of the possibility to transcend negative confinement and arrive at some more expansive, better, state of being. Hope is not simply wishful thinking, but rather a capacity to hold to the belief that change for the better can and will come, even when you can't imagine what specific form that change will take."
Exhibition artists include Anonymous Artists, Bobby Adams, Bill Allen, Sermet Aslan, Philip Carey, Wayne Coyne, Candy Cummings, Deepak Chowdhury, Arthur Hammer, John Root Hopkins, Nancy Josephson, Laurie Lipton, Margaret Munz-Losch, Craig Norton, Dan Patrell, Yanni Posnakoff, Lisa Revson, Chris Roberts-Antieau, Romaine Samworth, Noah Scialom, Isadore H. Shore, Raekan Smyth, Jackie Sumell, Nada Stone, Frank Warren (Postsecret), and George Williams.
(text adapted from the gallery's press materials)
---
INFORMATION
American Visionary Art Museum (AVAM)
800 Key Highway
Baltimore, Maryland 21230 USA
(410) 244-1900
Hours:
Tuesday-Sunday, 10AM-6PM
Image:
Albino
by Chris Roberts-Antieau
fabric appliqué and thread painting
2015
Courtesy of the artist
Photography by Dan Myers