COLLAGE ON VIEW
The Fragmented Figure
at Transmitter in Brooklyn, New York, USA
15 May-27 June 2021
"The Fragmented Figure" features new collages by Najeebah Al-Ghadban, Trevor Davis, and James Gallagher.
Homebound and removed from the regular activities of daily life in the city, these artists all came up with new working methods and explored new facets of their collage practice. By focusing on the body, "The Fragmented Figure" highlights how crucial and important the care of our bodies has become throughout the pandemic. The emotionally charged works feature appendages and the human figure in new ways, raw and vulnerable, unable to escape the pain and suffering we have all endured over the course of the past year.
Najeebah Al-Ghadban's collages mix paper and assemblage, including thread, flowers, and physical objects, to explore the human psyche. Her recent work is a study of isolation and separation. Fragmented, and mostly female, the solitary figures evoke a range of states, from visceral emotions to more introspective and sometimes peaceful expressions that mark the passage of time.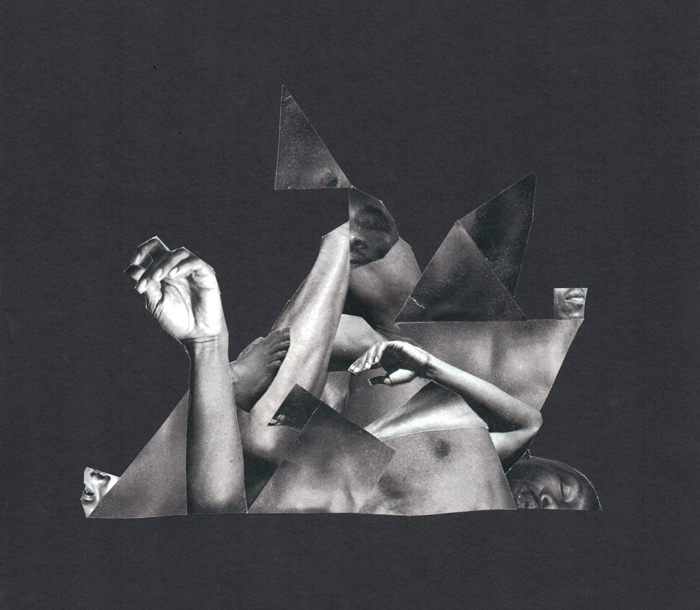 Trevor Davis's collages are social and political commentaries on the Black American experience through the lens of personal history, memory, family, and culture. While visiting his family in his hometown—he sought refuge from the pandemic and the George Floyd protests—it was the first time he was able to fully recharge and to create collages reflecting this chaotic time. His "Disembodied" series came out of his visit home and highlights the Black male body, disfigured, and multi-dimensional, in order to expose the tumultuous nature of Black American life in the United States.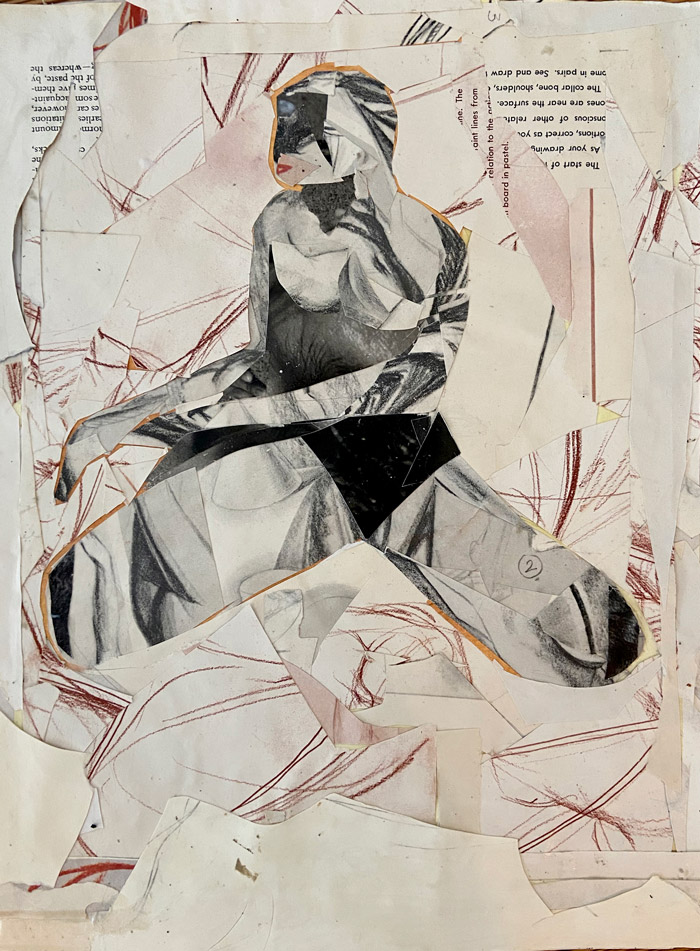 Early in the pandemic, James Gallagher attended his first virtual life-drawing session. Starting out as an opportunity to practice cutting the figure, he soon found capturing the fast-paced poses to be a deeply therapeutic experience. Gallagher uses whatever materials are available at his fingertips and works quickly, exploring the human form with this newfound freedom. Long invested in examining the body, these new works show the human form in unique poses, layered and dynamic, and full of life.
(text adapted from the gallery's press materials)
---
INFORMATION
Transmitter
Suite 2A
1329 Willoughby Avenue
Brooklyn, New York 11237
EMAIL
Hours:
Saturday-Sunday, 3-6PM and by appointment.