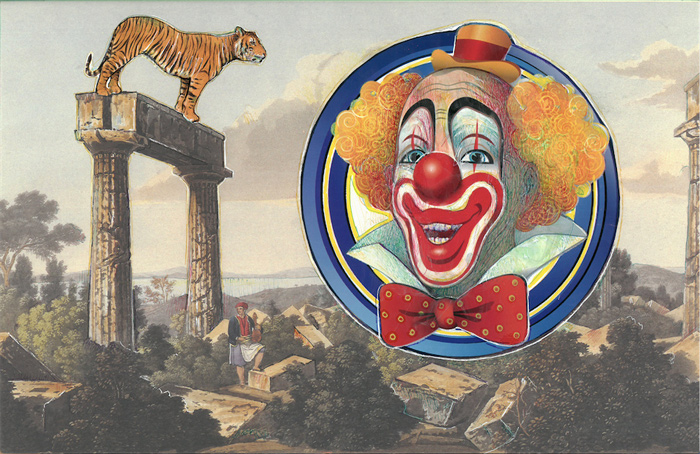 Konstantinos Patsios: "The Lost Parthenon"
1-23 April 2016
In Konstantinos Patsios' work, childishness goes hand in hand with violence, while sarcasm implies sensitivity. Various heterogeneous symbols converse with each other, adding meaning to materials embedded in rich layers. The artist depicts a world that is full of contradictions and surprises. Painted-over collages and ready-made objects are combined with the unexpected use of seemingly incompatible elements and symbols, resulting in the reveal of ultimately complete forms.
In the series "The Lost Parthenon", Patsios presents artworks which can be distinguished by a tendency to deconstruct history, through a palimpsest of contrasting images. In an era of religious fundamentalism and polarization, the Parthenon is identified with the lost innocence of Western civilization; in the context of aesthetics, the Parthenon expresses the timeless necessity for a transition from theocracy to anthropocentrism. Ancient temples and piers, human parts, harlequins and cartoon characters, all construct a hybrid world both sinister and idyllic, a new Arcadia.
The viewer, however, is not called to decrypt those symbols, but to enter the new created environment, to dive in the artistic simulation of the world as it is experienced by Patsios: ominous, yet romantic.
Born in Athens, Konstantinos Patsios completed his studies at the Athens School of Fine Arts in 2007. He also completed a course at the Rhode Island School of Design. Since then he has had six solo shows and has participated in many group exhibitions both in Greece and abroad.
"The Lost Parthenon" was curated by Leonie Gavrias.
(adapted from the artist's press materials)
---
INFORMATION
Melkart Gallery
3, rue Blondel
75003 Paris, France
+33 (0)1 40 09 07 42
Hours:
Tuesday-Saturday, 2-7PM
Image:
Ruins of a New Era
by Konstantinos Patsios
mixed media
Courtesy of the artist