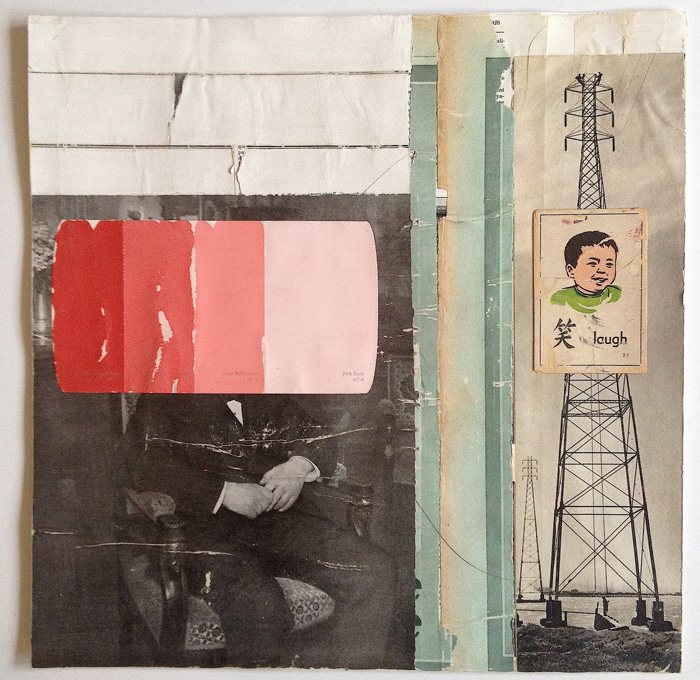 Matthew Rose: "(Theological) Jambles"
4-20 December 2015
"(Theological) Jambles" is a 15-piece suite of collage-on-paper works by American artist Matthew Rose that concerns the notion of technology as spiritual deliverance. They are on view for the first time at The Observer Building in Hastings, England for the "1067 mind invasion", a major British survey of contemporary collage.
"The works," says Rose, "roam the early 20th century for scientific achievements–airplanes, arctic exploration, military campaigns–and marry them with home technology adverts, colour paint grids, printed texts, vintage architectural photo-graphs and mysterious and confounding images.
"The '(Theological) Jambles' collages load up the square with an edge-to-edge telescopic survey of the last century. Why, then, (Theological)? Because in our world technology (and rationality) began to supplant religion, or at least compete with it, at the onset of the 20th century. The works also discourse on a manner of working in layers–think Johns, Rauschenberg, Ray Johnson–serving as an analogue essay on the rise of our current digital dreamscape. Each work measures 15 x 15 inches square, is signed and dated 2015, and rubber-stamped twice on the back."
Born in 1959 in New York, Matthew Rose earned his BA from Brown University in Linguistics/Semiotics. A pair of books and complementary exhibitions are currently in the works: Suicide Specials and Weekend Plans. From time to time, the artist will also amuse people with his mandolin compositions.
Learn more about Matthew Rose at his website HERE, or on Instagram @mistahcoughdrop.
(text adapted from the artist's press materials)
---
INFORMATION
The Observer Building
53 Cambridge Road
Hastings, East Sussex TN34 1DT United Kingdom
Hours:
Tuesday-Sunday, 11AM-10PM
MAP | WEBSITE | FACEBOOK EVENT
Image:
(Theological) Jambles (1 of 15)
by Matthew Rose
15″x15″
collage on paper
2015
Courtesy of the artist