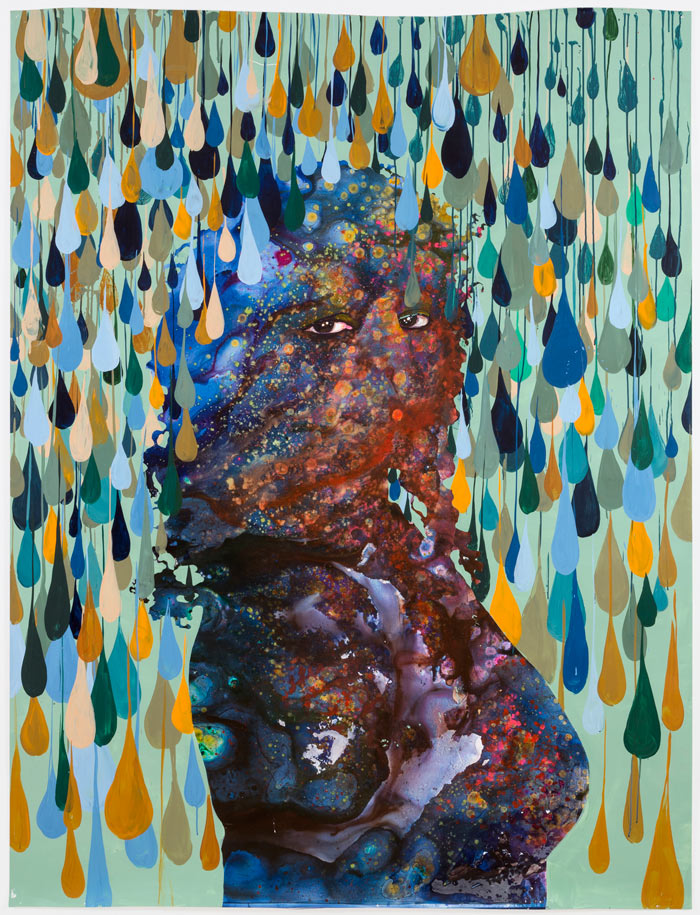 COLLAGE ON VIEW
To See Beyond: Firelei Baez
at Contemporary Arts Center in Cincinnati, Ohio, USA
18 May-19 August 2018
"There's a fluidity of colour, of race, in the Caribbean…In America, you're black." Caribbean-born, Brooklyn-based artist Firelei Báez navigates a broad spectrum of colour, race and identity in her first Ohio exhibition. Born in the Dominican Republic to Dominican and Haitian parents, she immigrated to the United States in 1990 and was increasingly troubled by the restraints of her ethnicity wedged within confining American designations. To re-animate the beautiful complexity of being Afro-Latina and invite a greater congregation of cultural traditions, Báez creates intricate paintings, murals, sculpture and works on paper that brim with vibrant patterns and political agency.
Aiming to re-open perceptions with enchanted worlds of colorful avatars, she explains, "I try to disrupt the current system of social categorization through the creation of characters that refuse definition. As more people become multiracial, skin tone is no longer a sufficient signifier." With a self-proclaimed interest in the craft and form traditionally thought of as "women's work" (i.e., textiles, jewelry, ceramics), she channels the history of ornamentation and fashion as acts of resistance among women of the African Diaspora. In concert with added dimensions of anthropology, folklore, science fiction and mythology, Báez's art offers a fantastical vision within increasingly diverse societies. This exhibition will marry important past works with a number of recent works and a kaleidoscopic new wall painting.
At Kolaj Fest New Orleans, Mariah Morales will present a talk on Firelei Báez, "Road Map of Symbols". Learn more HERE.
(adapted from the gallery's press materials)
---
INFORMATION
Contemporary Arts Center
44 East 6th Street
Cincinnati, Ohio 45202 USA
(513) 345-8400
Hours:
Wednesday-Friday, 10AM-9PM
Saturday-Monday, 10AM-4PM
Image:
Collector of Shouts (April 21)
by Firelei Báez
79″x60″
acrylic on Yupo paper
2016
Courtesy of Gallery Wendi Norris, San Francisco, and Contemporary Arts Center, Cincinnati