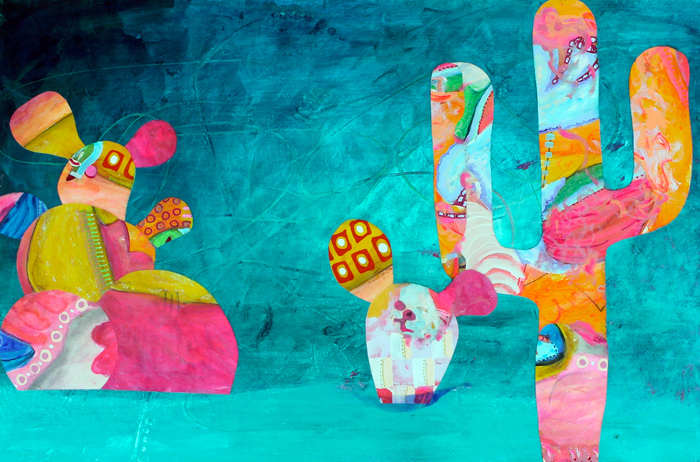 COLLAGE ON VIEW
Unfamiliar Ground
at the Pompano Beach Cultural Center in Pompano Beach, Florida, USA
9 October-26 December 2020
COLLAGE ON VIEW
Missy Pierce uses humor to question the human experience of hybrid identity and the cultural preoccupation with identity and borders.
Curator Dr. Juliana Forero has placed the artist's work throughout the vast Cultural Center building, along winding hallways reminiscent of a migrants' path, and up and down both floors. The exhibition brings together art from the view of a world citizen. It speaks from the artist's own hybrid identity and her intimate connection to life lived on three different continents as well as half a dozen of the United States, before settling in Florida.
Although Pierce's artwork is layered with meaning, it remains approachable. Rather than didactic moralizing, Pierce uses absurdist imagery and humor to raise some very serious questions. Pierce, born in 1961, lives in Boca Raton, Florida. She grew up in a small desert town in Southern Nevada, but spent summers in the tropics of the Caribbean Sea, her mother's homeland. Pierce explains, "I grew up under the influence of starkly different worlds–Anglo-American Mormon culture and Colombian high society. Plus, I was raised closely connected to my cousins from Italy, Spain, Greece and Iran, so much so that we used to call our holiday gatherings a meeting of the United Nations. As a result, I have always been fascinated by the contrast in life between different cultures. My perspective is that we are all about finding home and connections in a time when belonging and isolation are major issues."
Because of this worldly vantage point, Pierce says she is intrigued by concepts of provincialism, especially in light of current trends toward nationalism. She addresses this complex issue in the absurdist style adopted by the Dada artists of the early 20th century. She is attracted to this style of art because it uses humor and lightheartedness to make a point rather than moralizing or other didactic measures.
(text adapted from the artist's press materials)
---
INFORMATION
Pompano Beach Cultural Center
50 West Atlantic Boulevard
Pompano Beach, Florida 33060 USA
(945) 545-7800
Hours:
Monday-Friday, 10AM-6PM
Saturday-Sunday, open for performances