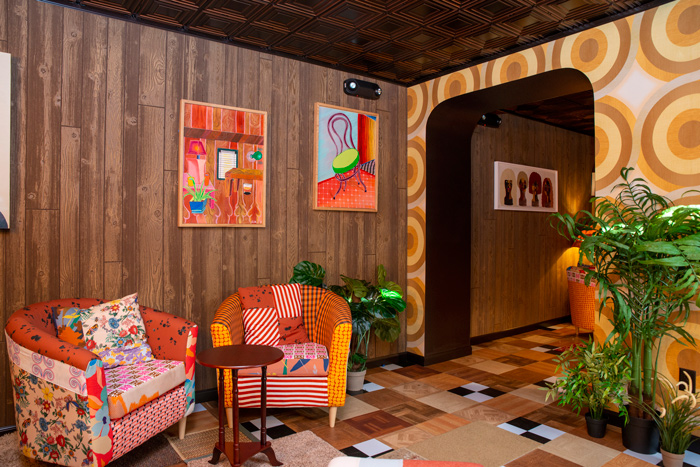 COLLAGE ON VIEW
Mickalene Thomas: A Moment's Pleasure
at the Baltimore Museum of Art in Baltimore, Maryland, USA
24 November 2019-31 May 2021
"Mickalene Thomas: A Moment's Pleasure" is an immersive site-specific installation that transforms the Baltimore Museum of Art's East Entrance and entire two-floor East Lobby. Inspired to create a living room for Baltimore, Thomas has installed a new façade on the exterior that resembles the city's traditional row houses and re-envisioned the interior with new wallpapers, furniture, carpeting, and other design elements, altering every surface of the space.
The vivid geometric patterns, prints, and textures of the environment reference the aesthetics of the 1970s and 1980s, particularly the creativity of black culture in the U.S. during that period. "Mickalene Thomas: A Moment's Pleasure" marks the inaugural presentation of the Robert E. Meyerhoff and Rheda Becker Biennial Commission, which was established in fall 2018 to provide contemporary artists with a platform within the BMA to realize ambitious new projects and to engage with the community through one of the most accessible areas of the museum. This installation is the most expansive commission undertaken by both the artist and the museum and also the first major presentation of the BMA's 2020 Vision initiative.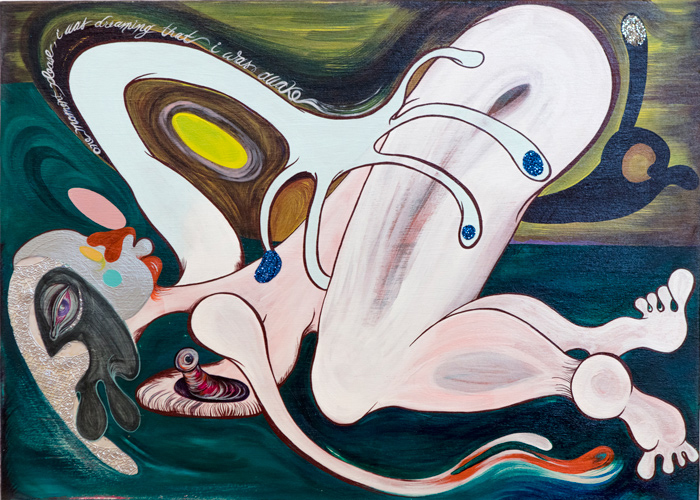 As part of the commission, Thomas has also curated a presentation of works by artists with ties to Baltimore that is featured in the newly enclosed Terrace Gallery. Paintings, prints, drawings by artists Derrick Adams, Zoë Charlton, Theresa Chromati, uniik / Dominiqua Eldridge, Devin N. Morris, Clifford Owens, and D'Metrius John Rice are hung throughout the space, while a loop of video works by Abdu Ali and Karryl Eugene, Erick Antonio Benitez, Nicoletta Daríta de la Brown, Kotic Couture, Markele Cullins, Emily Eaglin, Hunter Hooligan, Devin N. Morris, Clifford Owens, and TT the Artist are projected on a screen. The installation also includes costumes for BMA staff working in the lobby designed by Dominican-born fashion designer José Durán.
Thomas is globally recognized for her visually and conceptually layered compositions—created through an array of media, from acrylics, enamels, and rhinestones to richly composed photographs to mixed-media installations. Her portraits, landscapes, and interior views, whether produced in two or three dimensions, meld the visual vocabularies of art history and popular culture to examine issues of identity, gender, sexuality, and power. While her work deals in particular with the historic, social, and political constructs that shape our understanding of femininity and womanhood, her practice also delves into important moments of societal upheaval, especially those in the U.S. between the 1970s and 1980s. It is this sensibility of place and context that Thomas brings to her recreation of the BMA's East Lobby, reshaping it into a space that speaks to aspects of Baltimore's history and architecture and that draws in the community through its vivacious use of different aesthetic modes and styles.
"Mickalene Thomas: A Moment's Pleasure" is curated by Christopher Bedford with Meyerhoff-Becker Curatorial Fellow Cynthia Hodge-Thorne and curatorial assistants Katie Cooke and Carlyn Thomas.
(text adapted from the museum's press materials)
---
INFORMATION
The Baltimore Museum of Art
10 Art Museum Drive
Baltimore, Maryland 21218 USA
(443) 573-1700
Hours:
Wednesday-Sunday, 10AM-5PM