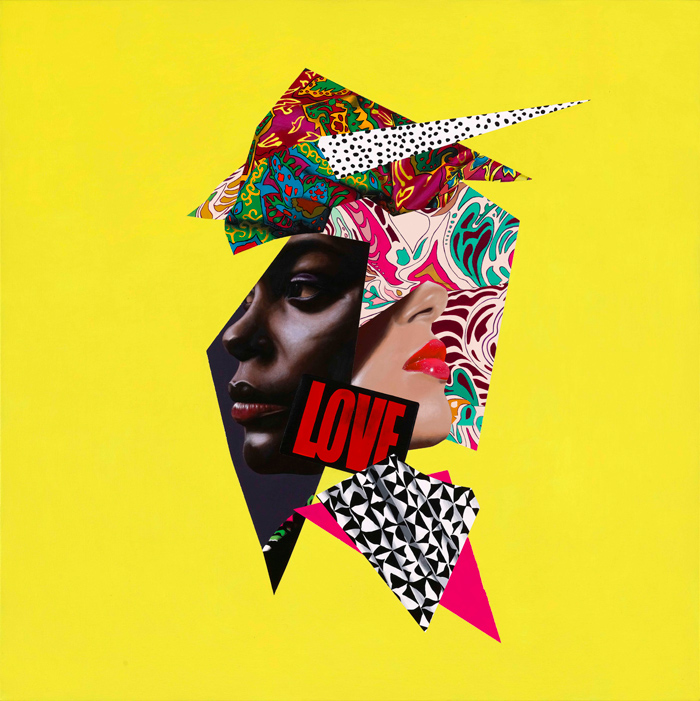 Vakseen & Sean Stepanoff
7-31 July 2017
Collage artists Vakseen and Sean Stepanoff join Annie L Terrazzo, Tracy Reid Lewis, Dos Diablos, and Matt Adrian for the La Luz de Jesus Gallery's Summer Showcase, curated by Matt Kennedy.
Vakseen:
While working on hit records has played a driving force in his career, it's Vakseen's (born Otha Davis III) passion for the arts that has served as his key to sanity in the entertainment business. The self-taught Floridian has developed a distinct collage-influenced painting style (Vanity Pop) that fuses elements of Cubism, Photorealism, fashion design and Pop surrealism into vibrantly alluring, abstract portraits. While most viewers assume they're viewing collage or mixed media art, each creation is in fact meticulously hand painted directly on canvas. Drawing distinct inspiration from our fascination with popular culture, his gallant paintings are a celebration of women, beauty, duality, insecurity, and self-preservation. Currently based in Los Angeles, his paintings have been featured by Adidas, Complex, Juxtapoz, Hi Fructose, Vibe, Bombay Sapphire Gin, and Tupac Shakur's estate, amongst others.
Sean Stepanoff:
In his second featured show at La Luz De Jesus Gallery, Sean Stepanoff takes his focus off of hipsters and hip-hop and turns his attention to the movies they love. Reinterpreting the aesthetic of Ghanian Barbershop sign painting, he pays homage to some of his favuorite cult movies.
(Text adapted from the venue's press materials)
---
INFORMATION
La Luz de Jesus Gallery
Soap Plant/Wacko Complex
4633 Hollywood Boulevard
Los Angeles, California 90027 USA
(323) 666-7667
Hours:
Monday-Wednesday, 11AM-7PM
Thursday-Saturday, 11AM-9PM
Sunday, Noon-6PM
Image:
New Madonna
by Vakseen
36″x36″
acrylic on canvas