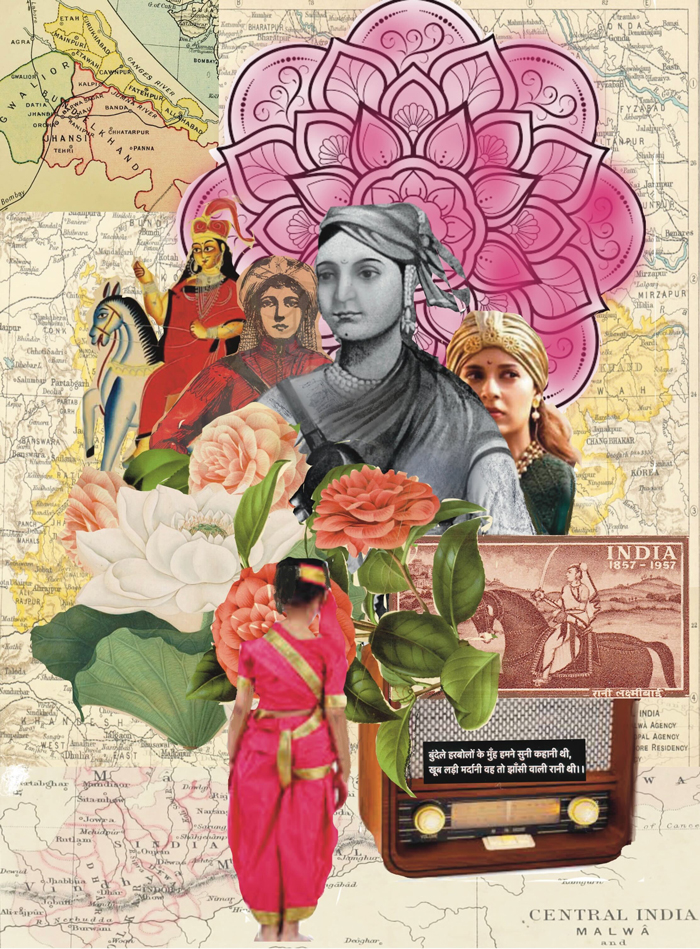 COLLAGE ON VIEW
Word of Mouth: Folklore, Collage, & Community
at A' the Airts in Sanquhar, Scotland, United Kingdom
6-30 September 2023
Folklore is the imagination of the past as it is understood in the present. More importantly, folklore is how a community expresses itself to one another. In order for folklore to be transmitted over time, it must be nurtured. During a time when folklore is devalued by economic systems and dismissed by political power, artists play an important role in calling attention to and celebrating these important elements that shape community identity and reinforce communal ties. In times of crisis and collective trauma, these stories can be key to a community's sense of resilience and ultimate survival.
"Folklore is how we communicate to each other our morals, ideals, hopes, and fears. It's how we make meaning or sense of the world around us," said Kolaj Institute Coordinator Christopher Kurts. "Maybe this is true of stories in general, but folklore are the stories that hold enough water with a community to keep being passed down. They have momentum and so they change from being these ephemeral tales and solidify into a kind of mythology or foundation." By engaging with these stories, artists can play a role in activating folklore for a community and facilitating their transmission.
Since Fall 2022, Kolaj Institute has engaged international collage artists in a series of artist residencies around the theme of folklore. In September 2022, artists visited Sanquhar, Scotland and made art about the folklore collected in William Wilson's 1904 book, Folk Lore and Genealogies of the Uppermost Nithsdale. The artists reimagined the tales in the book in a 21st Century context and invited us to see folklore as the imagination of the past, understood in the present. In early 2023, this artwork was published in an abridged version of Wilson's book with an introduction by Ric Kasini Kadour, Folklore of the Upper Nithsdale. The original artwork traveled to the Knoxville Museum of Art in March 2023 for the exhibition, "Mythical Landscape: Secrets of the Vale".
In response to the "Mythical Landscape" exhibition, a group of artists made artwork about folklore that was important to them. This work is on view at A' the Airts in Sanquhar during the month of September 2023. Curator Ric Kasini Kadour said, "In sharing this artwork, our hope is that viewers will develop a sense of how folklore moves through the world and the role it plays in building and maintaining communities. While the art on view is not about Sanquhar, our hope is that by exhibiting the artwork in Sanquhar we can put the rich folklore of Sanquhar in conversation with folklore from around the world."
In addition to the exhibition, Kolaj Institute will host a series of Collage Nights at A' the Airts on Wednesdays in September. These events include collage making, curator talks, and a film screening. LEARN MORE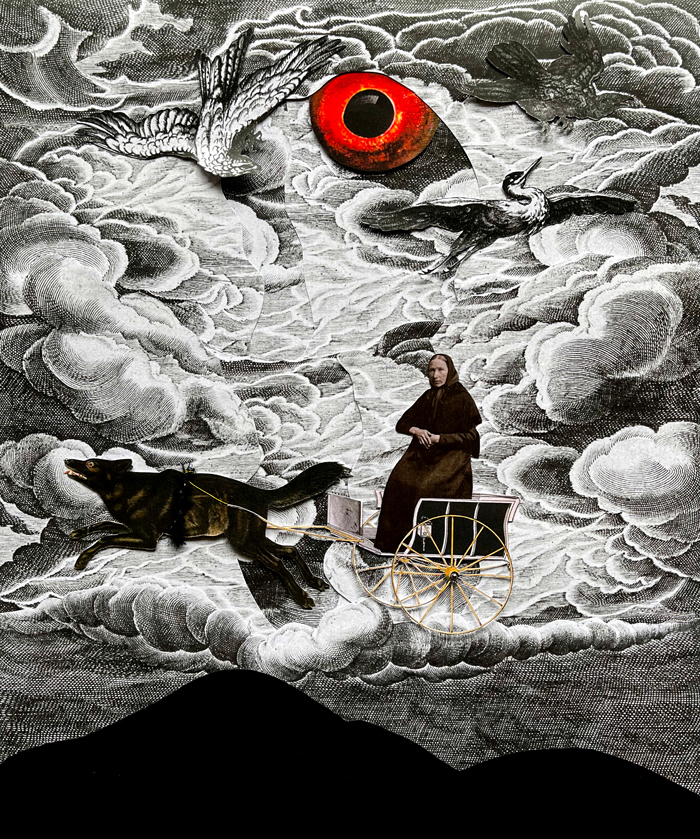 ABOUT THE ARTWORK
Artists speak about specific characters: Bella LaMontagne's diptych compares stories of the Banshee in Ireland and Scotland. Kate Sutherland's collage speaks to The Cailleach of Scottish and Irish Gaelic folklore. Lorraine Pocklington draws inspiration from the Baba Yaga. Elaine Luther delves into the Russian fairy tale "Vasilisa the Wise". Melanie McKenzie wrestles with the Boogeyman as a metaphor for aging. Artists worked with folklore from specific communities or cultures: Natalie Vestin draws on Swedish stories passed down by her father. Lachlan Thompson uses Viking folklore to speak about contemporary gender issues. Iris Weaver reflects on the stories of Red-headed Giants that used to live on Santa Catalina Island off the coast of California.
Other artists draw from history: In Telling Tennessee Tales, CoCo Harris asks us to remember Nathan "Nearest" Green, the master distiller who taught Jack Daniel how to make whiskey. Carol M Lynch celebrate's Ozella Williams' Underground Railroad Legacy and the stories of quilts. Claire B Marcus imagines a meeting of St. Etheldreda and Hereward at the Black Oak Table where they find common ground in their love for their homeland. Indira Govindan's collage recalls the story of a 19th century warrior princess from India who continues to inspire women and girls today. Jennifer Lentfer's Truth Teller speaks to an old tradition of sending Vinegar Valentines that bullied and teased the participants.
Some artists took a survey approach to folklore: Ric Kasini Kadour explores apocalypse stories as folklore. Leanne Poellinger considers the symbolism of apple pie in American culture. Clare Jones considers stories of owls that appear in many cultures.
Collage by Sarah Cowling and Danielle Iemola-Devereux tap family folklore for inspiration. Okja Kwon considers traditional folklore shared in Korean communities in relation to bloodline lineage traditions. Jacoub Reyes draws on stories from the Taíno, the indigenous people of the Caribbean. 
Not all folklore is ancient: REDACTED by Christopher Kurts considers stories of aliens and other conspiracy theories as a sort of contemporary folklore. Charlotte K Larson's collage reflects on the stories and lore shared among people who participate in Alcoholics Anonymous. Eli Craven tackles the Satanic Panic of the 1980s.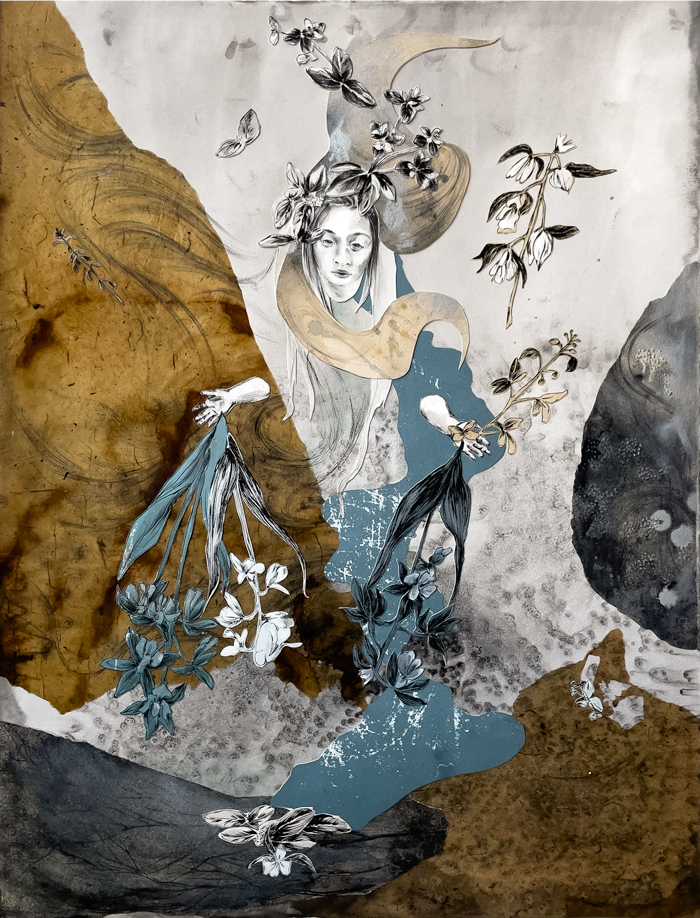 ARTIST LIST
Sarah Cowling (London, Ontario, Canada) | Eli Craven (Lafayette, Indiana, USA) | Indira Govindan (Chennai, Tamilnadu, India) | CoCo Harris (Greenville, South Carolina, USA) | Danielle Iemola-Devereux (Austin, Texas, USA) | Clare Jones (Ithaca, New York, USA) | Ric Kasini Kadour (New Orleans, Louisiana, USA & Montreal, Quebec, Canada) | Christopher Kurts (New Orleans, Louisiana, USA) | Okja Kwon (Milwaukee, Wisconsin, USA) | Bella LaMontagne (Shelburne Falls, Massachusetts, USA) | Charlotte K Larson (Brooklyn, New York, USA) | Jennifer Lentfer (Omaha, Nebraska, USA) | Elaine Luther (Forest Park, Illinois, USA) | Carol M Lynch (Metairie, Louisiana, USA) | Claire B Marcus (Bethlehem, Pennsylvania, USA) | Melanie McKenzie (Minneapolis, Minnesota, USA) | Lorraine Pocklington (Aberystwyth, Ceredigion, United Kingdom) | Leanne Poellinger (La Crescent, Minnesota, USA) | Jacoub Reyes (Plantation, Florida, USA) | Kate Sutherland (Toronto, Ontario, Canada) | Lachlan Thompson (Northampton, Massachusetts, USA) | Natalie Vestin (Saint Paul, Minnesota, USA) | Iris Weaver (Santa Cruz, California, USA)
---
About A' The Airts
A' The Airts in the Royal Burgh of Sanquhar is a Community Arts and Crafts center. The organization contributes to the social, economic and cultural well-being of the communities of Upper Nithsdale by actively encouraging participation in a range of arts, crafts and related activities. In 2000, a group of residents had the vision of turning a run-down building in Sanquhar's High Street into an arts, crafts and cultural center, to help with the regeneration of the area. Local consultation showed considerable support for the idea. After years of hard work and fundraising, including support from the Big Lottery and the Scottish Government, A' The Airts opened its doors in November 2010. A' The Airts offers a varied programme of events including music, drama and poetry. There is a café and gift shop, as well as a theater and craft rooms. Since 2014, A' The Airts is also home to Sanquhar Pattern Designs, whose goal is to ultimately resurrect a dying cottage industry centered around knitted textiles. www.aitheairts.co.uk
About Kolaj Institute
The mission of Kolaj Institute is to support artists, curators, and writers who seek to study, document, & disseminate ideas that deepen our understanding of collage as a medium, a genre, a community, and a 21st century movement. We operate a number of initiatives meant to bring together community, investigate critical issues, and raise collage's standing in the art world. www.kolajinstitute.org
---
INFORMATION
A' the Airts
8-16 High Street
Sanquhar, Dumfries & Galloway DG4 6BL, Scotland
+44 1659 50514
Hours:
Monday-Saturday, 10AM-4PM