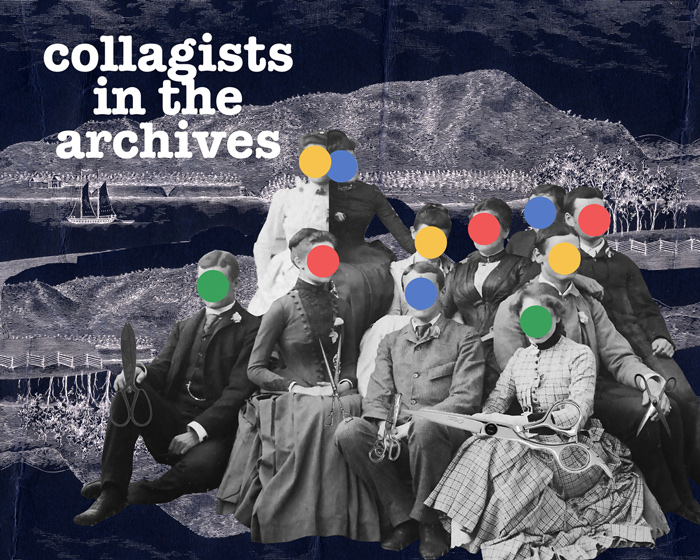 COLLAGE RESIDENCY
Kolaj Institute Announces the Artists Participating in the Collagists in the Archives Residency
Kolaj Institute is excited to announce the thirteen artists selected to participate in a virtual residency centered on the Stewart-Swift Research Center at the Henry Sheldon Museum of Vermont History in Middlebury, Vermont, USA.
The materials collage artists use for the artwork can play a critical role in the work's meaning and how it makes its way into the world. Historical archives, when one understands how to use them, can be fruitful grounds. In this virtual Residency, collage artists learned how to work with an archive to build a project that speaks to themes of community and history. Centered around the Stewart-Swift Research Center at the Henry Sheldon Museum in Middlebury, Vermont, the participating artists explored their collections and developed tools to work with archives in their home communities. 
In five meetings held during the month of May 2022, the participating artists made an artwork that was considered for the exhibition, "Artists in the Archives", at the Henry Sheldon Museum, 2 September 2022 to 7 January 2023, and included in the book, Artists in the Archives, published by Kolaj Institute. The exhibition is a collection of twenty collage prints, all of which interpret the museum's archive material, on the occasion of its 50th anniversary, for a 21st century international audience. In this project, collage artists used materials in the Stewart-Swift Research Center collections and the histories they hold to interrogate the question, What makes a community? 
The goal of the Residency was to equip artists with the tools to work with historical archives, to work with archivists, and build projects that connect with diverse audiences. The Residency, conducted by Kolaj Institute, was a four-week program designed to train artists with an established practice who wish to develop projects with historical archives. In five virtual meetings over four weeks and through ongoing, online discussion, they explored the idea of archives and how they can be used to create critical context for collage artwork. 
The Residency looked at collage practice from a theoretical point of view and invited artists to examine their approach to making artwork. They considered how collage is defined and how the medium functions as contemporary art. Against this foundation, the Residency considered the role of source materials and how they shape artwork and the potential ways in which the artwork is seen. The artists searched the Stewart-Swift Research Center archive for examples of community caring and used those materials to make a collage that expressed how a community cares about its people. Artists completed the Residency equipped with skills and strategies they can apply to archives and historical societies in their own communities and a capacity for developing projects that speak to contemporary audiences. 
The residency was led by Ric Kasini Kadour, editor of Kolaj Magazine, who, as a 2021 recipient of a Curatorial Fellowship from The Andy Warhol Foundation for the Visual Arts, spent the past year investigating the intersection of art and history. Reflecting on their own artist practice, participants will learn how to work with archives and historic materials. Eva Garcelon-Hart, Stewart-Swift Research Center Archivist, and Taylor Rossini, Henry Sheldon Museum Collections Associate spoke about artist research and helped artists identify materials and the stories they hold. Kolaj Institute Coordinator Christopher Kurts spoke about adapting one's artist practice and how-to incorporate various strategies for working with historical materials. Kadour worked with artists to use history to build a context for their artwork and ways of designing a project with viewers in mind. 
During the residency, artists made a collage and wrote a brief statement about the material used and what the collage says about community, the material in the archive and its history. The resulting artwork was considered for the "Artists in the Archives" exhibition at the Henry Sheldon Museum in Middlebury, Vermont and for inclusion in a folio of prints, which were also exhibited at the Henry Sheldon Museum, 2 September 2022 to 7 January 2023. The images and texts were published in Artists in the Archives, a book by Kolaj Institute that was released in September 2022.
For more information about the larger project, Artists in the Archives, visit this post HERE.
---
PARTICIPATING ARTISTS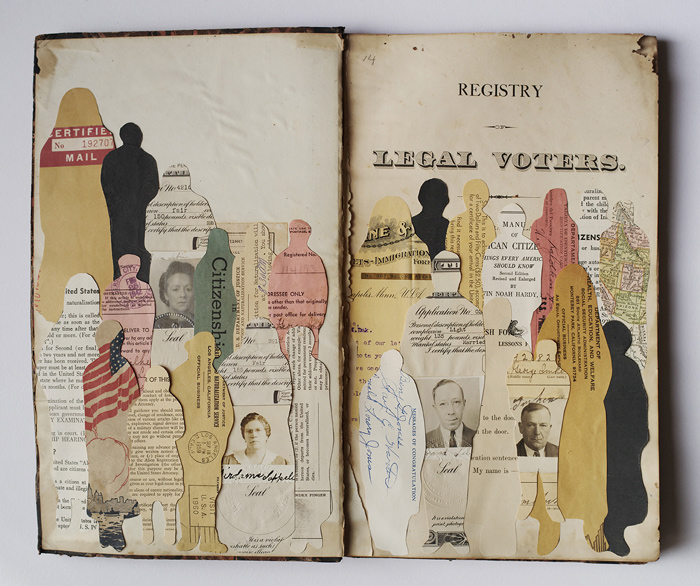 Alexa Frangos is a photo-based artist from Chicago, Illinois. She studied Visual Communications and Photography at Washington University in St. Louis before receiving her MFA from the School of the Art Institute of Chicago, where her multimedia work evolved into a photographic practice. She then attended law school and practiced law for many years before returning to a full-time art practice. She has been showing work throughout the US and internationally since 2012 and received a Julia Margaret Cameron Award in the category of Worldwide Immigration in 2021. She is a member of Perspective Group and Photography Gallery in Evanston, Illinois.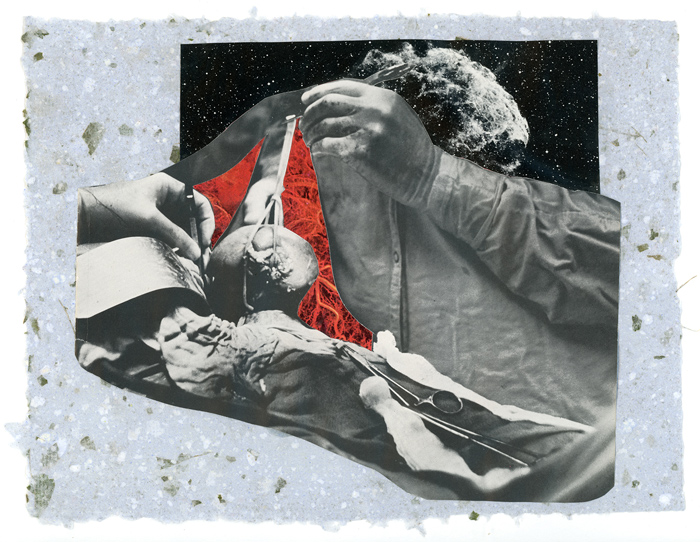 Allison Spence is an interdisciplinary artist who creates collage, video, writing, and mixed media objects about patterns of indeterminacy, or states of hybridity, within nature and culture. Her work frequently branches into different fields, such as biology, horror, botany, science fiction, and American art history. She received an MFA at University of California, San Diego, a BFA in Art and a BA in Art History at the University of Florida. Spence's work has been published in such places as The Washington Post and New
American Paintings. She was the recipient of the Mid Atlantic Arts Fellowship (2016) and the Hamiltonian Fellowship (2014-2016) and her work is in the Washingtoniana Collection of the District of Columbia's Public Library. She has exhibited both internationally and nationally, including South Korea, California, Washington D.C., and New Jersey. Spence is currently living and working in Tallahassee, Florida and is an Assistant Professor of Art at Florida State University.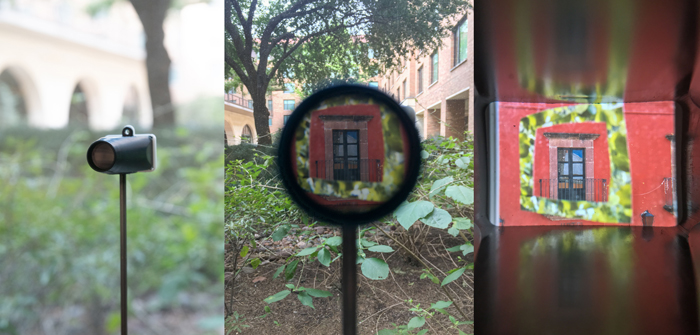 Anika Steppe lives and works in Chicago, Illinois. She holds an MFA in Studio Art from the University of Texas at Austin and a BS in Cinema & Photography from Ithaca College. She has participated in several residencies including Casa Malo, Monson Arts, and Vermont Studio Center. Steppe has exhibited recently at Courtyard Gallery (Austin, Texas), The Front (New Orleans, Louisiana), and Houston Center for Photography (Houston, Texas). She also works collaboratively with Marta Lee under the moniker Frances Brady.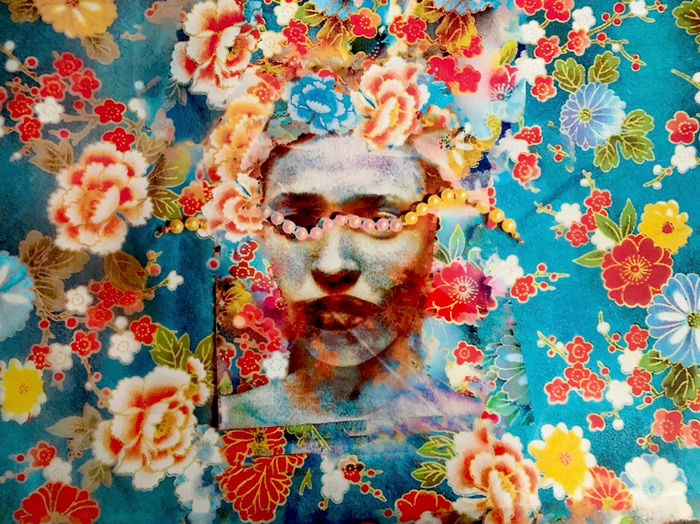 Carmen Lizardo was born in the Dominican Republic and immigrated to the U.S. at 19. She holds a BFA in Photography and an MFA in Digital Art from Pratt Institute. For Lizardo, using multiple media has been an essential part of her work, particularly alternative photo processes, printmaking, drawing, and video work. Carmen Lizardo collects memories that weave personal stories, and political and cultural heritages to speak about immigration, race, memory, and identity. Lizardo's work always begins as an Autobiographical/Autoportrait experience and describes the human need to situate oneself in history, mainly, the one belonging to the American Cultural Collective.
Lizardo had received awards at Women Studio Workshop and New York Foundation for the Arts fellowship (nominated in both Painting and Photography). Lizardo was one of five American Artists of Latino descent awarded an international travel and production grant from the U.S. Department of Cultural Affairs. Lizardo served 15 years as a tenured faculty for SUNY New Paltz's Fine and Performing Arts program and now is solely dedicated to her studio practice. She lives and works in the Hudson Valley, New York.
Elaine Luther is an independent studio artist with a sense of humor. Her mission is to make art that's brave, vulnerable and true, and sometimes funny. Her art has been exhibited in Chicago and across the country, including at Gallery I/O in New Orleans, Louisiana and Woman Made Gallery in Chicago. Solo shows include Harold Washington Library, West Englewood, Forest Park and Orland Park Public Libraries. She regularly gives speeches at conferences and professional association meetings (and on Zoom). She has been an Advisory Board member for Woman Made Gallery; an ambassador for the Self-Employment in the Arts Conference and President of the Board of the Chicago Metal Arts Guild.
She has written for the Craft Industry Alliance and Moore Women Artists and her work has been included in national and international publications, including JCK Online, UPPERCASE Magazine, Professional Artist Magazine.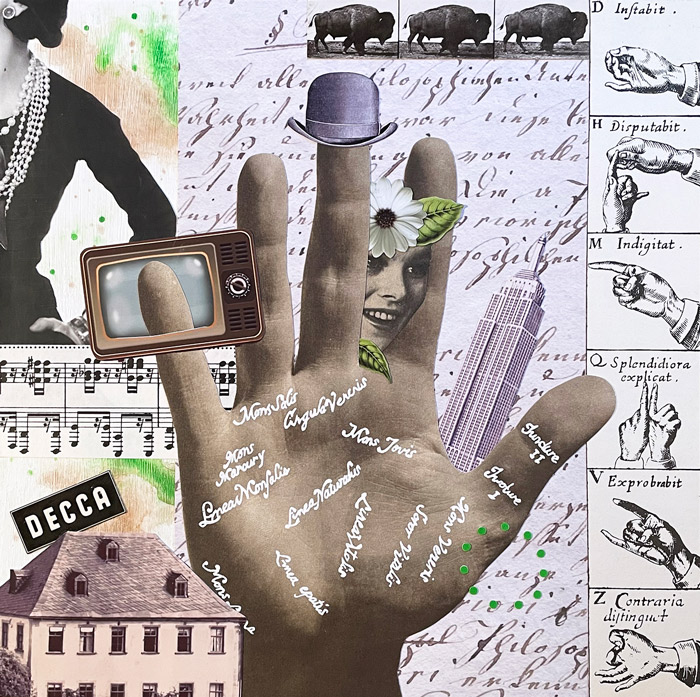 Ginger Sedlarova is an emerging collage artist living and working in Burnaby, British Columbia, Canada. Her practice grew from her love of making digital photo collages in a former career as a graphic artist on newspapers in Canada and magazines in Central Europe – only now she does this by hand, without an editor looking over her shoulder while she works. She loves to play and indulge in the unexpected. Her work has appeared in galleries and online shows in Canada, the U.S. and in Europe. In 2021, she received an award of merit from the Luxembourg Art Prize for her collage portfolio, and one of her works will be shown in the forthcoming book, Collage Your Life.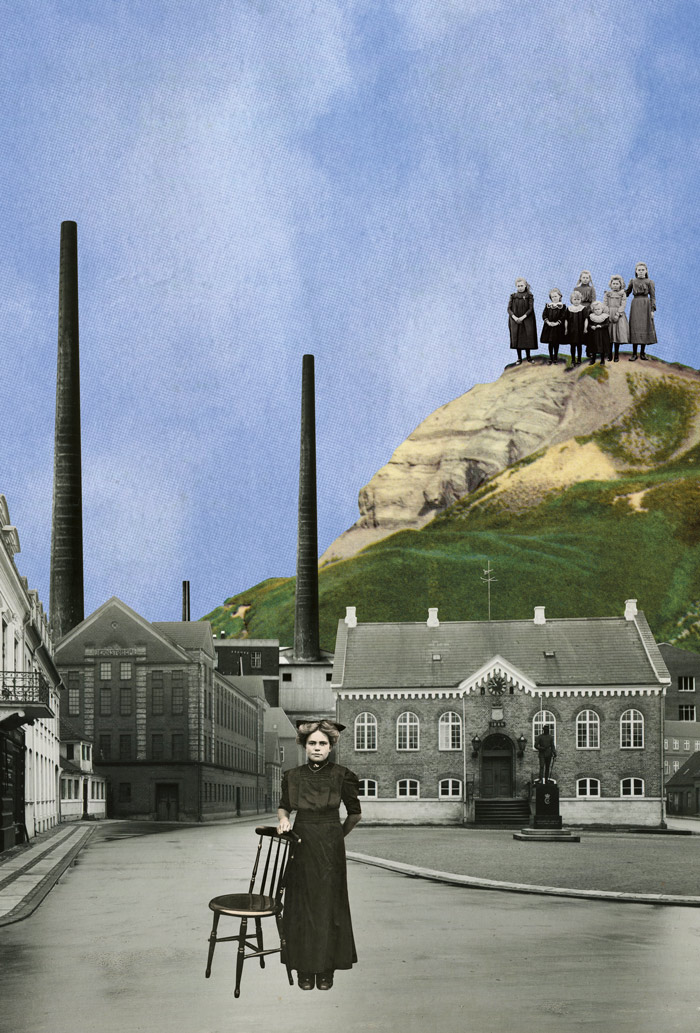 Klara Espersen is a self-taught artist (with a law degree from a totally different life) based in northern Denmark working with both analogue and digital collage. Born and raised in former Czechoslovakia in 1974 until the age of five, she has since then lived for longer periods of time in Zambia, the United States and mainly Germany until settling down in Denmark in 2003. In addition to her own practice as a collage artist, she is employed part time as an artist at a local theatre (Limfjordsteatret). Here she works with stage design, art projects involving children and youths, graphic design and costume design. She has over 10 years experience of working with graphic design and visual communication. Between 2019 and 2021, she illustrated two children's books in collage style, Den utætte sky and Ud og stjæle erantis by writer Mette Hegnhøj. The latter book was selected for the "White Ravens 2021" list of outstanding books by the International Youth Library jury, which thought the book had "great aesthetic appeal". She has for many years worked with artistic mediums such as painting, sculpture, ceramics and drawing, but started to focus mainly on collage for her own practice about five years ago. In 2019, this resulted in a large historical collage project and exhibition supported by the Cultural Council of Northern Jutland and the national Danish Arts Council. Since then she has been selected and supported by the Danish Arts Council to create and participate in several children's art projects.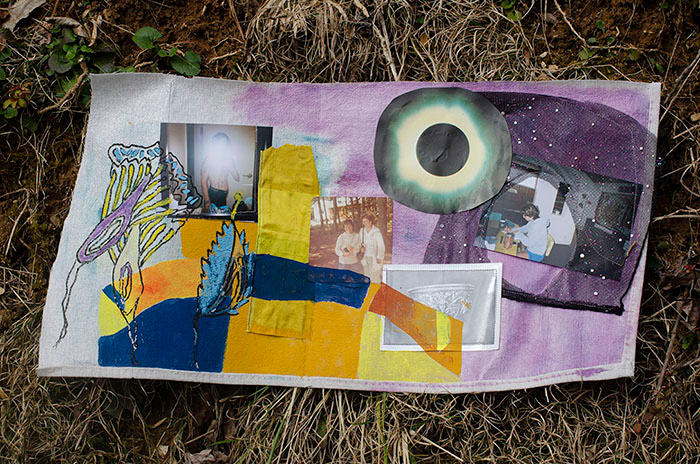 Morgan King is a visual artist working with textiles, collage and video. Morgan most recently worked at the Museum of Modern Art (MoMA) in the Archives department. They attended the School of Visual Arts in New York City from 2013 to 2017 and graduated with Honors and a degree in Visual and Critical Studies. They have also completed coursework that includes: Creative Writing at the Gotham Writers' Workshop, Textile Intensive with Padma Rajendran at NYC Crit Club and IMAGE SPEAK at Wendy's Subway. Morgan's work has been shown at Fou Gallery (New York), Westbeth Gallery (New York), Flatiron Project Space (New York), Bushwick Open Studios (New York), Academy of Arts, Architecture and Design (Prague), and Galerie NTK (Prague). Their video work has been screened at Spectacle Theater (New York) and they were awarded a residency at the New York University Summer Studio Art Residency. They participated in the Harmony Crow Residency in Marshall, North Carolina in February and March 2022 and Conversations in Practice at Ox-Bow School of Art in February and March 2022. They were an artist in residence at Byrdcliffe Artist's Guild from May to August 2022. Morgan has also held positions at the Brooklyn Academy of Music (BAM), The Whitney Museum of American Art, and Printed Matter, Inc.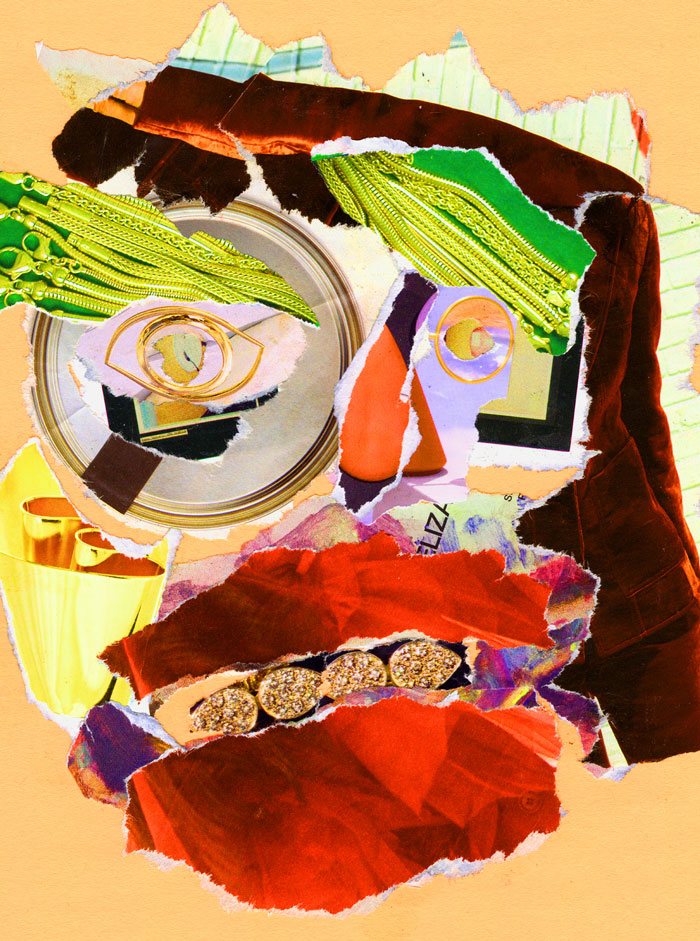 R. Galvan is a conceptual artist based in Medford, Massachusetts. Their studio practice focuses on administration and on the role administrative systems play in the generation of a Latinx subjectivity with special focuses on queerness and vanity. Their work manifests as text, forms, book making, image making, drawing, performance, and critical research and writing. They have completed residencies with Brashnar Creative Project (Skopje, North Macedonia), Staccion Center for Contemporary Art (Prishtina, Kosovo) and the School of Machines, Making and Make Believe (Berlin, Germany). Galvan received a bachelor's degree from Brown University in history, and an MFA from the Rhode Island School of Design. Their master's thesis, Introduction to Queer Algorithms, was selected to be featured in RISD's Book of Thesis Books—a survey of exemplary books for future thesis writers. Galvan was the 2018-2019 postdoctoral associate at Duke University's program in Latino/a Studies in the Global South. They have exhibited work at the National Humanities Center (Research Triangle Park, North Carolina), the Urban Institute for Contemporary Arts (Grand Rapids, Michigan), and internationally at the University of Coimbra (Coimbra, Portugal). Galvan was born in Brownsville, Texas.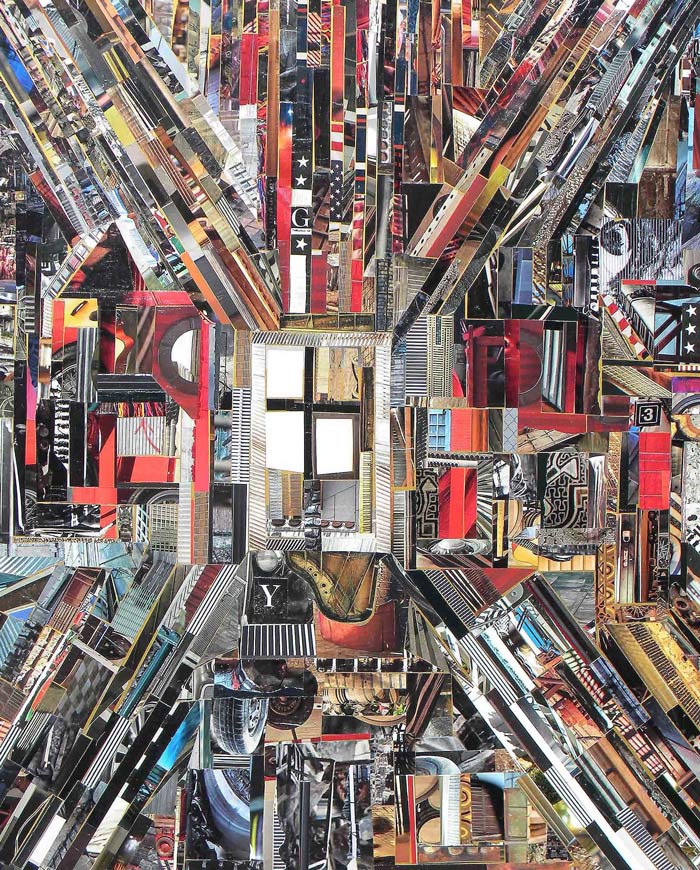 Sheryl Renee Dobson's faith and her belief that humans are spiritual beings existing in a physical body is grounded in her Indigenous (Shawnee and Cherokee descent) and Caribbean roots. Dobson's interdisciplinary approach has been influenced and informed not only by her study of art from junior high to the present, but also by her studies that culminated in an A.B. degree in International Relations from Brown University and her Juris Doctorate degree from the University of Michigan Law School. Thus, her references in her work to structures transcend physical structures and also symbolically refer to legal and societal structures, for example, with the hope of encouraging viewers to decipher these references by using critical thought while viewing the works. In Dobson's view, the journey toward critical thought begins with the word and question "why". For example, why is a feather-like structure supporting a steel-like structure?
Dobson has been exhibiting her work publicly since 2006. Most recently, in 2022, she was juried into the international "Abstract Juried Art Show" sponsored by Gray Cube Gallery, where she received two honorable mention awards; juried into "Migration International Exhibition" sponsored by Gallerium Art based in Vancouver, British Columbia, that was published in 2022 in The Book of the Arts: Migration. Dobson was also juried into "Vision '22" sponsored by the Rhode Island Watercolor Society. In 2021, she was: juried into the "37th Annual Juried [International] Exhibition" sponsored by the National Collage Society, where she received a merit award; juried into the "108th Annual Juried Open Exhibition" sponsored by the Allied Artists of America at the Salmagundi Club in Manhattan; juried into the Katonah Museum of Art's Juried Biennial Exhibition "Cladogram" in Katonah, New York; and juried into the "International Abstract Exhibition" sponsored by the Contemporary Art Room Gallery where she received an Honorable Mention Award.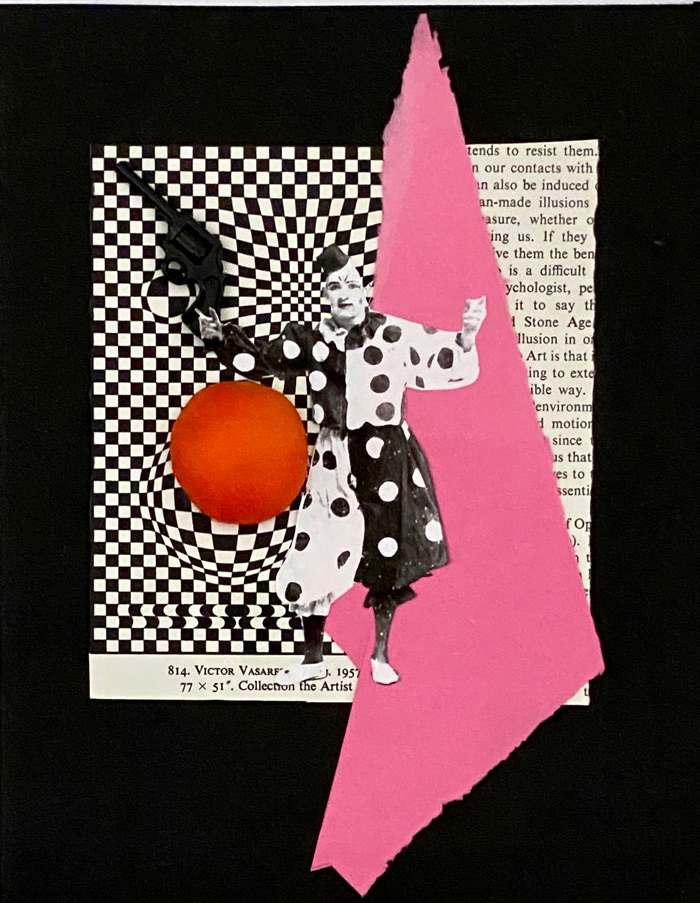 Vicki Scheele is a septuagenarian collage artist with a 15-year collage practice. She was born in Detroit, Michigan, and has lived in many cities. She attended Michigan State University and the University of Wisconsin0Madison. The mother of two boys, she has been a housewife, worked as a volunteer organizer, and had an 18-year career in sales before retiring. Largely self-taught, she took part in a few online courses, joined a weekly Zoom meeting of collage artists during the pandemic, and is beginning to host a monthly collage meetup in her Southern California home. For the past 15 years, she has had a personal practice of making analog and mixed media collage. One of her pieces was included in the Arizona Collage Collective's 2021 book transitional MOMENTS: restoring equilibrium through the art of collage (published by Kasini House). She has over 200 pieces posted on Instagram @piratevicki6.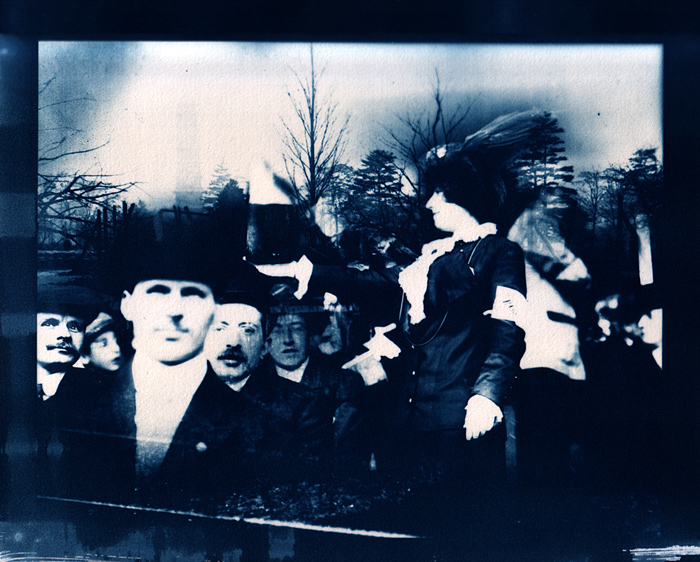 xtine burrough (x/x or she/her) engages participatory audiences at the intersection of media art, remix, and digital poetry. burrough values the communicative power of art-making as a vehicle for exploring the boundaries between humans and the technologies they create, embody, and employ. Recently, burrough received a commission for "Data/Set/Match" at the Photographers' Gallery, London; a microgrant from the Nasher Sculpture Center; and grant funding from the Puffin Foundation West, Humanities Texas, The National Lottery (UK), and California Humanities. burrough writes about her practice to archive her work and edits portfolio sections and anthologies. For example, Art as Social Practice: Technologies for Change (edited by burrough & Walgren 2022) presents case studies written by 25 artists/collaborators who use new media practices to raise consciousness, form communities, create change, and bring forth social impact. x has presented works at festivals such as ISEA, Abandon Normal Devices, HASTAC, xCoAx; and in alternative gallery spaces such as the Center for Creative Connections at the Dallas Museum of Art, Mamdouha Bobst Gallery at New York University, and A Ship in the Woods in California. burrough is a native of Albany, New York, studied in Boston and Vermont, and moved to California where she was an Assistant and Associate Professor at California State University, Fullerton before landing in Dallas, Texas. Now, x is a Professor and Area Head of Design + Creative Practice in the School of Arts, Technology, and Emerging Communication at the University of Texas at Dallas, where burrough directs LabSynthE, a laboratory for synthetic and electronic poetry.
Born in Seoul, South Korea, and raised in Los Angeles, California, Young Shin received a BA in Philosophy and a minor in Studio/Visual Arts focusing on oil painting. She continued to follow her love of art by receiving her degree in Fashion Design from Parsons School of Design and working as a fashion designer in New York City and Chicago. At the core of her practice, Young explores the concept of impermanence and ephemerality by creating abstract paintings with paper. Technique and process are key as she unearths the essence of this particular theme by peeling away colored paper that was first meticulously layered and copiously built up. In particular, she is inspired by the process of stripping and removing intricate layers in order to reveal what is underneath and between–birthing something entirely new from the ashes of destruction. In her body of work, melding her past experiences and passion together, Young combines elements from art, design, and craft. Young currently resides in Los Angeles where she works as a full-time painter. Her paintings have been exhibited and placed by galleries and collectors throughout the United States, Europe and Asia.