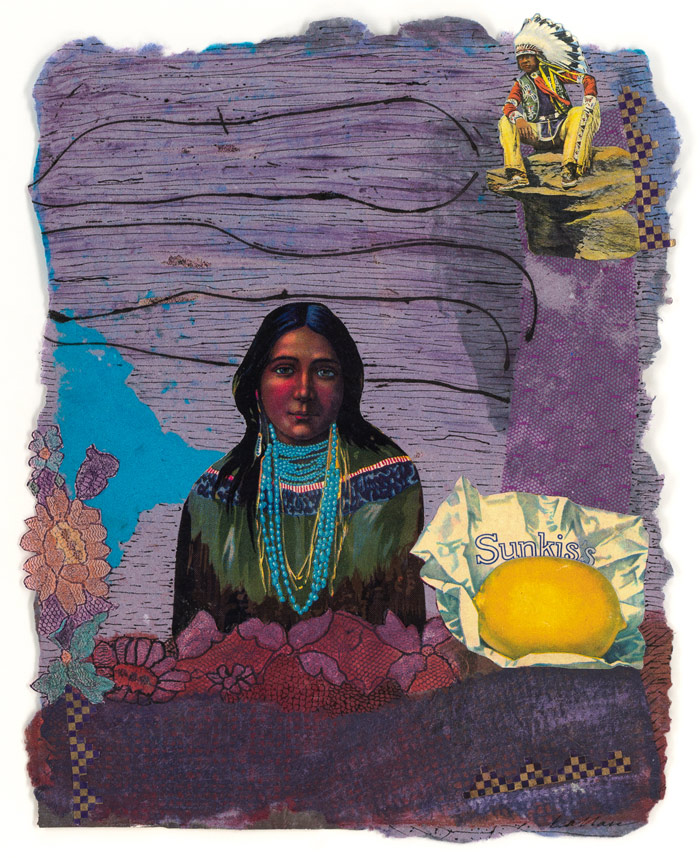 COLLAGE ON VIEW
The Art of Jean LaMarr
at the Nevada Museum of Art in Reno, Nevada, USA
29 January-29 May 2022
"The Art of Jean LaMarr" is a major retrospective of the work of one the most influential Native American artists practicing today. The exhibition presents more than 100 paintings, prints, and sculptures spanning five decades of the art and activism of Jean LaMarr (b. 1945), whose melding of post-modern eclecticism and Native American motifs and subject matter has affirmed the dignity of Native American women, addressed the legacy of colonialism, and above all sounded a ringing "rejection of the idea of the vanished American Indian."
Among the bodies of work included in the exhibition are LaMarr's early printmaking experiments with texture, patterning, and geometric design, based on looted Native American baskets and textiles she discovered in the collections of her alma mater, the University of California, Berkeley; her first forays into community-focused artmaking, inspired by the silkscreen prints and murals of the Chicanx artists she encountered in the Bay Area; works focusing on the endurance of cultural traditions, drawing on research she conducted after returning in the mid-1980s to the Susanville, California Indian Rancheria; large-scale paintings of landscapes sacred to Native peoples; posters designed for the annual Bear Dance; her series of large-scale monoprints on black paper from the late 1980s and 1990s critiquing symbols of the dominant history and culture of the United States; her feminist "Cover Girl" series, reclaiming the dignity of Native women who had been exposed and exploited by photographers; and mixed-media works, in series such as "From the Boudoir Window" and "War in My Backyard," juxtaposing traditional ancestral marks with dark silhouettes of military equipment.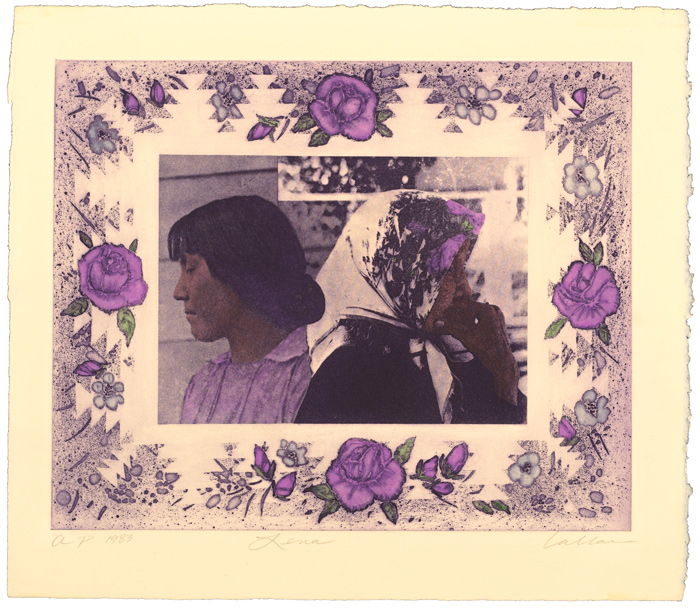 Also on view will be LaMarr's humorous interactive installation Princess Pale Moon, which addresses the ongoing non-Native popularity of Native American princess "costumes," and is accompanied by the music of Slim Wilson's "Indian Love Call"; a two-channel video installation, Double Visions, addressing the history and myths of Christopher Columbus; and a new work created for this exhibition: a sculpture in the form of a traditional willow sweat, where the poisonous legacy of Indian Boarding Schools may start to be cleansed.
Incorporated into the exhibition will be fourteen works by Jean LaMarr recently acquired for the collection of the Nevada Museum of Art, through a major gift from the Orchard House Foundation.
(Text adapted from the museum's press materials.)
---
INFORMATION
Nevada Museum of Art
160 West Liberty Street
Reno, Nevada 89501 USA
(775) 329-3333
Hours:
Tuesday-Sunday, 10AM-6PM