Kolaj is a quarterly, printed magazine about contemporary collage. We are interested in how collage is made, how collage is exhibited, and how collage is collected. We bring together critical reviews and essays with artist profiles, event highlights, and articles on collage collecting, exhibiting, and making. Kolaj is published in Montreal, Quebec by Maison Kasini.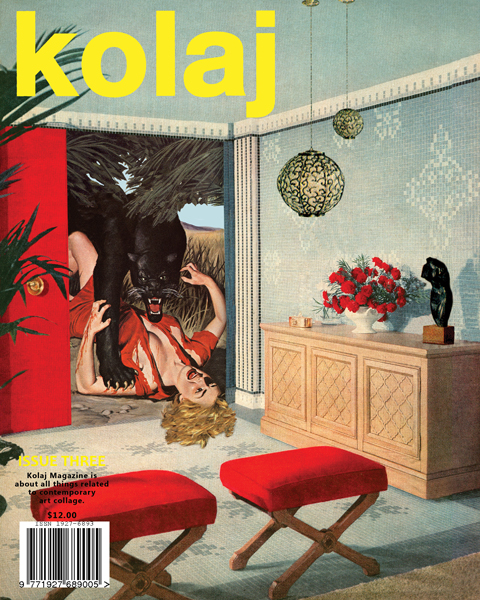 Here's a preview of what's in the issue:
Nadine Boughton's Ravished is on the cover of Issue 4.
Editor Benoit Depelteau reflects on the magazine's first year.
Veeranganakumari Solanki profiles the magical realism of Manjunath Kamath.
Cory Peeke tells us all about collage on Tumblr.
Shane De Lange profiles a South African artist.
Paul Bright reports on collage at Volta NY and The Armory Show.
We review the The Collage Workbook,
Sojourner Truth Parsons at Katherine Mulherin Contemporary,
and Peter Hutchinson at Freight+Volume Gallery.
Nikki Soppelsa shows us her studio.
We take a look at portfolios
Gloucester, Massachusetts;
Etampes, France;
Laval, Quebec;
Austin, Texas;
and Ottawa, Ontario.
And, as always, there's a new Cut-Out Page.
SUBSCRIBE OR ORDER AN ISSUE

CANADA
(Canadian dollars)
(Issue #4 ships April 24th, 2013)