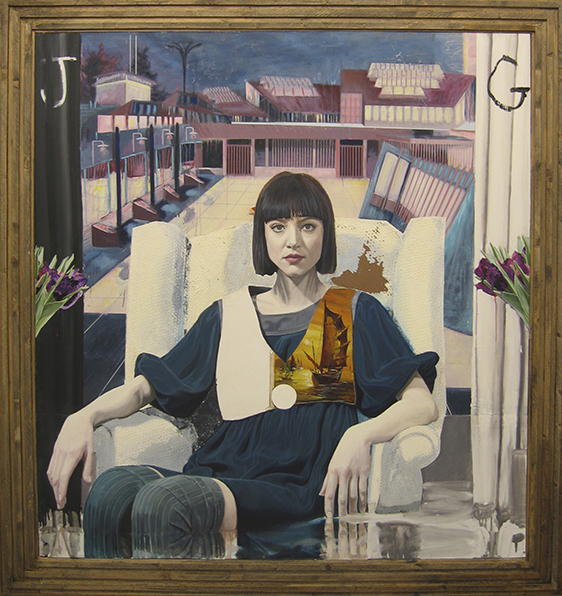 2 May-1 June 2013
James Gortner: "The Lovers"
"The Lovers" is James Gortner's first solo exhibition in New York City. For the last two years, James Gortner has been developing a series of paintings based on his relationship with photographer Carolina Palmgren, the symbolism found in the Tarot, and his theories on artistic production.
Gortner's painted image begins as a constructed composition of many other artists' original works. Via friends' donations, thrift stores, street finds, the cleaning of college art studios, and the Internet, Gortner has an ongoing empirical model for his exploration of expanded authorship. Once the background mosaic is solidified, Gortner then begins to paint upon it using traditional oil painting tropes, but enhances the surface sculpturally with collage, ripped and reassembled canvases, and found objects. Gortner may then ask other artists to intervene in the painting, further complicating his model for artistic authorship. Through the technical process and conceptual scope of the project, Gortner produces a multidimensional social mirror, plane, or lens between artist(s) and the viewer.
James Gortner was born in Orange County, California in 1977. He received his M.F.A. from Columbia University in 2010 and his B.A. from Hawaii Pacific University in 2001.
(from the gallery's press materials)
---
INFORMATION
Lyons Wier Gallery
542 West 24th Street
New York, New York 10011 USA
(212) 242-6220
Hours:
Tuesday-Saturday, 11AM-6PM or by appointment
Image:
Carolina, The High Priestess
by James Gortner
73″x69″
assembled found canvases, oil, and mixed media
2013
Courtesy of Lyons Wier Gallery, New York