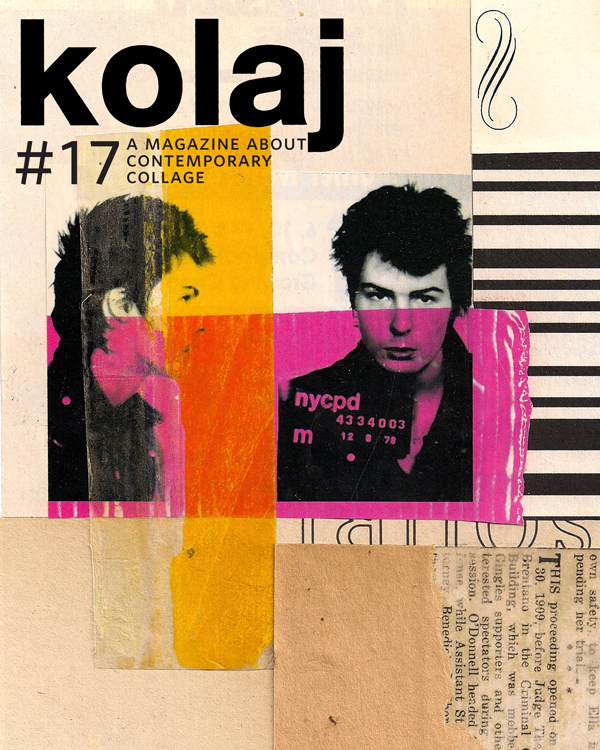 Kolaj #17 delivers a look at the wonderful world of contemporary collage: the people who make it and the people who love it.
INSIDE THIS ISSUE
A collaborative collage by Zach Collins and Ted Tollefson is on the cover. Zach Collins continues his series on collage and collaboration with some tips for a successful collaboration.
Massachusetts artist Keith Maddy's Shoot from the Hip is on the back cover. Maddy's artist portfolio appears in the issue, along with portfolios by artists from British Columbia, Louisiana, The Netherlands, and Wisconsin.
In his editorial, Kolaj Editor Ric Kasini Kadour asks if we can stop thinking about collage as a "bastard form".
One of the things that makes collage, as practiced today, uniquely modernist is the fact that a collage always references itself….The modernist painter used bad brush strokes, a poorly drawn faces, and awkward trees to remind the viewer that they are looking at a painting, to ask the viewer to contemplate the artifice of the discipline, of the medium, and to delve into the ideas, feelings, and experience behind it….By its nature, collage has always done this.
-Kolaj #17 Editorial
Clive Knights writes about how he uses collage to imagine new architecture. Knights is a professor of architecture at Portland State University.
From the Collage Taxonomy Project, Kolaj Magazine's ongoing survey of the wider collage community that attempts to define the language we use to talk about collage, we take up Jeni Bate's definition of refractured collage.
Using only found materials, Jason Pappas makes boom boxes and turntables. We interview the artist about his assemblages.
We go down the postmodern rabbit hole of Steven McCarthy's collage book Book Art The Information Electric Age.
"Once you drape an alligator shawl around a lady's shoulders or build some serious plumbing into an evening dress, the game is on," said Ruth Marten about her 19th century French book engravings to which she adds large reptiles in watercolour. Dian Parker offers this profile.
Lázló Moholy-Nagy was a forerunner of kinetic, conceptual and even minimalist aesthetics. Etty Yaniv reviews his retrospective at the Guggenheim in New York.
In News & Notes, we report on Australian collagist Steve Tierney's music video for the Fetes project. Cut + Paste PHX, the monthly collage event in Phoenix, Arizona, celebrates their first anniversary. "Under the Influence" at Village West Gallery in New Jersey focuses on the influence of artists on one another. This Fall, the Collage Artists of America wrap up their Summer 2016 Juried Member Exhibit and open their National Juried Open 2016 "Altered States of Collage". And as always, a Kolaj Artist Directory.
Already subscribed? Don't worry, you will be receiving your copy the week of 17 October.
SUBSCRIBE OR ORDER AN ISSUE

(US dollars)

(Canadian dollars)