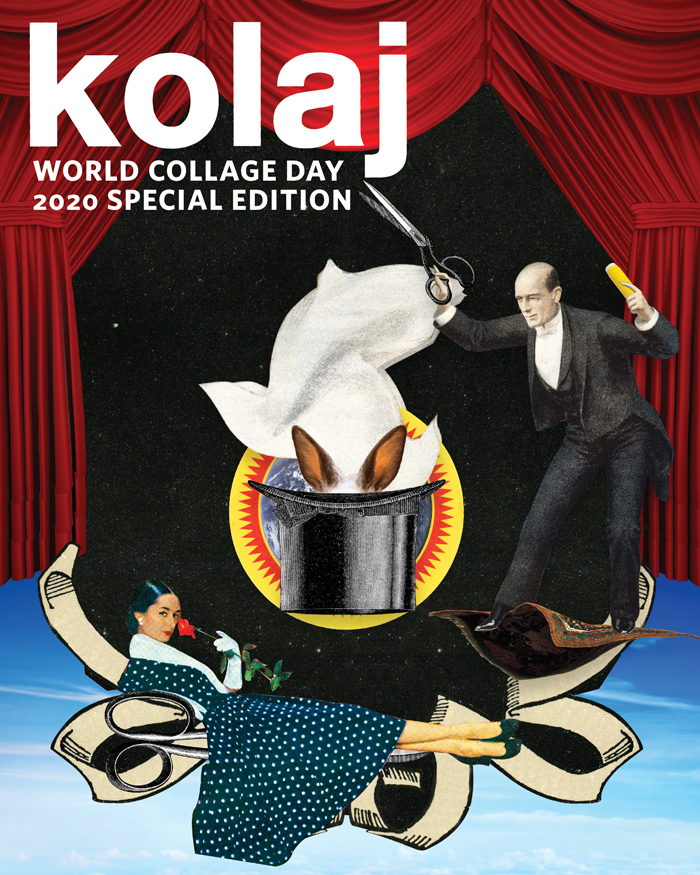 In honour of World Collage Day, 9 May 2020, Kolaj Magazine is releasing a special edition of the magazine. The Special Edition is full of cut out pages to inspire you by collage artists from around the world. The World Collage Day 2020 Special Edition includes the special edition booklet, a World Collage Day 2020 poster and a pack of 8 postcards featuring the collage of Emma Anna.
ORDER YOUR COPY | WORLD COLLAGE DAY WEBSITE
The World Collage Day 2020 Special Edition features cut out pages by seventeen collage artists from Brazil, Canada, the Czech Republic, Germany, Hungary, Italy, Russia, Spain, the United Kingdom and the United States, as well as a profile of and two cut-out pages by the World Collage Day 2020 poster artist, Australian-Colombian collagist Emma Anna.
Featured artists are: Francine Alves | Tom Amoretti | Soraia Aguirre | Ana Paula Barros | Diane Cameron | Ida Csapó CSI | Martin Došek | Susanna Lakner | Miranda Millward | Elena Øhlander | Sonia Otero | Julia Payne | Emma Petrochko | Ruth Saporito | Irina Sevostyanova | Emily Tironi | Kayla West
In his commentary, "Collage Magic", Kolaj Magazine Editor Ric Kasini Kadour quotes German critical theorist Theodor Adorno, "The task of art today is to bring chaos into order. Artistic productivity is the capacity of volition in involition. Art is magic, emancipated from the lie of being the truth."
The Special Edition also features a profile of Irish publisher Redfoxpress, whose current catalogue features over fifty collage books.
NOTE: The World Collage Day 2020 Special Edition is not included with a Kolaj Magazine Subscription.