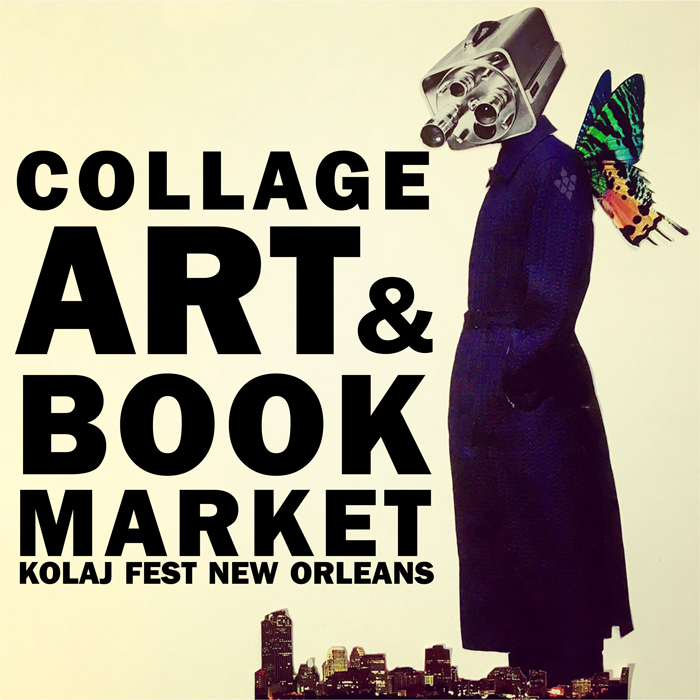 AT KOLAJ FEST NEW ORLEANS
Collage Art & Book Market
at Kolaj Fest New Orleans 2022
Saturday, 18 June 2022, 1-5PM
Cafe Istanbul in the New Orleans Healing Center
2372 St. Claude Ave, New Orleans, LA 70117 [map]
Part of Kolaj Fest New Orleans, the Collage Art & Book Market is an opportunity for the general public to meet artists and publishers and to take in the rich and diverse cultural production of the international collage community. The public will be invited to peruse vendor displays or attend a talk or demonstration. The event is free and open to the public.
AT THE MARKET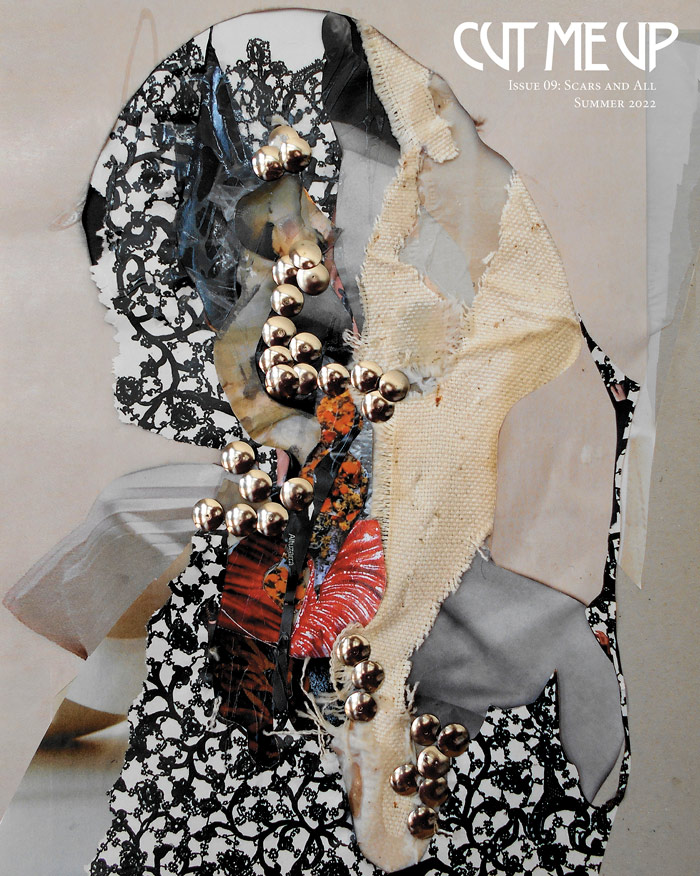 Andrea Burgay
Brooklyn, New York
Andrea Burgay is the founder and editor of Cut Me Up Magazine, a participatory magazine of visual call and response. She also explores collage concepts and processes through interviews and curatorial projects. In her studio, Andrea creates collage works by adding and removing layers of handmade and collected materials. At the market, Andrea will be offering Cut Me Up Issue 8 (Guided by Instinct, curated by Naomi White) and Cut Me Up Issue 9 (Scars and All, curated by Laurent Seljan).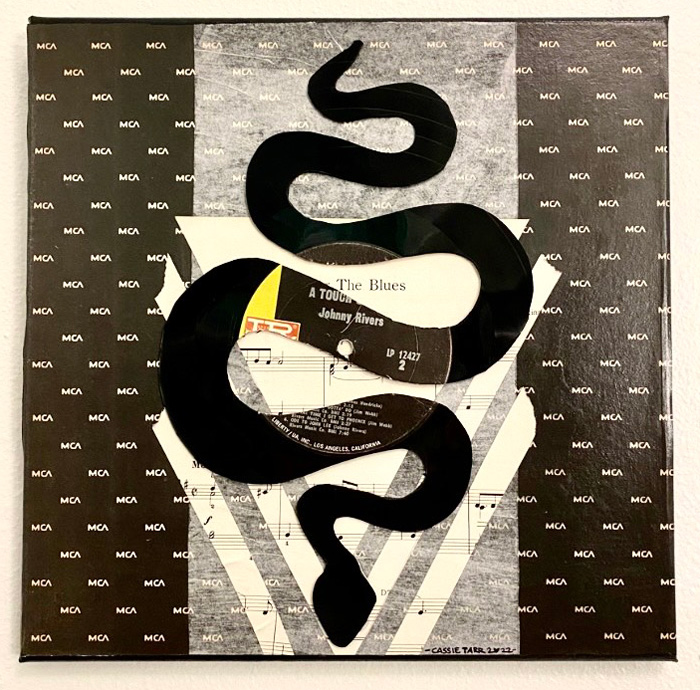 Cassie Tarr
New Orleans, Louisiana
Cassie Tarr is a decade-long member of The Jackson Square Art Colony in New Orleans. Her work explores the transformative process of taking discarded analog media and turning it into art. She uses collage as a vehicle to recycle interesting text , with a focus on music, she finds along the way. www.cassietarr.com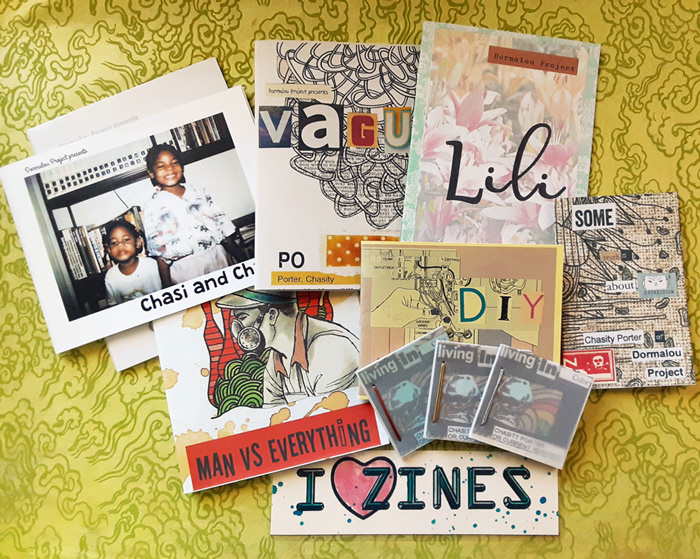 Chasity Porter
Missouri City, Texas
Chasity Porter is a Texas mixed media artist with a concentration in collage, assemblage, and making zines. She is also presenting "Brown Papier Bag Collage" with Stacy Kirages at the Ogden Museum on Thursday. At the Market, she will be selling original collage works on paper and framed, zines/handmade art books, stickers, bookmarks, and more. www.dormalouproject.com
Claudia Lynch
New Orleans, Louisiana
Claudia Lynch has enjoyed a multifaceted career as theatrical costume designer, tutu-maker, milliner, author, publisher, artist, illustrator, and collage maker. At the Market, Claudia will have a limited number of original works from her "Floating Dresses" series, along with prints of those pieces and several smaller paper collages. To demonstrate the evolution of her current collage work and also previous series, she will also offer work from her "ShoeStories™" series, which she creates by combining unrelated elements to make an original image. www.claudialynch.com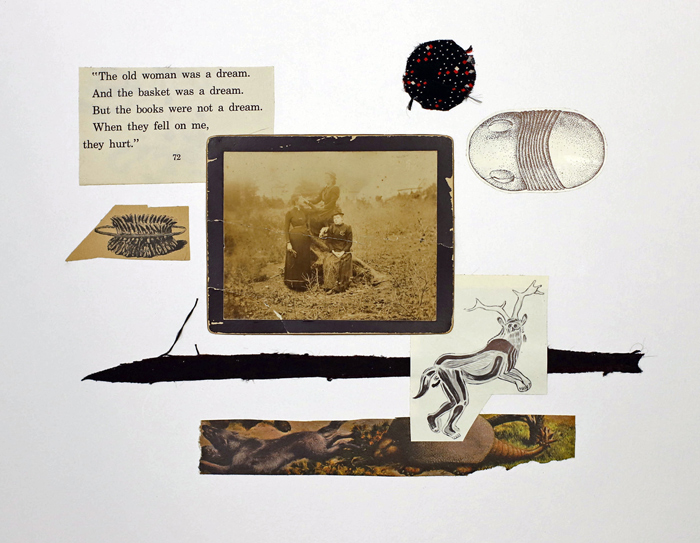 Derek Owens & Caroline Golden
Ronkonkoma and New York, New York
Collagists Derek Owens and Caroline Golden are the authors of The Villagers, published by Animal Heart Press in 2022. They will give a presentation about the book during the market, which will explore Golden's process for making her hand cut collages, as well as Owens's approach to writing a fictional counterpart for each image. At the market, they will be selling copies of the book. www.derekowens.net and www.carolinegolden.com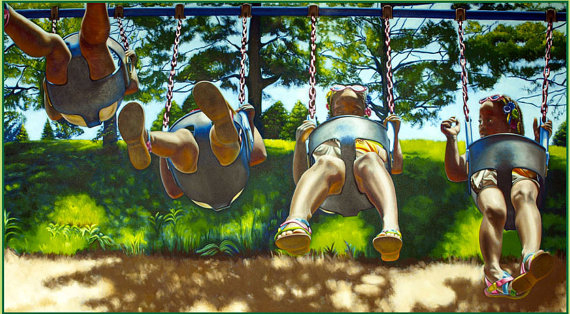 Erin Smith Glenn
Cincinnati, Ohio
Erin Morgan Smith Glenn is an associate professor of art, advisor of the Visual Arts Club, former VP of the board for the Dayton Society of Artists, and proud alum of Central State University. She is also the founder of TheScarvinArtist LLC. At the market, Erin will be offering "Acrylic Squared" pieces, which incorporate acrylic yarn on acrylic paint; her homage to Meret Oppenheim called Tea for One; and limited edition hand-signed prints of her original paintings and drawings. www.etsy.com/shop/TheScarvinArtist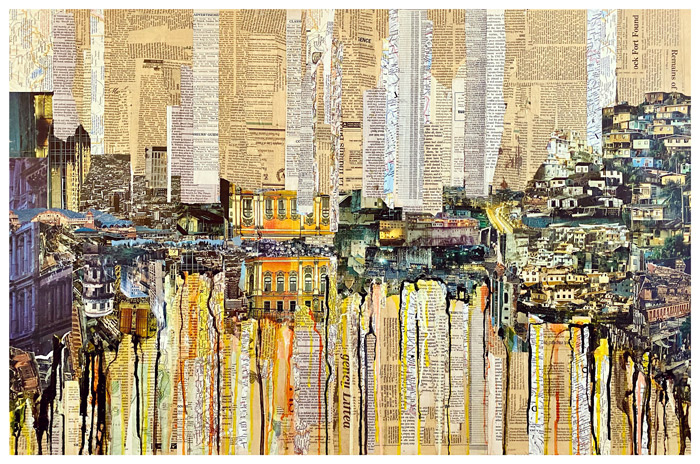 Kevin Comarda
New Orleans, Louisiana
Kevin Comarda is a New Orleans collage artist and musician with backgrounds in graphic design, abstract expressionism and impressionism. As a colorblind artist, Kevin is determined to embrace that very attribute in order to forge something unique beyond the confines of genre. The resulting images are layered representations of life, love, and death, hoping to invite you in long enough to feel the subtlety, intimacy and rhythm contained within each vibrant narrative. At the market, Kevin will be selling prints and original works mounted on wood. kevincomarda.carbonmade.com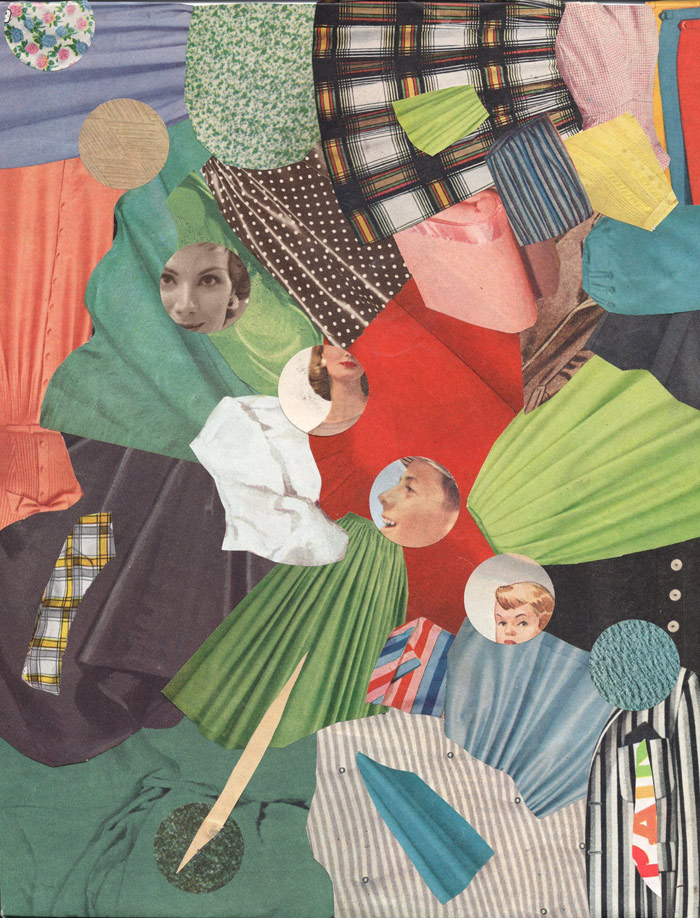 Kevin Sampsell
Portland, Oregon
Since discovering a pure love for collage making in 2014, the art form has changed the way Kevin Sampsell sees the world around him. He likes to make collages that showcase elements of humor, surprise, and mystery. At the market, Kevin will be selling prints of some of his collages and copies of his most recent collage book, I Made an Accident (Clash Books, 2022). www.kevinsampsell.com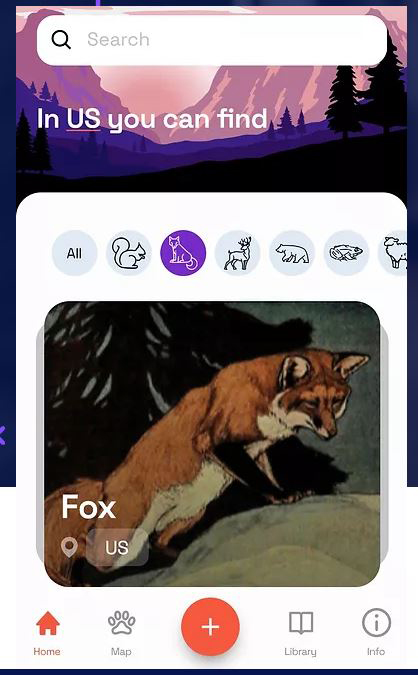 WhoPoo App
Alexandria, Virginia
Sara Sass is a patent attorney who has been involved with canal clean-ups of the C&O Georgetown Canal in Washington D.C. since 2017. Her dedication to litter reduction and biodiversity inspired her to create the free mobile app WhoPoo. WhoPoo uses photography from users, from pre-1950 hunting journals and illustrations, and from Sara herself to provide a full view of North American wildlife. www.whopooapp.com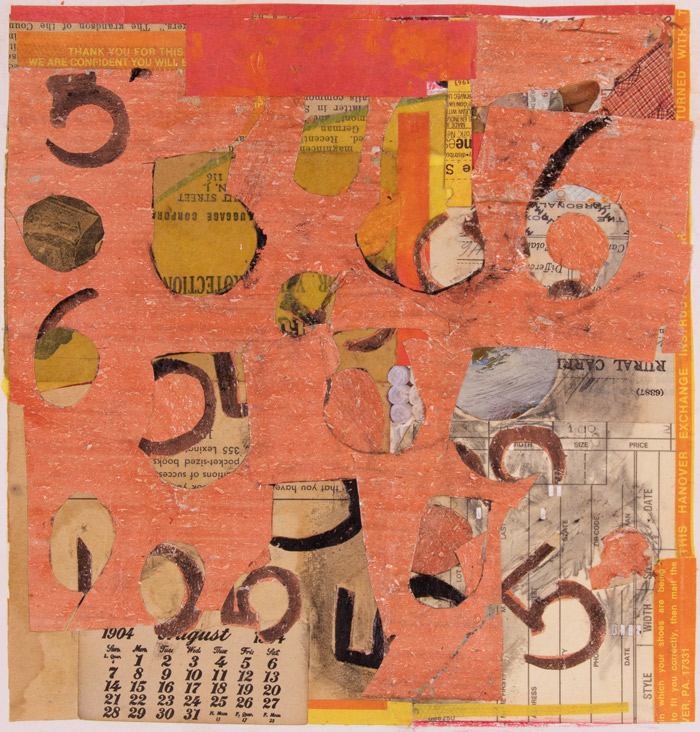 Monica d. Church
Poughkeepsie, New York
Monica d. Church's collages are made in one shot: that is, all at one time. They are not planned out but rely on instinct and visual improvisation. At the market, Monica is offering about 100 original, unframed, small collages, none of which is larger than 12″x16″. When traveling, Monica actively collects ephemera and trash and gains an understanding of that city, neighborhood, or culture by what is freely discarded. These materials are integrated with Monica's old artwork and family memorabilia creating small "diary" entries transforming these unrelated materials to tell new stories. www.monicachurch.org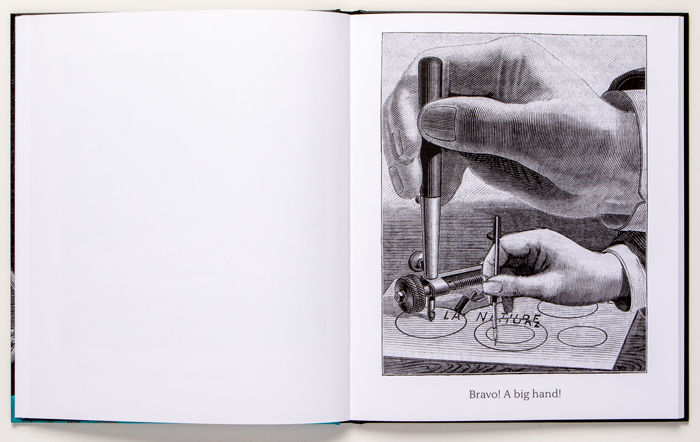 Simon Blake
New Orleans, Louisiana
Trained as a graphic designer and filmmaker in London, Simon Blake has always gravitated towards a mixed-media approach to creating his work. Using the art of collage, puppetry, printing, drawing, photography, classic vintage film techniques and typically an analogue hands-on approach, he loves to create a wonderful sense of the unusual. At the market, Simon will be selling copies of his 2020 collaboration with writer Dalt Wonk, Lonely Voyagers (Luna Press). The book was a 2021 Indie Book Awards Finalist and 2020 Eric Hoffer Award Finalist. www.simonblakestudio.com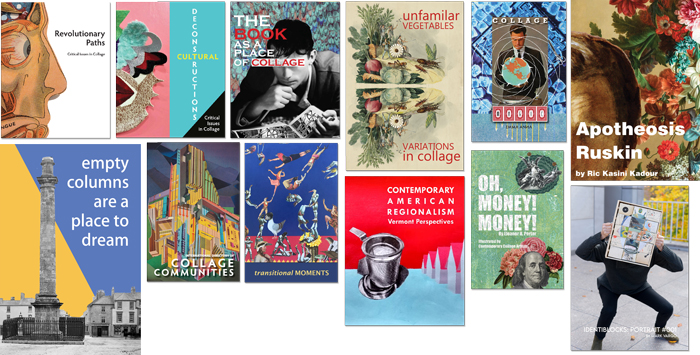 Kolaj Magazine & Institute
New Orleans, Louisiana
Kolaj Magazine is an internationally-oriented, printed, art magazine that reviews and surveys contemporary collage. We are interested in collage as a medium, a genre, a community, and a 21st century art movement. Kolaj Institute publishes books that document and diffuse ideas that deepen our understanding of collage as a medium, a genre, a community, and a 21st century movement. Books are often outcomes of residencies, fellowships, and other projects. Recent titles include Empty Columns Are a Place to Dream; transitional MOMENTS; Oh, Money! Money! by Eleanor H. Porter; The Money $how: Cash, Labor, Capitalism, & Collage; Unfamiliar Vegetables: Variations in Collage. www.kolajinstitute.org
HOW TO EXHIBIT
If you are an artist or book publisher, we invite you to sign-up for an exhibition space at the Collage Art & Book Market. The cost is included (free) to those registered for Kolaj Fest New Orleans, $30 for others. Vendors will be assigned a 30-inch table or may bring their own display. Vendors staff their own tables and manage all sales independently. To sign-up, complete a submission HERE.
Deadline to apply: Monday, 6 June 2022, unless the market is full by then. Submissions are reviewed on an ongoing basis. Space is limited.