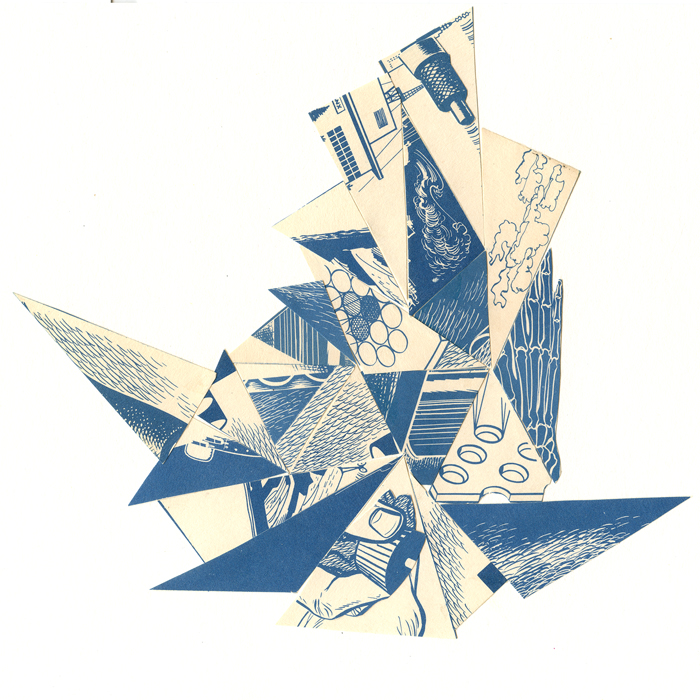 AT KOLAJ FEST NEW ORLEANS
Narrative, Scale, and other Strategies
"Because of the nature of many of the materials collage artists typically use, we tend to make small- or medium-sized works," writes Julia Nelson-Gal. "But many artists have set examples of going big, including Robert Rauschenberg, Mark Bradford, [San Francisco] Bay Area artists Shem (Michael Shemchuk) and Mark Eanes, Efren Alvarez (who makes large-scale collages out of small fruit stickers) as well as Michael Garlington, whose large-scale, architectural wonders at Burning Man are covered in his own photographs. And others have begun to experiment with enlarging their work, such as Melinda Tidwell and Leigh Wells."
Nelson-Gal has made larger work by creating multi-panel pieces. At Kolaj Fest New Orleans, she will join other collage artists in a discussion of scale and narrative. The goal of the dialogue is to arm collage artists with a range of strategies for developing their work.
Chad Yenney has been pushing himself to produce pieces on a larger scale, utilizing a large format printer and building panels for works in resin. Roswitha Mueller makes collage on large canvases. All of these artists achieve scale using a variety of strategies, a key development for making collage that can function in a museum and gallery system that places emphasis on large, experiential work. But that's only half the work. Stories move culture and collage's ability to tell new and dynamic stories is one of the medium's hallmarks. Nonney Oddlokken uses Cajun folklore, Christian imagery, and a deep awareness of swamp flora and fauna to collage and sew magical works of art where characters move through a narrative arc thick with iconography. Rosie Schinners uses vibrant splashes of color to bring new life to old images while telling stories about alchemy, anxiety and the human condition. Teresa Cribelli uses her training as a historian to weave the past into her work and speak to the present. She writes, "Historians are storytellers who craft their narratives from sources and materials produced in a particular period." In this session, these collage artists will present their work and lead a discussion about how they scale-up and tell stories with their collage.
About Kolaj Fest New Orleans
Kolaj Fest New Orleans is a multi-day festival and symposium about contemporary collage and its role in art, culture, and society, July 10-14, 2019. Visit the website to learn more, see an overview of the program, and register to attend. Kolaj Fest New Orleans would not be possible without the support of Press Street, Ogden Museum of Southern Art, LeMieux Galleries, Mystic Krewe of Scissors and Glue, Antenna Gallery, Kolaj Magazine and Kasini House. Kolaj Fest New Orleans is made possible through a generous gift from Laurie and Doug Kanyer. WEBSITE


Julia Nelson-Gal
www.julianelsongal.com
Julia Nelson-Gal's earliest passion was photography and she photographed for student publications while studying for Masters and Bachelors degrees in Art History from the University of Michigan. Before making art full-time, she worked for fifteen years in museums, at a non-profit, and at an auction house as a photography specialist. Her work has been shown throughout the US and abroad and is in collections including the Library of Congress Print Collection, the Alexandria Library in Egypt, the Sheffield International Artists' Book Prize Collection in England, the Siena Art Institute in Italy and the collection of the City of Palo Alto, California. She has taught Mixed Media Graduate Photography classes at the Academy of Art University. Currently, she is a member of the Burning Man Photo Documentary Team and also part of David Best's Temple crew, with which she has worked on builds in Northern Ireland, at the Smithsonian, in San Francisco, at Burning Man and in Parkland, Florida. She has also built with Michael Garlington at the Hermitage Museum, Norfolk, Virginia, and at Burning Man. The artist lives and works in Palo Alto, California.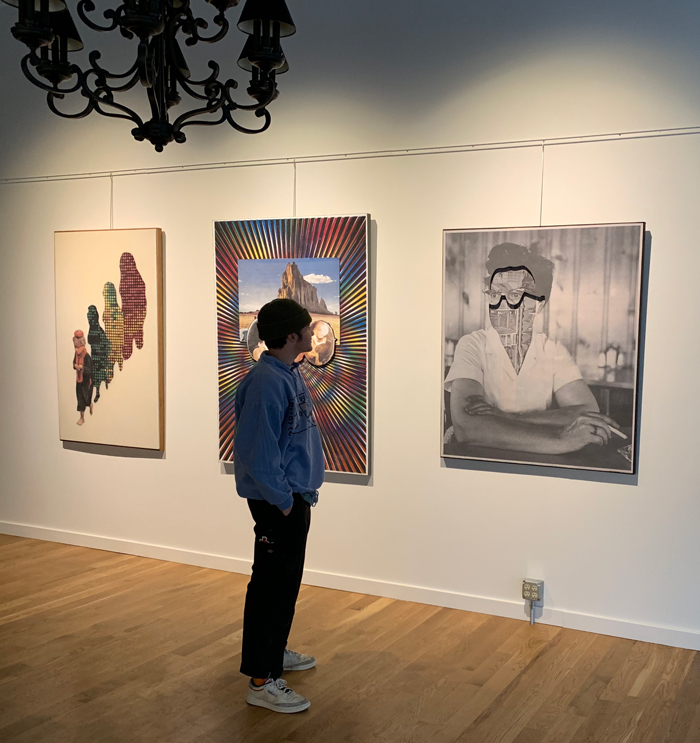 Chad Yenney
Instagram @computarded
Chad Yenney started with collage in the 1990s making flyers for local bands and then got back into it in 2014. In 2017, he produced a broadsheet-sized collage fanzine with over 30 international artists each doing a piece based off Dead Kennedys songs called Holiday In Mar-a-Lago. He constantly participates in group and solo shows. In March 2019, he opened an art gallery, which will host collage group exhibitions. Yenney lives and works in Wenatchee, Washington.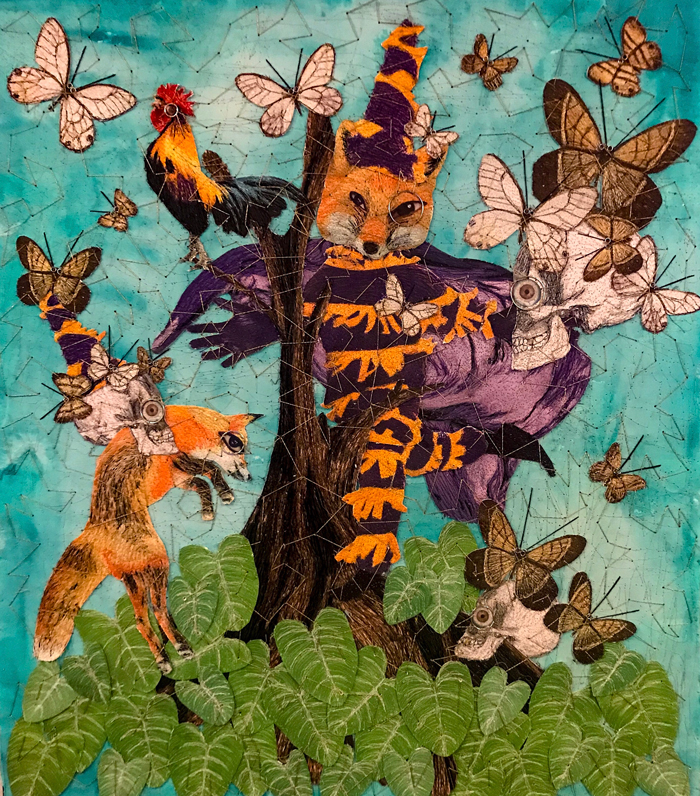 Nonney Oddlokken
www.threadpaperglue.com
Native New Orleanian Nonney Oddlokken holds a BFA from Strykejernet Fine Arts Academy in Oslo, Norway with continuing studies in Women's Studies at the University of New Orleans. She has also spent much time researching, traveling, taking classes and studying paintings at major art museums in the United States and Europe. She started an Arts Enrichment Program at Harahan Elementary School and taught art at Hahnville High School. She also served as the guest lecturer for the St. Charles Parish School Board Arts Program in 2015. Her work was featured in "Revolutionary Paths: Critical Issues in Collage" at Antenna Gallery in July 2018 and the subsequent catalog.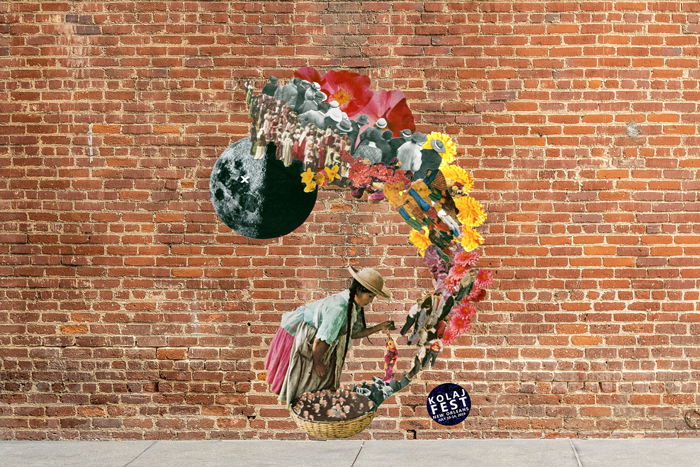 Rosie Schinners
www.rosieschinners.ca
Rosie Schinners is a collage artist who lives and works on Salt Spring Island, British Columbia. She holds a BA from the University of Guelph as well as a BFA from NSCAD University. Since childhood, she has been cutting, pasting, and leaving trails of scrap paper around the house. Working primarily with vintage print material, she combines hand-cut collage with vibrant splashes of color to bring new life to old images. Her work typically looks to explore fleeting moments of alchemy, anxiety and the human condition. Schinners' Instagram page, @thedystopianreader, has images from her current collage bookmark project, The Dystopian Reader. She was also the designer of the poster for World Collage Day 2019. Learn more also at her Kolaj Magazine Artist Directory page.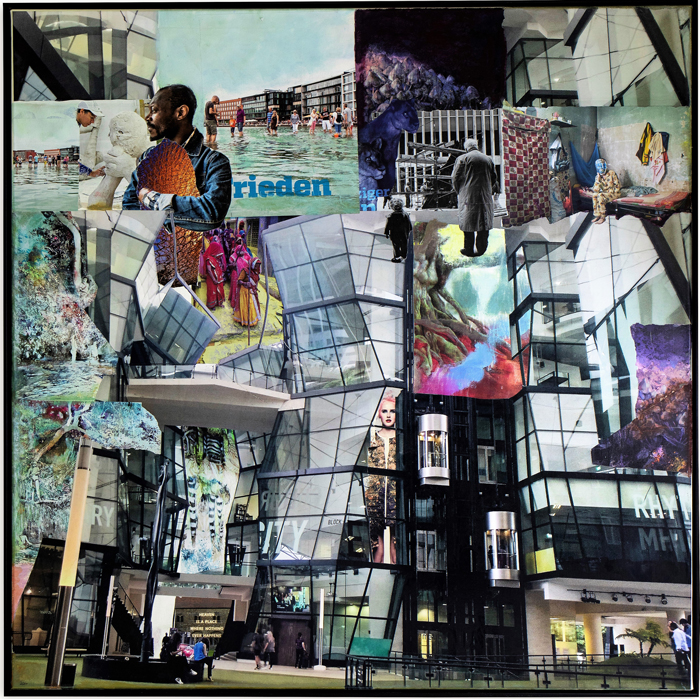 Roswitha Mueller
www.ausdunstwirdkunst.com
After many years as a carpenter, social worker and working in other jobs, Roswitha Mueller started a new career as a collage artist in 2015. She was always attracted to visual communication and took several acrylic painting courses. Her friends encouraged her to go further, so she quit her job and dove deep into the world of handmade collage. She has shown her work in a hospital, several cafes, and offices in Nuremberg, Munich, Regensberg, and in Schwabach. She occasionally offers collage workshops and continues to be inspired by other collagists. She lives and works in Schwabach, Bavaria, Germany.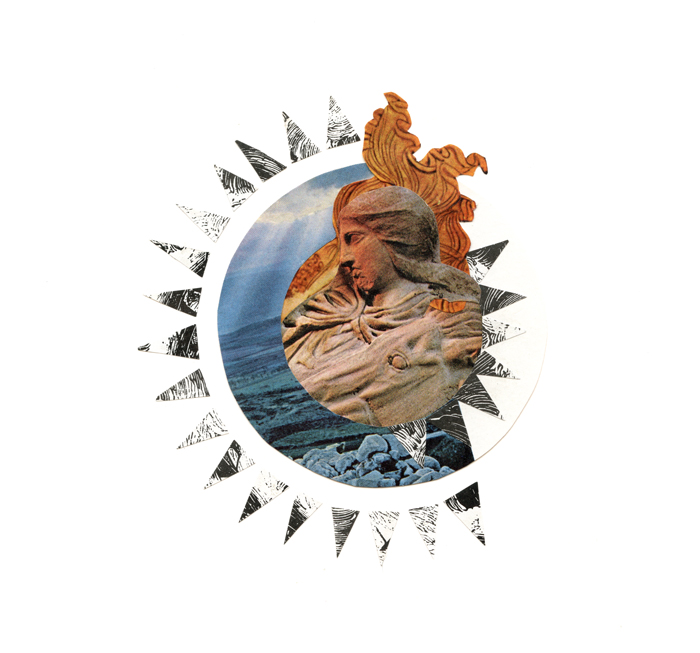 Teresa Cribelli
Instagram @tacoflotilla
Teresa Cribelli's education is based in the textural arts. She holds a BA in English from the University of Colorado, Denver and a PhD in History from the Johns Hopkins University. Her strong attraction to visual expression and collage making began at a young age. She has exhibited her artwork at the O'Connor Art Studio and Drish House in Tuscaloosa, Alabama. Street art pieces based on her collages can be seen in Tuscaloosa and Birmingham, Alabama, Denver, Colorado; Barcelona, Spain; and São Luís, Brazil. She is currently completing a collage-based street art installation on the history of the Black Warrior River in downtown Tuscaloosa. Her ten-year-old son often joins in collage-making sessions, and he titles many of her pieces. She currently teaches Latin American History (with a focus on Brazil) at the University of Alabama. The artist lives and works in Tuscaloosa, Alabama.
Images (top to bottom):
Strangefish by Teresa Cribelli
9″x7.75″; vintage paper; 2016
LIFE circa 1960 by Julia Nelson-Gal
72″x72″; vintage Life Magazines, acrylic, wood panel; 2017
installation view of work by Chad Yenney
collage by Nonney Oddlokken
Mock-up of a proposed street art installation for
"The Brujas Visit The Swamp" at Kolaj Fest New Orleans 2019
by Rosie Schinners
Inside Out II by Roswitha Mueller
39.4″x39.4″; collage on canvas with shadowframe; 2017
Halo II by Teresa Cribelli
8″x8″; vintage paper; 2018