AT KOLAJ FEST NEW ORLEANS
Animation and Collage
Collage has a long history with animation, from Quirino Cristiani's feature length, cut-out animation El Apóstol (1917) to Lotte Reiniger's silhouette animations from the 1920s and 1930s to the surrealist films of Joseph Cornell to Terry Gilliam's wacky introductions to Monty Python's Flying Circus to the array of commercials that use collage to tell a story. Some have argued that modern CGI is a form of collage. Animation provides collage artists a different way to tell stories and potentially opens new paths to sharing their work. In this panel, professionals will present examples of their animation and talk about this aspect of collage. For artists, the panel is an opportunity to learn new ways of expanding their art practice. For professionals, this session is a chance to be introduced to this dynamic aspect of the medium.
The panel will be moderated by Lisa Barcy, an independent filmmaker and collage artist whose animated work has been screened internationally at film festivals. She also teaches animation at DePaul University in Chicago. Laurie O'Brien is an Assistant Professor of Visual Media in Photography at the Rochester Institute of Technology. She created a "Peephole Cinema" in three cities where short films are screened through a dime-sized hole available to the public 24 hours a day. Paloma Trecka makes and teaches stop motion animation in Chicago. Simon Blake has worked as a mixed-media filmmaker in both commercial and non-commercial settings. His clients include many Fortune 500 companies and work has been screened at Sundance, won two AICP awards and is in the permanent collection of the Museum of Modern Art. He lives and works in New Orleans.
Kolaj Fest New Orleans is a multi-day festival and symposium about contemporary collage and its role in art, culture, and society, July 12-15, 2018. Visit the website to learn more, see an overview of the program, and register to attend.
About the Presenters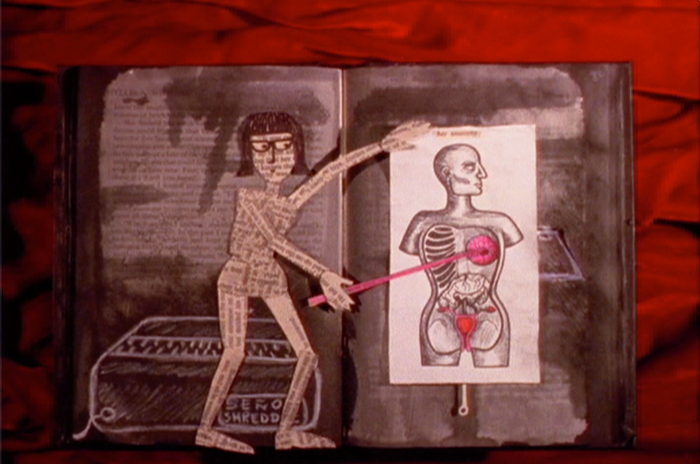 Lisa Barcy
Lisa Barcy is an independent filmmaker and collage artist whose animated work has been screened internationally at film festivals. She has been awarded the Director's Citation twice at The Black Maria Film Festival, and Best Animation at both the Chicago Underground Film Festival and The Ann Arbor Film Festival, and also created the music video Anonanimal for Andrew Bird. Currently she's working on a short film, a music video, and an increasingly large pile of collages. She wields her X-acto knife in Chicago and teaches animation at DePaul University, sometimes at the same time. Barcy's collage, When the Pilots Take Off, was featured in Collage Artist Trading Cards, Pack 4. Go to www.lisabarcy.com for more information. (image (top): A Little Game (5″x8″; 3D collage on paper and illustration board; 2018) and (above) Woman Without a Past (still) (collage animation; 2004))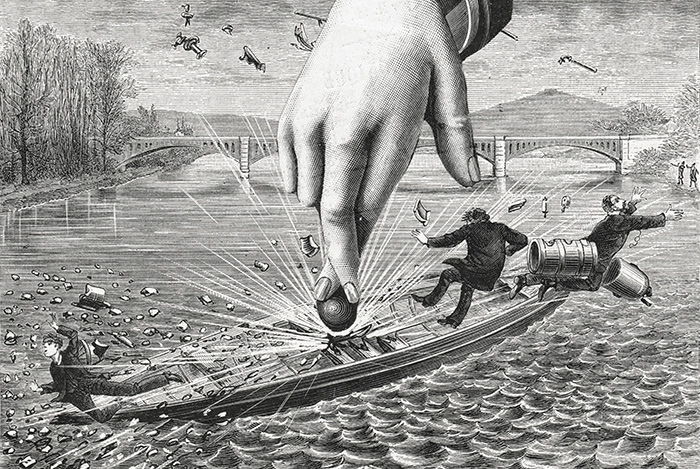 Simon Blake
New Orleans-based Simon Blake is a graphic artist and mixed-media filmmaker. He studied graphic design, illustration and mixed-media film in England. His professional life includes teaching children 35mm "scratch" animation; creating film titles for numerous Hollywood and British films; working at the BBC; directing commercials and mixed-media projects; and moving into graphic design, branding, and collage work. His films have been shown at prestigious locales, including Sundance, garnered two AICP awards and are in the permanent collection of the Museum of Modern Art. His work is in private collections in the U.S., Australia and Europe. There is much more to learn on his Kolaj Magazine Artist Directory page and at www.simonblakestudio.com. (image: La Main de Dieu (3.8″x5.7″; vintage ephemera; 2017))

Laurie O'Brien
Laurie O'Brien works in collage, video, installation, and animation. She is interested in hybrid forms of expression that combine and defy categories. In 2016, she co-founded the Diorama & Collage League in San Francisco and later in Rochester, New York. Her collage animations and video installations have been exhibited in numerous galleries nationally and internationally. In 2013, she created the "Peephole Cinema" in three cities where short films are screened through a dime-sized hole available to the public 24 hours a day. She is an Assistant Professor of Visual Media in the Photography Department at Rochester Institute of Technology. She lives in both Brooklyn and Rochester. O'Brien's website is laurieobrien.com. (image: The First A (collage; 2016))

Paloma Trecka
Paloma Trecka was born in Xalapa, Veracruz, Mexico. Her formative years were spent travelling around Europe and Mexico and living in Montreal, where she studied Studio Art and Design for the Theatre at Concordia University. Paloma was raised by artists and anthropologists and grew up in an environment filled with music, folklore and art. Her parents were also thespians, who passed on a love for performance and pageantry. Her collage art is influenced by geometric abstract artists such as Wassily Kandinsky, Eva Hesse and Frank Stella. She chose the artist name Paloma Shaloma to reflect her self-deprecating humor, as well as a deep affection for her family's Sephardic Jewish roots from Mexico. It is from Mexico that she gains the most inspiration for color and from Chicago, the love of the grid, line and texture found in architecture. See her work on her Instagram page, @paloma_trecka. (image: Sing Along (8″x8″; salvaged LP cardboard on wood panel; 2018))