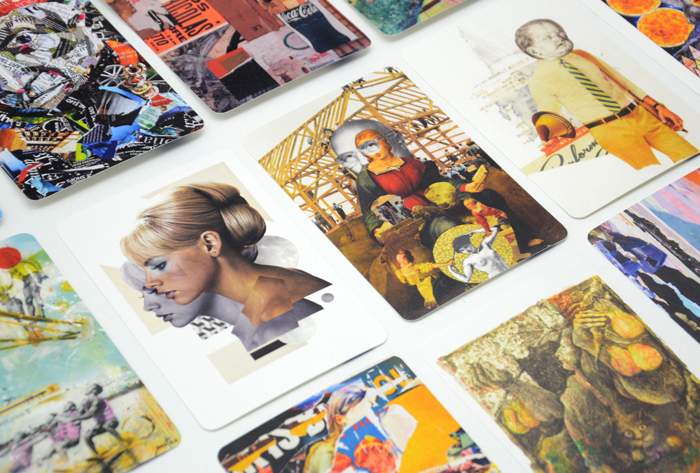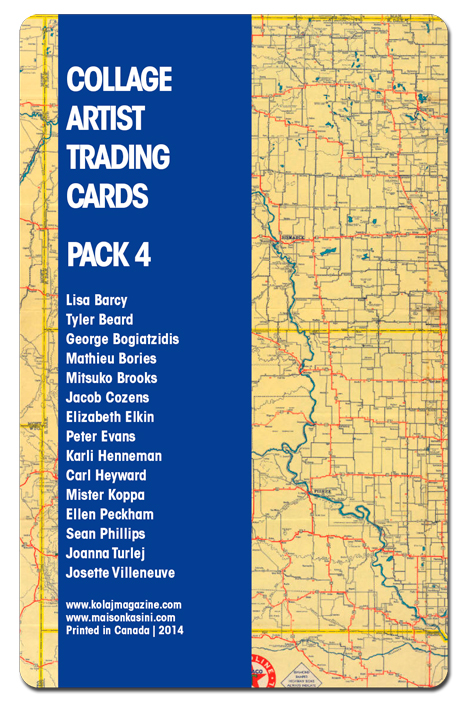 Working with the Kolaj Magazine Artist Directory, Kolaj presents the fourth pack of these curated Artist Trading Cards. Since 2011, we have been plugged into an international community of collage artists. And with so many people doing incredible work, we decided someone needed to start treating them like the All-Stars that they are. There is no better way to commemorate an All-Star than putting them on a trading card. The idea of Collage Artist Trading Cards was born.
Each card is a full colour, 5.5" x 3.5" postcard with rounded corners. An example of an artist's work is on the front of the card and the artist's public contact information is on the back. Collage Artist Trading Cards come in packs of 15.
You can frame the cards you like as mini-prints; collect and curate your very own exhibition. You can also use the cards for discovering contemporary, fine art collage. We think they are a great way to be introduced to the artwork of collage artists.
Pack Four features artists from Canada, Greece, France, the United Kingdom, and the United States, and, as always, includes a diverse selection of collage practice.
You can also purchase Packs One, Two, and Three and complete the set: Collage Artist Trading Cards, Pack One, Collage Artist Trading Cards, Pack Two, Collage Artist Trading Cards, Pack Three.
Collage Artist Trading Cards, Pack Four
5.5″x3.5″ | 15 full-colour postcards with title cards in clear plastic bag | 2014 | Published by Kolaj Magazine | Printed in Canada
$10.00
Lisa Barcy, Chicago, Illinois, USA | Tyler Beard, Chicago, Illinois, USA | George Bogiatzidis, Thessaloniki, Greece | Mathieu Bories (Mateo), Toulouse, France | Mitsuko Brooks, Brooklyn, New York, USA | Jacob Cozens, Eastleigh, United Kingdom | Elizabeth Elkin, Oakville, Ontario, Canada | Peter Evans, London, United Kingdom | Karli Henneman, San Francisco, California, USA | Carl Heyward, San Francisco, California, USA | Mister Koppa, Viroqua, Wisconsin, USA | Ellen Peckham, Riverdale, New York, USA | Sean Phillips, Bakersfield, California, USA | Joanna Turlej, Oakville, Ontario, Canada | Josette Villeneuve, Shawinigan, Quebec, Canada