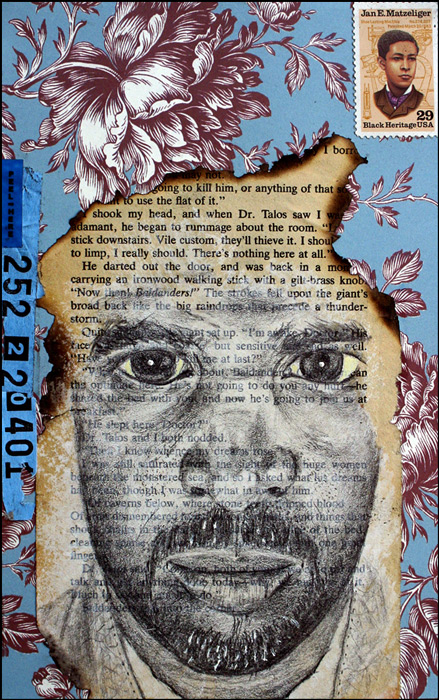 Catherine G. Wagley profiled Los Angeles-based collage artist Len Davis in Issue 10 of Kolaj Magazine. Davis has been showing widely around the U.S. over the past year, a result of his hard work of reaching out to galleries and universities, designers and production artists.
Part of Wagley's conversation with Davis is a discussion of a piece called Find a Way:
"It's about how if you cannot come up with a solution, you've just got to keep grinding away," says Davis. He has painted yellow clouds on cut-up newspaper and also painted black holes that make the sky look like a façade that's breaking apart in places. So the planes are finding their ways against a background that's part sunny, part dark. "You have to find a way to get to where you want to be or need to be," Davis continues, "and I try to apply that to life and in terms of my career. I'd like to be a full-time working artist and I'm still trying to find that way. It takes years, so . . ." His lets that thought fade. "It's more of a philosophy, or a strategy," he adds, which is often how his collages work: they represent observations or ideas he has about life.
This article originally appeared in Issue Ten. To read the entire article and other writing about the world of collage, SUBSCRIBE to Kolaj or PURCHASE ISSUE TEN.
Image:
A Thousand Words #8
by Len Davis
8″x5″
collage and graphite on newsprint and panel
Courtesy of the artist