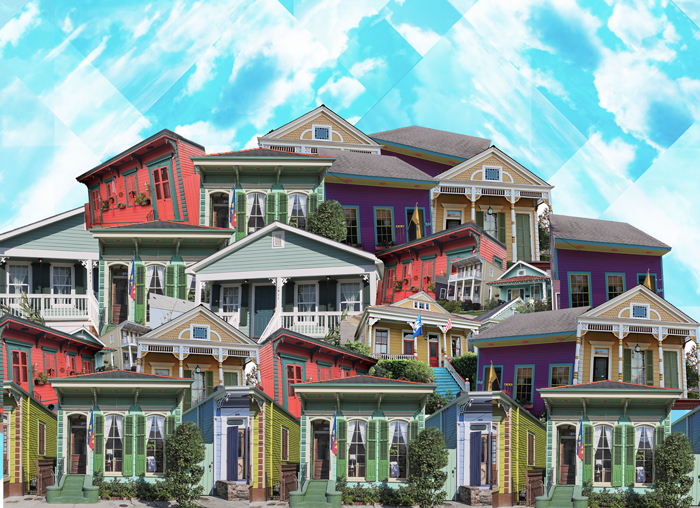 AT KOLAJ FEST NEW ORLEANS
New Orleans Collage Group Leads a Number of Initiatives
Meet-ups are part of the tapestry of the collage community. The formula is pretty simple: a group of artists get together on a regular basis and cut and glue and chat for an evening. Sometimes these casual affairs form the basis for deeper collaboration and organizing, resulting in group projects and exhibitions. Other times they remain low key social events centered around art making. Christopher Kurts and Hope Amico met at Kolaj Fest New Orleans in July 2018 and wanted to connect with other artists working in New Orleans.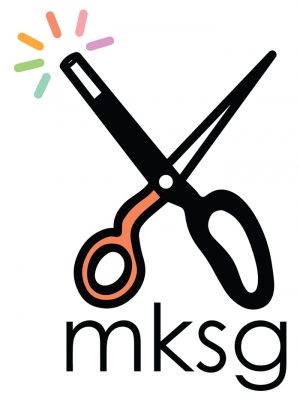 Kurts and Amico formed the New Orleans Collage Meet-up as a loose collection of collagists who meet once a month to work collaboratively and independently in the same space for a few hours. The group adopted the name Mystic Krewe of Scissors and Glue (MKSG). In New Orleans, a "krewe" is a social organization that puts on a parade or ball during Carnival season. Some krewes stay active throughout the year with smaller social events or they get together regularly to plan for the following year's Carnival.
MKSG has yet to declare any plans for Carnival but they have taken a key role in supporting Kolaj Fest New Orleans. They are making DYI collage kits with image clippings, colored paper, fabric, other goodies, and a welcome note from the Krewe for the Kolaj Fest New Orleans Registration Packet. The Krewe is playing a key role in organizing the Thursday evening Collage Party (details coming soon). Krewe co-founder Hope Amico will be leading a tour of Paper Machine on Sunday.
The Krewe is producing an exhibition at Artisan Bar & Cafe, the home of the festival's collage making space, that will run the month of July with additional work being added during Kolaj Fest New Orleans. Krewe members selected Familiar Vegetables by Carlotta Bonnecaze as a point of inspiration and are inviting Kolaj Fest New Orleans participants to contribute a collage using that image. After Kolaj Fest New Orleans, the collages will be scanned and turned into a book published by Maison Kasini, the publishers of Kolaj Magazine.
Throughout Kolaj Fest New Orleans, members will be leading the creation of a large, collaborative collage on panel, a giant CollabSlab. Participants of Kolaj Fest New Orleans are invited to drop into Artisan Bar and Cafe and contribute to this community effort to make a 48″x48″ collage. This is an opportunity for artists to experiment with collaboration and to learn about working large. It is a model program that can be brought back to the participants' communities. The collage is being guided by Christopher Kurts, Michael Pajon, and members of the Krewe. The panel will be photographed and published in Kolaj #27 alongside the story of how it was made. The final panel will be unveiled at The Surrealist Salon on Saturday, where it will be cut into pieces and given away.
About Kolaj Fest New Orleans
Kolaj Fest New Orleans is a multi-day festival and symposium about contemporary collage and its role in art, culture, and society, July 10-14, 2019. Visit the website to learn more, see an overview of the program, and register to attend. Kolaj Fest New Orleans would not be possible without the support of Press Street, Ogden Museum of Southern Art, LeMieux Galleries, Mystic Krewe of Scissors and Glue, Antenna Gallery, Kolaj Magazine and Kasini House. Kolaj Fest New Orleans is made possible through a generous gift from Laurie and Doug Kanyer. WEBSITE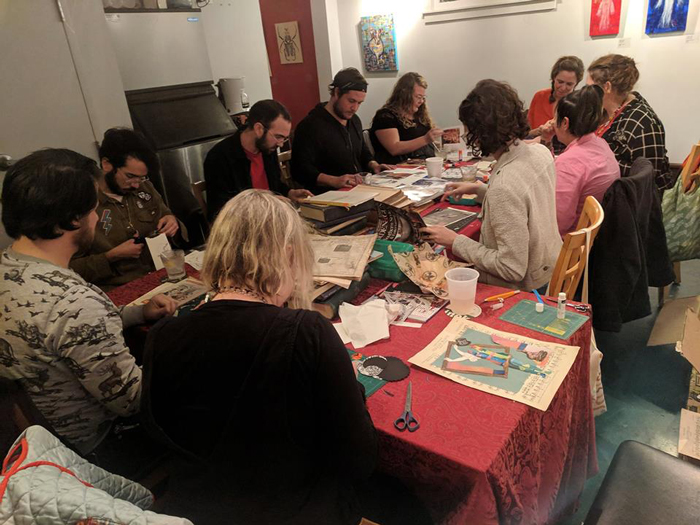 About the Mystic Krewe of Scissors and Glue
The Mystic Krewe of Scissors and Glue meets at Artisan Bar & Cafe on St. Claude in the Bywater, which is also the home of Kolaj Fest New Orleans' collage making space. The Krewe is a loose group of members. Some regularly appearing collage artists are Shae Freeman, Amy Yildizli, Christopher Kurts, Hope Amico, Jill Stoll, Kevin Comarda, Maria Degtiarenko, Nathan Sutter, Nicole McCaffery, Savanna Meekins, Ella Campbell, Michael Pajón, Lynsey Hinnenkamp, Aaron Sarles, and Austin Harkey. They meet in the middle of the month, generally on a Wednesday evening and share their output on Instagram @neworleanscollage.
Images (top to bottoom):
All the Homes by Ric Kasini Kadour
(digital collage; 2018)
The Mystic Krewe of Scissors and Glue during a recent meet-up.
Courtesy of the Mystic Krewe of Scissors and Glue.