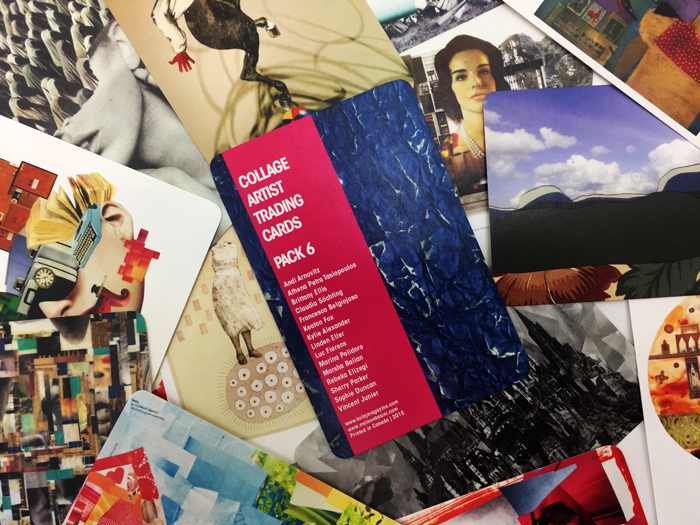 Just in time for the Holidays, Collage Artist Trading Cards Pack 6 Is Here!
Kasini House Artshop works with the Kolaj Magazine Artist Directory to produce curated packs of the Collage Artist Trading Cards. Each card is a full colour, 5.5" x 3.5" postcard with rounded corners. An example of an artist's work is on the front of the card and the artist's public contact information is on the back. Collage Artist Trading Cards come in packs of 15.
You can frame the cards you like as mini-prints; collect and curate your very own exhibition. You can also use the cards for discovering contemporary, fine art collage. We think they are a great way to be introduced to the artwork of collage artists.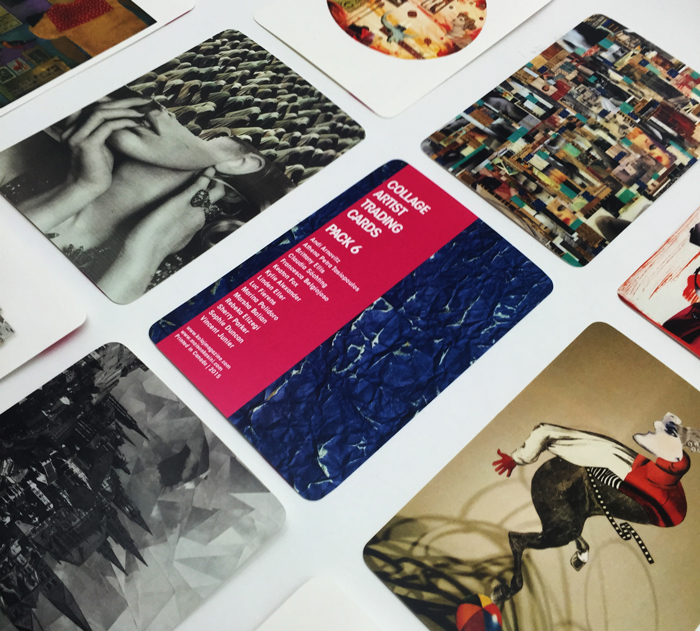 "A reconfigured medieval castle, re-imagined Arabic architecture, a reconstructed body balancing on ball, reinvented histories, retold stories: collage reassembles the world we know. Sometimes it is joyful. Sometimes it is sad. It is always interesting," said Ric Kasini Kadour, Curator, Collage Artist Trading Cards.
Pack 6 features artists from Germany, Italy, Jerusalem, United States, Belgium, Brazil, Spain, and France, and, as always, includes a diverse selection of collage practice.
Collage Artist Trading Cards, Pack Six
5.5″x3.5″ | 15 full-colour postcards with title cards in clear plastic bag | 2015 | Published by Kolaj Magazine | Printed in Canada
Andi Arnovitz, Jerusalem | Athena Petra Tasiopoulos, Barre, Vermont, USA | Brittany Ellis, Lake Forest, California, USA | Claudia Söchting, Bonn, Germany | Francesca Belgiojoso, Milan, Italy | Keaton Fox, Detroit, Michigan, USA | Kylie Alexander, Rockport, Massachusetts, USA | Linden Eller, Phoenix, Arizona, USA | Luc Fierens, Weerde, Belgium | Marina Polidoro, Porto Alegre, Brazil | Marsha Balian, Oakland, California, USA | Rebeka Elizegi, Barcelona, Spain | Sherry Parker, Santa Rosa, California, USA | Sophie Duncan, Providence, Rhode Island, USA | Vincent Junier, Champigny sur Marne, France