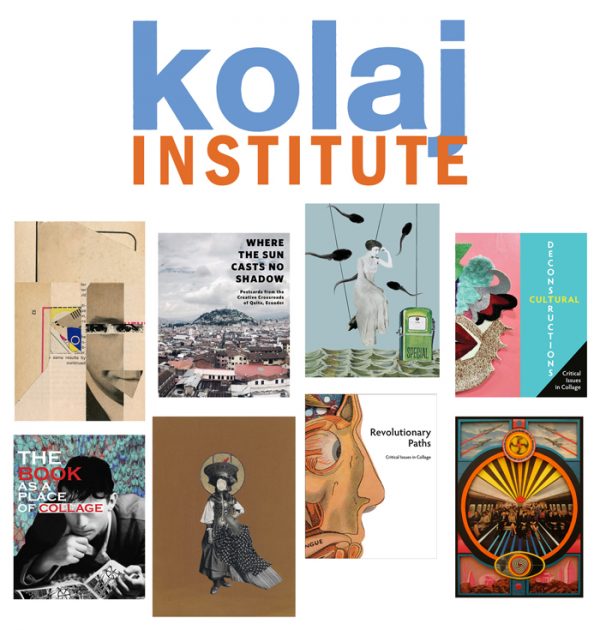 In·sti·tute
/ˈinstəˌt(y)o͞ot/
noun.
a society or organization having a particular object or common factor, especially a scientific, educational, or social one
verb.
set in motion or establish (something, especially a program, system, or inquiry).
Institute is one of those words that is both a noun and a verb. The noun implies a building, some brick structure on a summery, tree-filled campus. The verb means to start something, but not just anything, something big and meaningful that has a future beyond itself.
---
Statement from Ric Kasini Kadour, Editor & Publisher of Kolaj Magazine
What's Next?
At Kolaj Magazine, we approach collage as a medium, a genre, and a community. We are as interested in analog collagists cutting and pasting as we are in painters who compose a work of art by juxtaposing various fragments. We are as interested in what collage is on view at blue chip museums and galleries as we are in how a lone collage artist in a rural area is showing their work and connecting with other artists.
Increasingly, I have come to see collage as a movement as well.
From my view as Editor and Publisher, I see artists around the world working together to create opportunities, to change thinking about the medium, and to push for a better understanding of this thing we call collage. In the past year alone, we heard from an artist in Bolivia who is introducing collage to the country's conservative art scene. We heard from artists using the book to document and distribute their collage work. We regularly hear from artists using collage to contribute to the civic discourse and using art to speak about economic, social, racial, gender, and environmental justice. We see collage used in music videos, illustrating complex ideas in magazine articles, and, of course, being used to make brilliant contemporary art. Collage is a force in the world. It deserves to be documented, studied, and supported.
A quarterly magazine can only go so far, some topics demand longer periods of inquiry where the output is beyond the scale of a thousand-word article.
Announcing Kolaj Institute
For those reasons, I am pleased to announce the creation of Kolaj Institute: The mission of Kolaj Institute is to support artists, curators, and writers who seek to study, document, & disseminate ideas that deepen our understanding of collage as a medium, a genre, a community, and a 21st century movement.
Of course, we will continue to publish Kolaj Magazine. On May 9, 2020, we will celebrate the third World Collage Day. In July 2020, Kolaj Fest will once again convene in New Orleans. In the coming years, we will convene smaller versions of Kolaj Fest at multiple times during the year and at various sites in North America, Latin America, and Europe. We will be decentralized and will work in partnership with art venues and other organizations around the world to manifest its programs in multiple communities.
We operate a number of initiatives meant to bring together community, investigate critical issues, and raise collage's standing in the art world. We work to build archives of collage artists, develop traveling exhibitions, support fellowships and residencies, publish books, and produce symposiums and other events that bring the community together.
The Kolaj Institute will maintain an archive on collage artists and receive materials such as exhibition announcements, catalogs, and other material generated by the artist's practice and make these materials available to researchers, writers, and curators. Kolaj Institute will offer an Artist Archive Residency during which the institute and the artist will work together to document the artist's biography, practice, and career. The end result will be a book and an exhibition plan for a mid-career retrospective. To kick us off, we have awarded residencies to Zach Collins of Albuquerque, New Mexico, USA and Susanna Lakner of Stuttgart, Germany.
In 2020, we will support two fellowships:
Lima, Peru-based Enrique "Kike" Congrains will highlight collage in Latin America by investigating the history of collage, profiling contemporary artists, and reporting on collectives, events, and galleries.
Brooklyn and Rochester, New York-based Laurie O'Brien will focus on collage in animation and assist Kolaj Institute in the development of an online directory of collage films. O'Brien will curate a program of films that will be available for screening.
Other programs include the launch of a Speakers Bureau, Collage Artist Lab, an International Directory of Collage Collectives, and a number of publications. Calls to artists and program announcements will be sent out through Kolaj Magazine.
This is only the beginning. Kolaj Institute exists for the benefit of the collage community, a dynamic, internationally-networked movement of artists. We are committed to openness and listening to the community and responding with programs that elevate collage.
How is all this possible?
Over the (almost) ten years of publishing Kolaj Magazine, we have developed an archive of over a thousand collage artists from around the world and a growing collection of collage books and art. This material has served the Magazine, and we recognize that this collection tells the story of collage as a 21st century art movement. Kolaj Magazine wouldn't exist without the community of artists and collage enthusiasts who subscribe and support our efforts. It is important to us that these assets sustain themselves beyond the efforts of Ric Kasini Kadour and Christopher Byrne and that Kolaj Magazine will be around for years to come. To that end, we pledge to transfer Kolaj Magazine and this collection to Kolaj Institute at a future date so that these assets continue to serve the community. We are also making a personal investment in Kolaj Institute to ensure its solid foundation.
YOU make Kolaj Institute possible. The extent to which Kolaj Institute can achieve its mission will depend on the degree to which the collage community supports its work. Kolaj Institute is not possible without the support of people like you who believe investing in the collage community and supporting artists is a worthy endeavour.
For more information about Kolaj Institute, visit kolajinstitute.org.