Kolaj is a quarterly, printed magazine about contemporary collage.
We are interested in how collage is made, how collage is exhibited, and how collage is collected. We bring together critical reviews and essays with artist profiles, event highlights, and articles on collage collecting, exhibiting, and making. Kolaj is published in Montreal, Quebec by Maison Kasini.
SPECIAL ISSUE
Why Collage? Why Now?
Editor
Benoit Depelteau
Contents
Benoit Depelteau: Why Collage?
Jp King: The Parenting Techniques of the Collage Artist
Aprile Elcich: Life On Paper
Carl David Ruttan: Remake The World
Meaghan Thurston: Collage Artists, Mediaspheres, & Scopo-maniacs
Edvard Derkert: Collage Not Glue
Ric Kasini Kadour: Collage Is the Moment
Artist Portfolios
The Future of Kolaj Magazine
The Cut-Out Page
SUBSCRIBE OR ORDER AN ISSUE

CANADA
(Canadian dollars)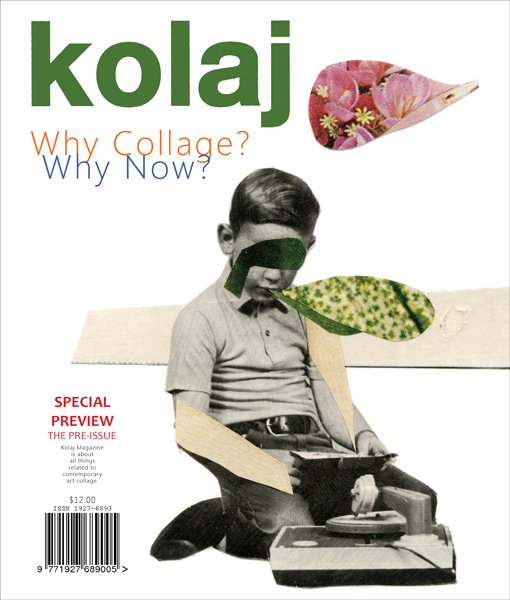 Send an email to info@kolajmagazine.com
to receive an announcement of future publications.
Or follow Kolaj Magazine on
FACEBOOK