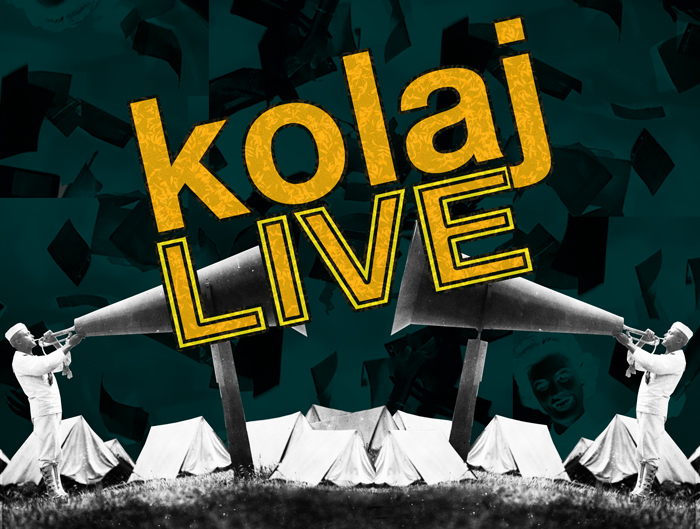 KOLAJ FEST NEW ORLEANS 2020
Bad News & Good News
New Orleans, like much of the country, continues to deal with the coronavirus/COVID-19 outbreak. City officials have issued a three phase plan for re-opening the city. It is uncertain if the city will reach phase three by July. Given that and greater uncertainties about the status of some of our organizational partners and our ability to travel in general, we are making the decision to postpone Kolaj Fest New Orleans until such time as the event can take place in a safe and healthy manner. We will be refunding all registration fees and encouraging those who have made travel arrangements to cancel hotel reservations and to contact their airlines about canceling or rescheduling tickets. That's the bad news.
Here's the Good News: The Work Goes On.
The spirit of Kolaj Fest New Orleans will live on in a new program series.
Kolaj LIVE is a real time manifestation of Kolaj Magazine and Kolaj Institute online or in a city. The events bring together artists, curators, and writers to share ideas that deepen our understanding of collage as a medium, a genre, a community, and a 21st century movement.
When taking place in a city, the event is produced in partnership with a local organization and unfolds over the course of two days with collage making events, exhibitions, slideshows, talks, and panel discussions. Our goal is to bring the community together in a spirit of mutual support and fellowship.
Kolaj LIVE Online is a series of virtual programs in the form of forums, slideshows, workshops, artist talks, studio visits, and other activities that allow people to come together, learn and talk about collage, and connect in real time to the collage community. In June, we will release a program of activities that will take place in July, August, and September.
Kolaj LIVE is produced by Kolaj Magazine and Kolaj Institute and is funded through donations from the community.
You Make Kolaj Institute Possible.
The extent to which Kolaj Institute can achieve its mission will depend on the degree to which the collage community supports its work. Kolaj Institute is not possible without the support of people like you who believe investing in the collage community and supporting artists is a worthy endeavour. Please consider making a donation today.