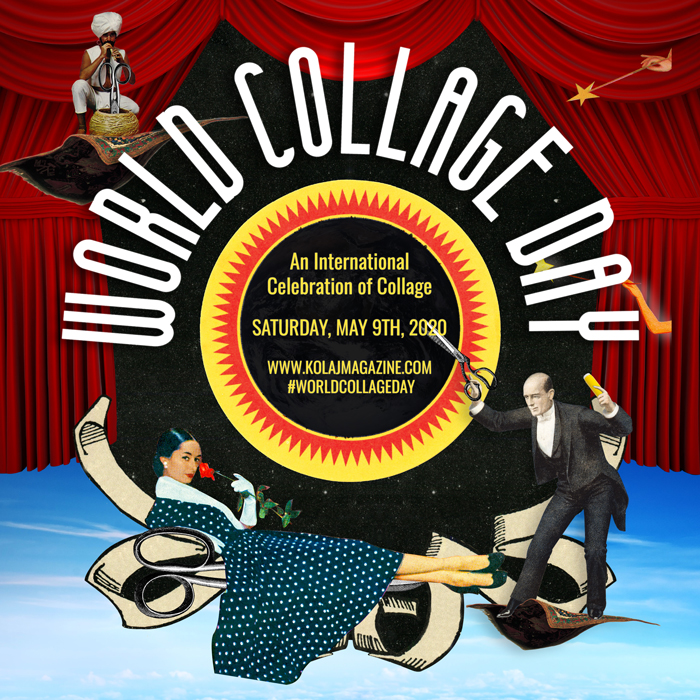 WORLD COLLAGE DAY 2020
Announcing the World Collage Day 2020 Poster
Kolaj Magazine is pleased to announce the World Collage Day 2020 Poster by Australian-Colombian artist Emma Anna. The poster is used around the world to promote the annual international celebration of collage. The poster will also appear on the cover of a Special Edition of the magazine that is issued in honor of the day.
"Collage is magic," said Kolaj Magazine Editor and World Collage Day founder, Ric Kasini Kadour. "This year World Collage Day will take place during a time when artists need to practice social distancing. World Collage Day will be a kind of magic trick that shows how, in spite of this, we can still come together as a community and celebrate collage."
In 2018, Kolaj Magazine initiated World Collage Day, an international celebration of collage on the Second Saturday of May. We invited artists and art venues to hold events on that day to celebrate collage. We saw fifty events in twenty-five countries and thousands of posts on social media using the hashtag, #worldcollageday. The following year, the event continued to grow. The next World Collage Day is May 9th, 2020. In addition to events in those communities where it is safe to gather, Kolaj Magazine is inviting individual artists to manifest collage while sheltering in place. Ideas include making and sharing Collage Starter Kits with their neighbors, installing collage exhibitions in street facing windows, and hosting online collage making events. Artists are invited to submit their projects before May 1, 2020.
DOWNLOAD A PRINTABLE VERSION OF THE POSTER
Previous World Collage Day poster artists were American artist Michael Pajón (2018) and Canadian artist Rosie Schinners (2019). 
LEARN MORE ABOUT WORLD COLLAGE DAY | GET INVOLVED
ABOUT EMMA ANNA
Emma Anna originally studied print journalism and international politics at university, graduating with a degree in Mass Communications. She graduated with a Master's in Public Art. She now lives and works in Barranquilla, Colombia, where she and her partner operate an independent creative space, La Casa Verde. Among her awards is the Melbourne Prize for Urban Sculpture's Public Artwork Design Concept Prize for a project proposal called The Elocwean Rainbow. Learn more about the artist on her Kolaj Magazine Artist Directory page, on Facebook @emmaannachatter, and on Instagram @e_m_m_a_a_n_n_a.
Emma Anna's collage, The Magician from "The Tarot of the Golden Scissors" series, was featured in the profile about the artist, "Anywhere & All the Time", in the World Collage Day 2019 Special Edition.