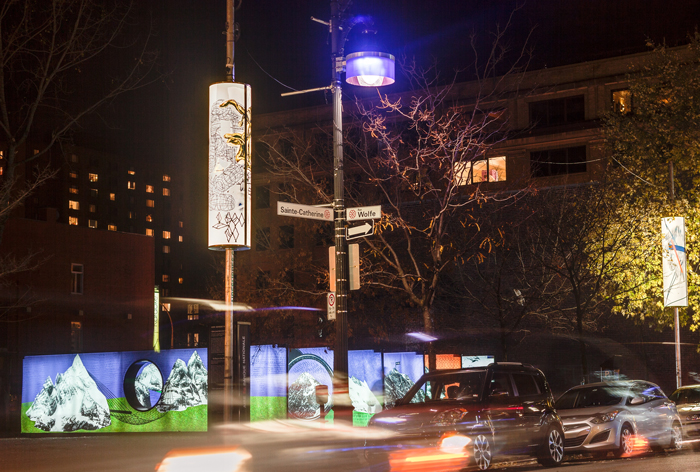 Collage on the Streets of Montreal's Village
This news item appears in Kolaj #14. SUBSCRIBE to Kolaj Magazine or Get a Copy of the Issue to get the wonderful world of Kolaj delivered to your mailbox.
Montreal's Gay Village is being lit by collage this winter. From 9 November 2015 until Spring 2016, Sainte-Catherine Street East is illuminated with Jean-Sébastien Denis' series "Amalgame", 90 8-foot light posts featuring long sleeves covered with backlit abstract collage images. The Village's Commercial Development Company, in conjunction with Montreal's Ville Marie borough, installed the work to allow the street to "shine with a thousand fires and glow with vitality during the cold season."
Artist Denis said, "The world, urbanity and movement are the subjects that inspire me…The blending of disparate elements allows for many different interpretations and that's what I love." To see the original "Amalgame" series, visit www.jeansebastiendenis.com.
Image:
from the "Amalgame" series
by Jean-Sébastien Denis
57"x41"
mixed media on Mylar
2014
Courtesy of the Société de développement commercial du Village