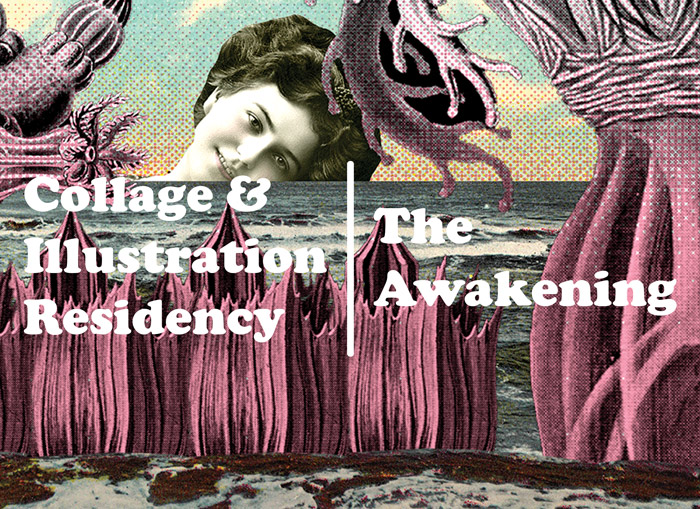 COLLAGE RESIDENCY
Kolaj Institute Announces the Artists Selected for the Collage & Illustration Residency – The Awakening
A four-week, virtual/online residency with Kolaj Institute in October 2022
Kolaj Institute is pleased to announce the fourteen artists selected to participate in the Collage & Illustration Residency – The Awakening.
During this project-driven residency, artists collectively produced a series of collages that illustrate Kate Chopin's 1899 novel, The Awakening. As a group, artists analyzed the story, discussed themes, uncovered symbols, asked questions, and visually interpreted the text for a 21st century audience.
The Awakening focuses on Edna Pontellier, an upper-class New Orleans woman, torn between expectations and desires. In the beginning of the novel Edna appears to live in a semi-conscious state, trapped in the mundane aspects of her life. As the story evolves, she encounters new people and experiences that create an awakening shift within her. Edna begins to view her world differently, and through this lens new relationships emerge while others become strained. In the end, Edna realizes that even if she has her own desires she is still trapped by her societal role.
The Awakening touches on 19th century feminist, identity, and societal themes that are still relevant today, such as; What does it mean to be a woman? What are the expectations that society puts upon women? Are we bound to what we are born into? What does it mean to transform? What does patriarchy look like in 2022?
Nancy Bernardo lead the residency, facilitating the discussion of Chopin's book, and spoke about collage as illustration and how collage artists can engage with the marketplace for illustration. Christopher Kurts served as art director for this project and facilitated the collaboration. Heather Ryan Kelley spoke about "The Midden Heap Project" in which she made a collage response to each page of James Joyce's Finnegans Wake. Wylie Garcia spoke about key symbols that set the tone of the story and how to question and reframe them for a contemporary context.
Kolaj institute will publish The Awakening using the illustrations made during the residency as a way of bringing this important, historical book to 21st Century readers.
---
PARTICIPATING ARTISTS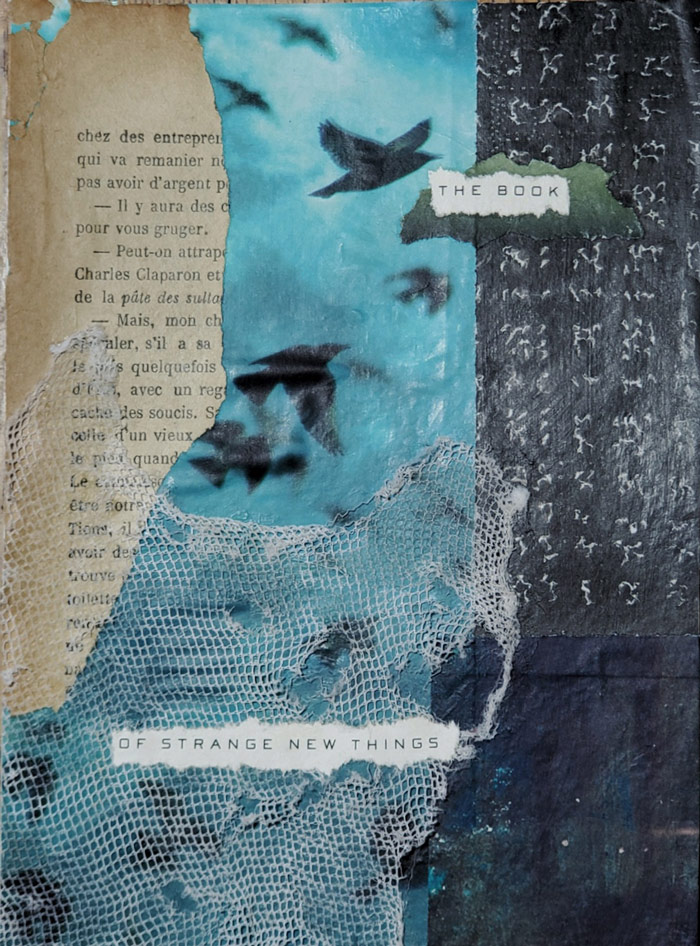 Anne Sutherlin is a neurodivergent artist living and working in Denver, Colorado. She creates work from modern artifacts that are elements of human culture and condition to convey a moment or feeling in time and place. Using a wide range of found objects and ephemera, as well as monoprints and cyanotypes that she creates, she assembles them in order to generate an emotional resonance for the viewer. Her degree is not in art, but in Anthropology with a focus in Cognitive Archaeology and the evolution of aesthetics. Anne has won awards for her fine art photography, worked in acrylics to paint realistic portraiture, and eventually began incorporating collage into her artwork. She is self-taught in all her artistic concentrations and has been a collage artist for over 10 years.
Caroline Rochon-Gruselle is a self-taught artist from Montreal inspired by the various possibilities of paper and influenced by the wabi-sabi concept, drawing from the art of imperfection and temporality as well as the natural world. Paper and line characterize her work, where she explores movement and space. Rochon-Gruselle uses recycled papers and enjoys the textures, forms and organic qualities of this medium and uses line as added expressiveness. Her work is guided by intuition and imagination and is enriched by her yoga practice. Her creative process is like a meditative experience, in which she delves into memories, dreams and daily life. Rochon-Gruselle's work has been shown in an international art zine online (Semioculus – Semiaprilus issue), as well as in collective shows in venues such Galerie McClure and art café Le p'tit bar, and in public spaces with BIXIMtl and Intervals Collective, among others. Ancient Japanese ink paintings and prints, Romare Bearden, fashion and costumes, and one of her professors, Danielle Shatz, have all inspired the development of her work.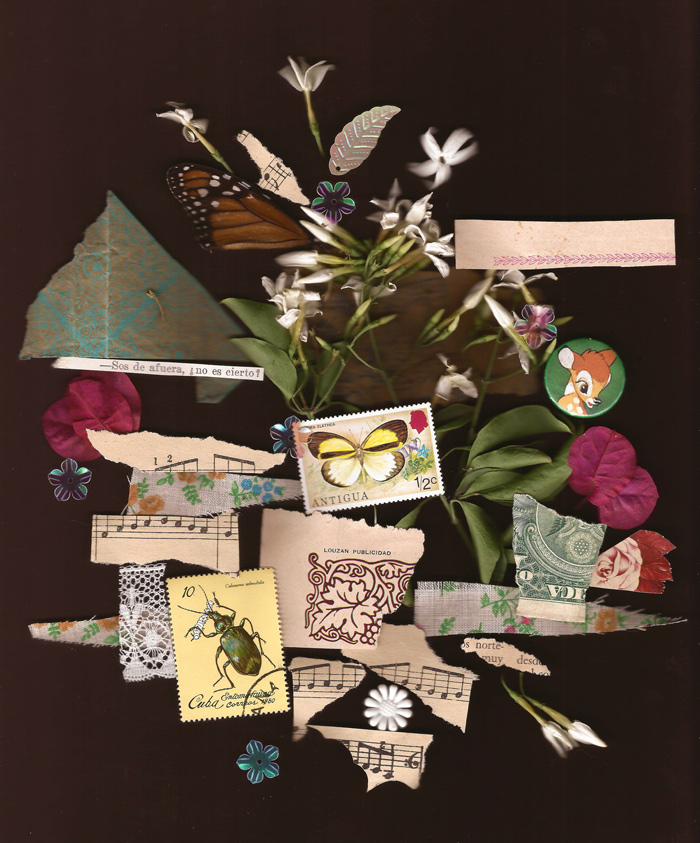 Dimas Melfi, born in Córdoba, Argentina, is an architect and self-taught visual artist. Melfi mostly works on photography, collage, drawing, embroidery, textile art, installation, street art, graphic design and writing. He started his career publishing his work on his own and on independent media (both print and digital), which soon drove him to be part of collective and solo exhibitions. Since the beginning Melfi has been working as a multidisciplinary freelancer, combining illustration, design, collage and photography. His clients were mostly music bands, festivals, art fairs, fashion brands, and publishing houses. He won the Creation Scholarship 2018 from the National Fund of the Arts. He has attended art residencies such as Yungas Residency for artists of North West Argentina, Tucumán (2015); CIMA Residency, El Portezuelo, Catamarca (2018); Presencia Virtual Residency in Repúblico, Córdoba (2020); and Casa de Piedra Residency, Santa María, Catamarca (2022). Melfi took part in contemporary art fairs such as ArteBA (2013), EGGO (2013, 2014), Mercado de Arte Córdoba (2014, 2017), BAPhoto (2017), ArteCO (2020, 2021), and Hotel Inminente (2021). His works are part of private collections in the country and abroad. Other activities Melfi has been involved in include curation of collective and individual exhibitions; management of art shows, fairs, and festivals; drawing and collage workshops; talks about his work; and discussion and debate at open tables. Melfi is also part of different local art collectives where he lives in Catamarca, Argentina. His work has been published in many countries.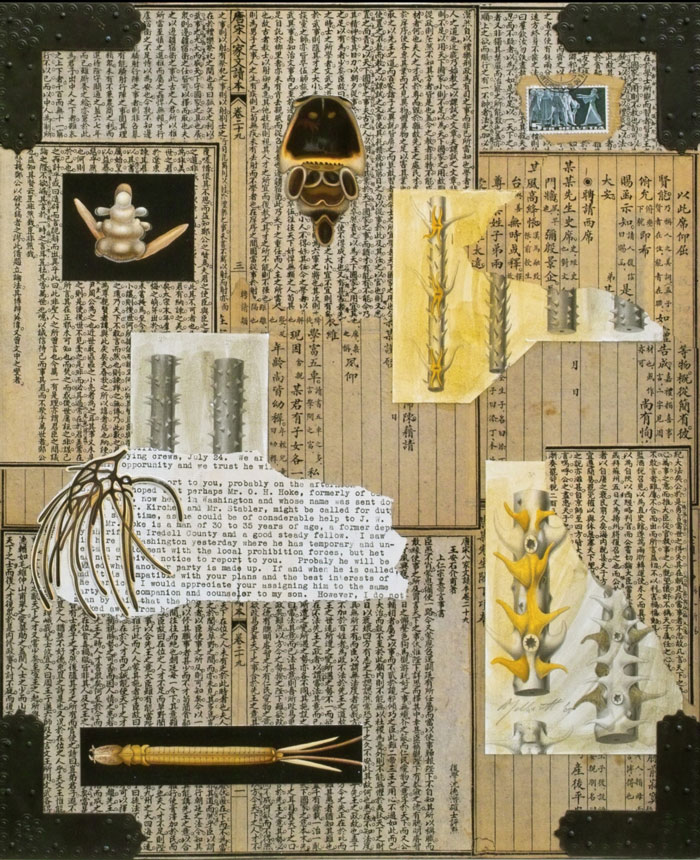 Born in Belgium, Dominique Elliott is a multimedia artist and professor. She holds an M.F.A in visual design from UMass, Dartmouth and is a grant recipient from the Georgia Council for the Arts, and the National Association of Television Program Executives. Her work has been showcased internationally, and her documentary "Flying the Beam" is included in the Eisenhower Presidential Library collection. Much of her work is concerned with various facets of memory, nostalgia and the interplays of word and image. She applies the same ethos to poetry, experimental film, documentary film, painting, mixed media, photography and motion graphics. She lives on a plant farm in Georgia with her husband and their four cats.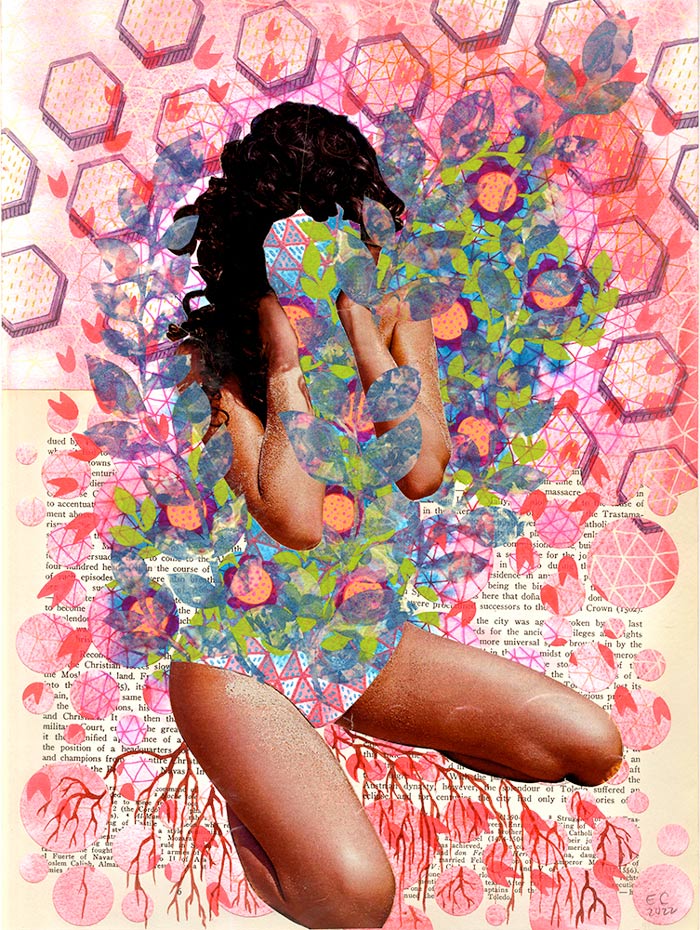 Elizabeth Castaldo is a New York based artist, printmaker, and bookbinder. Working with collage, drawing, and printmaking she creates works on paper and artist's books that explore nature and the divine feminine. She has completed residencies at Arquetopia in Oaxaca Mexico, the Center for Book Arts, NYC and Printmaker's Open Forum, Oxford PA. Castaldo received her MFA from SCAD Atlanta where she was a Dean's Fellow in Printmaking and her BFA from the School of Visual Arts. Her work has been exhibited nationally including with the Zuckerman Museum of Art, Center for Book Arts, Saint Joseph's College, Oklahoma City University, Landing Contemporary, Empty Set Gallery, and the Metropolitan Museum of Art. She teaches printmaking and book arts at Parsons School of Design and the Center for Book Arts. Her work is held in many private and institutional collections including SCAD, The University of Alberta, Carnegie Melon University, Yale University and the Metropolitan Museum of Art.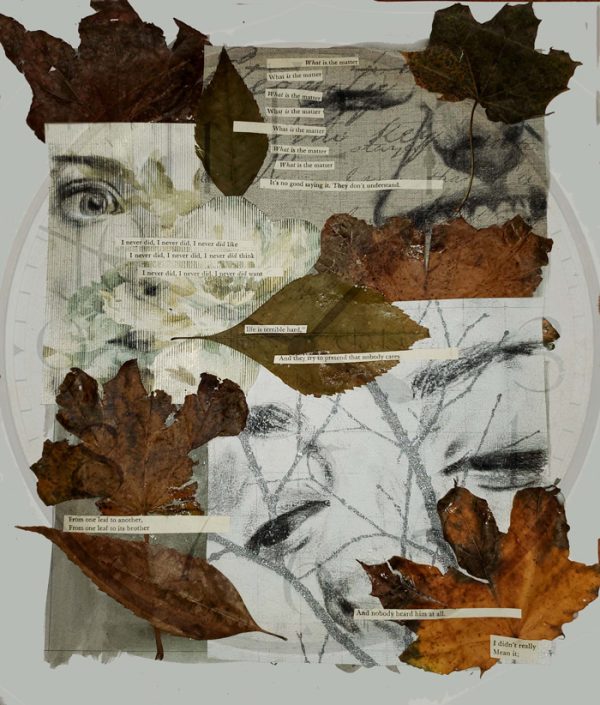 Grace Kominsky is a Rochester based graphic designer, who first began creating in 2013. Inspired by a high school English teacher, art became an outlet for Kominsky, who would regularly submit drawings, collages, and various other art pieces in place of written essays. As she developed into college at Rochester Institute of Technology, Komisnky steered toward graphic design as a major and career, earning her BFA. To overcome massive amounts of imposter syndrome, she still heavily relies on traditional media, even in her digital work, scanning in cut out images, crumpled paper, crayon drawings, and paintings to use as assets in her design pieces.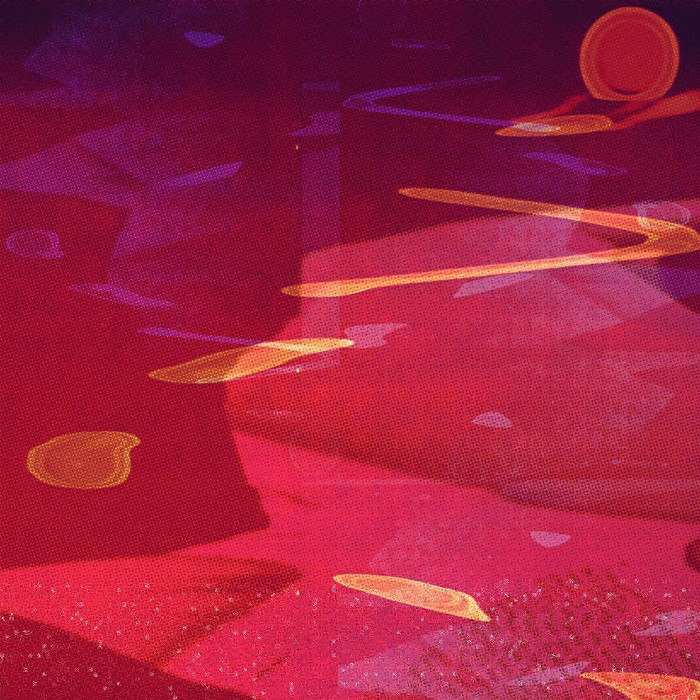 Isabella Madeira is a graphic designer and artist from Rome, New York. A recent graduate from Rochester Institute of Technology, she is freelancing in the field of graphic design and taking personal commissions for oil paintings. Her work has been shown in the Rome, NY art gallery and featured in RIT's Signatures Art & Literary Magazine. Madeira creates in many disciplines of art, most recently digital graphics, oil paintings, letterpress prints, and risograph prints. Her creative work often features bright colors and techniques of image distortion, especially in a blend of digital and analog techniques such as scanography. As an emerging artist, her work centers around visual exploration and finding her own voice in a world where a silent moment cannot be had. She is not afraid to admit that she is in many ways lost, and she hopes to relate to viewers who feel the same through her work.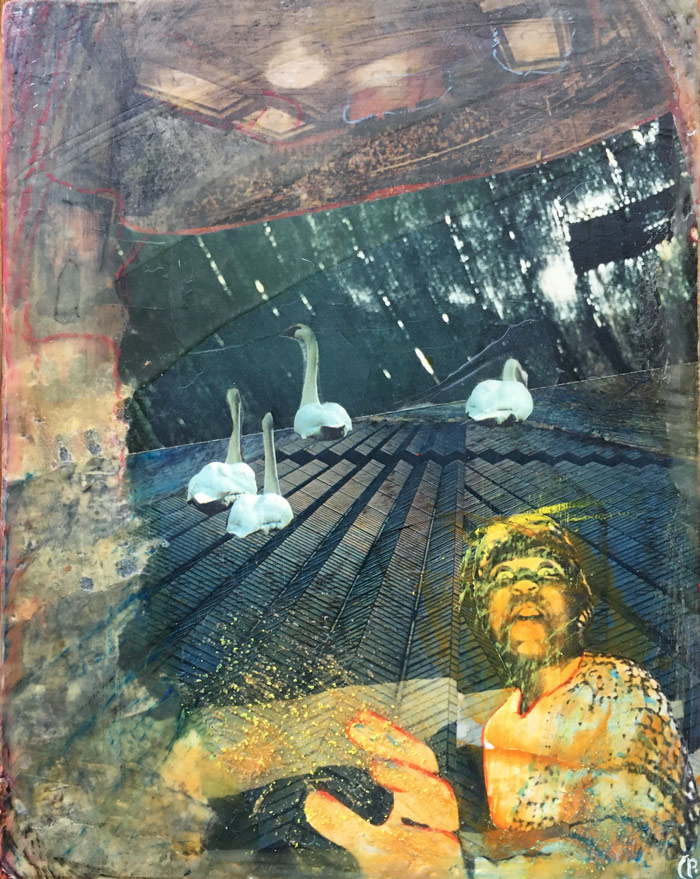 Jennifer Price is an African American poet, visual artist, and librarian based in Macon, Georgia (native territory of the Muscogee and Hitchiti people) in the United States. She is a member of the inaugural Black Listening cohort of Obsidian Literature & Arts and (through her connections as a librarian) a 2022 participant in the We Here Community's close study of the seminal works of luminary feminist, bell hooks. Price's writing contributions in response to these engagements are forthcoming in their affiliated publications. She holds a Bachelor of Arts degree in Studio Art as well as a Master's degree in Library and Information Science. Her concentration in figure painting during her undergraduate years continues to feed her tendency to centralize the body, personification, and color juxtapositions in her visual work. This tendency, her thirteen years of public engagement during her career in libraries, and the alternative ways in which she's examined creative texts through Black Listening and the bell hooks study, have compelled Price to choose the creative vehicle of collage, where she has the space to combine elements and themes through implied narrative.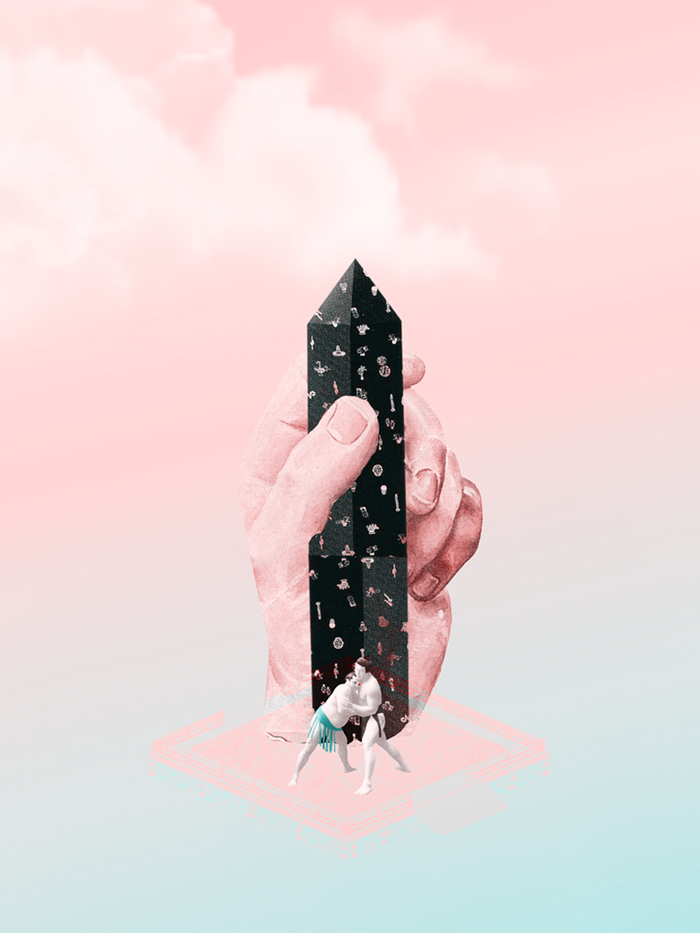 Jose Sampaio is an artist, illustrator and collagist based in Sao Paolo, Brazil. Sampaio began working with photography at university and then later his interest evolved into video and video art. Afterwards he specialized in animation and motion graphics. After all of that he turned his sights toward collage, which was a love at first sight. Sampaio's art references and study are Picasso, Magritte, Grete Stern, Hannah Höch, William Kentridge, Sigmar Polke, Raoul Hausmann, Eduardo Recife, Emmanuel Polanco, David Carson and Isabel Herguera. His inspiration comes mainly from images from ordinary life. His major influences are cinema, literature, others artists and the study of colors. He began work as an analog artist but as the years passed he hound himself moving toward digital ways of cutting in order to make compositions and narratives. Sampaio's work with motion graphics leads him to worry about movement in his compositions.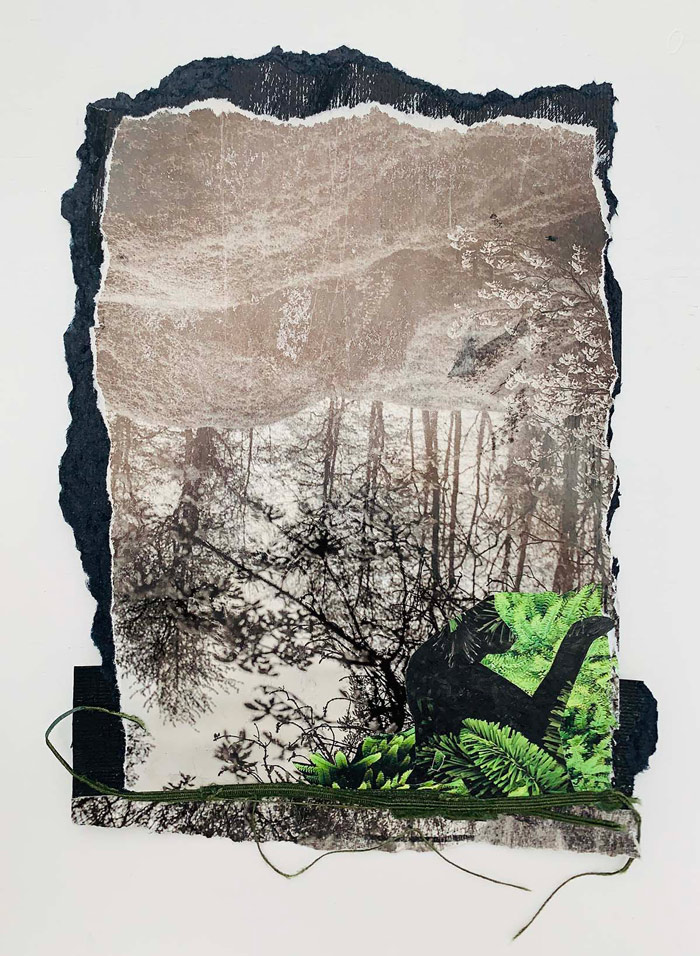 Born in Baltimore, Maryland, Lesley Finn is a writer and visual artist based in New Haven, Connecticut. Whether in the form of essays, fiction, poetic erasure, or visual collage, her work results from a creative practice sustained by interdisciplinary research, critical inquiry, and tactile making. Connecting her pieces across genres is a focus on narrative, belief systems, and gender, and how these shape the physical body and the acts of reading and writing. This interest took root for Finn over years of studying medieval manuscripts and early printed books, teaching English and gender studies, and working in book arts and publishing. Finn holds an MA from Columbia University, an MPhil from Cambridge University, and an MFA from the University of British Columbia School of Creative Writing. Her written and visual work appear in literary journals both print and online, most recently in Longreads and Heron Tree. She has served as Artist-in-Residence for the Connecticut Audubon Society, and in 2022 was awarded an Eccles Centre Visiting Fellowship at the British Library for her visual art. Finn is currently Benjamin Franklin College's Residential Writing Tutor at Yale University.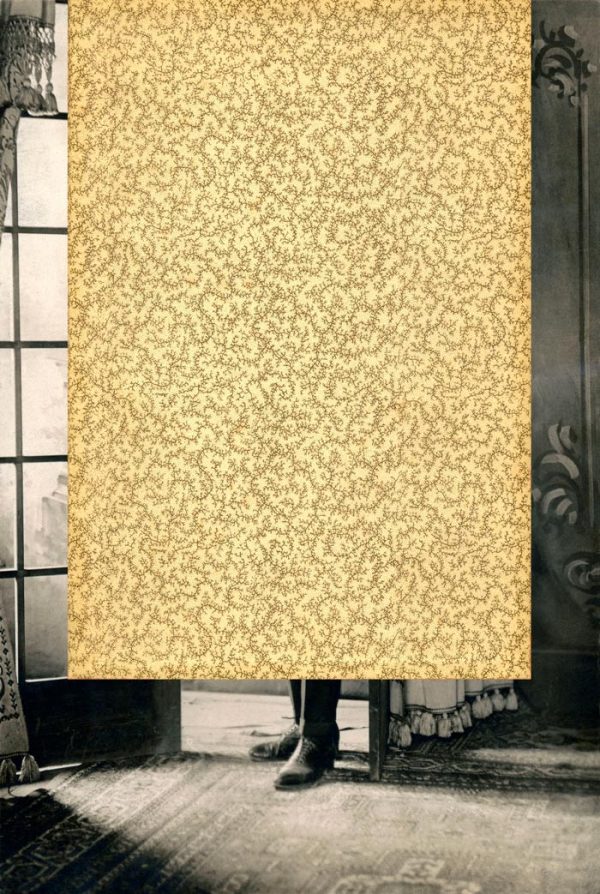 Leslie Bellavance is an artist, teacher, and writer. Born in Hartford, Connecticut, she grew up in Providence, Rhode Island. As a student she traveled in Europe and lived in Rome, Italy. She received a Bachelor of Fine Arts degree Summa Cum Laude from Tyler School of Art at Temple University and a Master of Fine Arts degree from the University of Chicago. Bellavance has written and lectured extensively on contemporary art. Her artwork has been exhibited in the United States, Europe, and Asia. She has received numerous grants and awards including a National Endowment for the Arts Fellowship and a Wisconsin Arts Board Fellowship. Her book, analemmic was published by Nexus Press through a residency in Atlanta, Georgia. In a forty-year career in higher education she has served as a professor of art in the Peck School of the Arts at the University of Wisconsin-Milwaukee, where she also served as head of the Photography Program, director of Graduate Studies in Art, and interim associate dean. She also served as professor of art and director of the School of Art and Art History at James Madison University, and she served as professor of art and dean of the School of Art and Design in the New York State College of Ceramics at Alfred University. Bellavance is currently a president/professor emerita at Kendall College of Art and Design and continues her art practice where she lives in an oak forest outside the city limits of Grand Rapids, Michigan.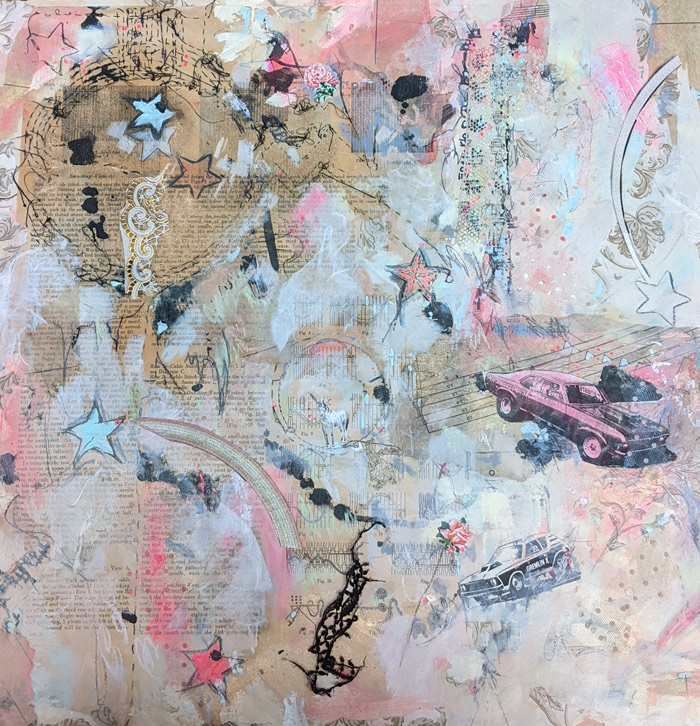 Mercedes Cueto works between the mind and the body whether in her artwork or as a registered massage therapist. She was born in Canada, her mother is from Mexico and her father was from Spain. In the late 60's her parents fell in love in the nation's capital and settled. Currently she lives in Sudbury on the traditional land of the Atikameksheng Anishnabek territory. Cueto studied art in the mid 90's and worked in a public art gallery for about 7 years. Her curious nature and her process is working in various mediums, film, photography, performance art and recently working on collage works. When she isn't in the studio she is a Registered Massage Therapist at Shagamik-Kwe health centre an Aboriginal Health Access Centre. Cueto has exhibited in local galleries, received creation grants and worked with Writer/ Director Darlene Naponse's independent feature films as the Art Department lead in her films Craddle Song, Every Emotion Cost (2009) and Falls Around Her (2018).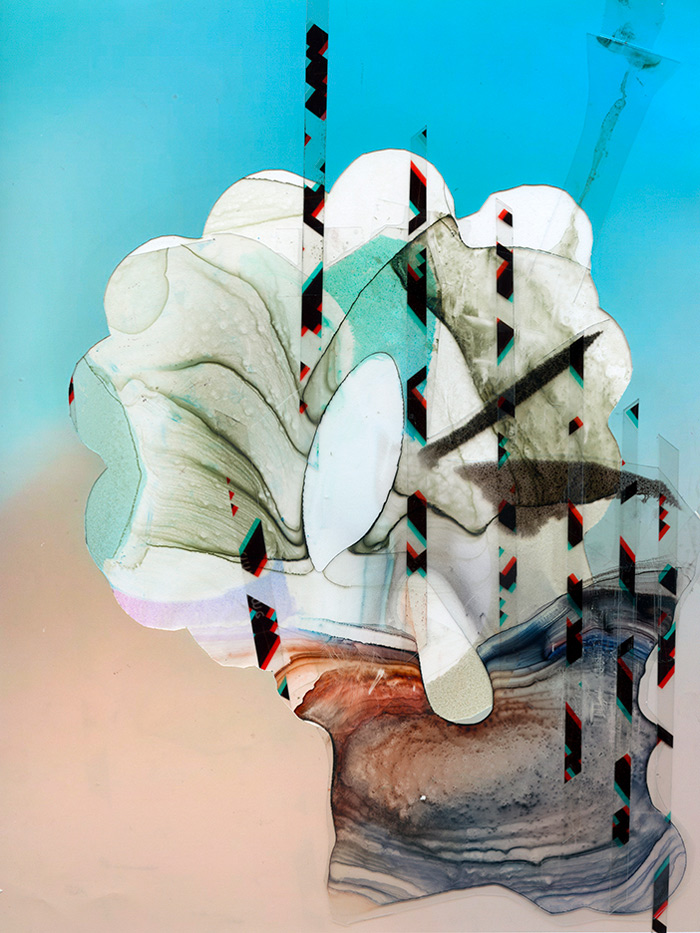 New York based artist, Rebecca Aloisio, has been exploring the medium of collage and mixed media for the past several years. Originally earning her BFA in sculpture from the Cleveland Institute of Art, Aloisio uses her knowledge of 3-Dimensional space and material to inform her imagery. Aloisio employs a variety of technology along with traditional methods, using a mix of scanners, films, presses, screens, printers, and paints. The work synthesizes analog and digital experience, aiming to create images that are suspended within illusionary space and subjectivity. Aloisio received her MFA from Syracuse University and currently teaches in the College of Art and Design at the Rochester Institute of Technology. She is a recipient of the Pollock-Krasner Grant and has had solo exhibitions at the University of Rochester, the SchweinfurthArt Center in Auburn NY, and Hallwalls Contemporary Art Center in Buffalo NY.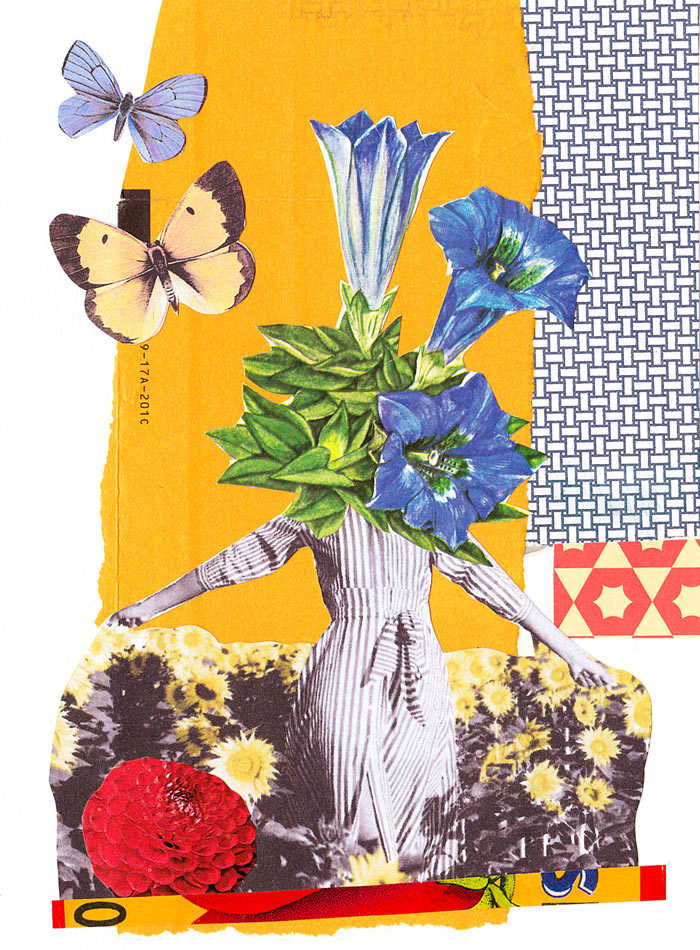 Rosemary Rae is a creative director/designer, poet, book artist and an educator. A graduate of Moore College of Art & Design (BFA) and Vermont College of Fine Arts (MFA), she currently works as a full-time designer in publishing creating book covers, calendars and kits that are sold nationwide. Her background in graphic design is expansive, creating work for clients in the hospitality, real estate, and retail arena as well as for museums, bio-science and international aid organizations. In addition to designing her unique line of letterpressed greeting cards, she also creates collages and artist books, which have been featured in many juried exhibitions. Her creative work provides the arena to play and experiment with letterpress, book structures, paper ephemera, pop ups, paint and random typography. She currently lives in San Diego, California.
---
FACULTY
Nancy Bernardo
Nancy Bernardo currently lives in Rochester, New York and has been a practicing graphic designer for 22 years. She received her MFA from The School of the Art Institute of Chicago and has been an educator for 14 years. Bernardo's work has been commissioned for book cover designs such as: Checking In/Checking Out (NO Books, 2010), New Orleans Review Art + Literary Magazine (2009-2014), Deconstructing Brad Pitt (Bloomsbury Press, 2011 and discussed in Kolaj 11) and History of Design: Beyond the Canon (Bloomsbury Press, 2018).
Bernardo has been recognized and awarded honors through Graphis Design Annual, Print Regional Design Awards, Design Observer 50 Books 50 Covers, HOW In-House Design Award, HOW Best of International Design and STA 100. Her work has also been exhibited in Rochester, New Orleans, Seattle, Chicago, New York City and in the United Kingdom. www.nancybernardo.com
Heather Ryan Kelley
Born in New Haven, Connecticut, Heather Ryan Kelley lives in Lake Charles, Louisiana.
She was a professor at McNeese State University where she taught painting and book arts. She holds a BFA in printmaking from Southern Methodist University and an MA in painting from Northwestern State University.
Beginning in 2012, Kelley began a project of making a collage per page of James Joyce's enigmatic book Finnegans Wake. The first of the collages from The Midden Heap Project were shown in Charleston, South Carolina in 2013. As the project has progressed, it has been shown in New Orleans in Antenna Gallery's Reading Room 220 in 2016; the University of Toronto's Diasporic Joyce Conference in 2017; and, in 2018, portions of the project were displayed in "Joyce in Art" at the Museum of Contemporary Art, Antwerp, in "Shelf life" at the Acadiana Center for the Arts in Lafayette, Louisiana, at the University of Antwerp's Joyce Conference, and in a solo exhibition at the Baton Rouge Gallery. Her most recent work from the Midden Heap Project, Mamalujo, was featured on a panel at the Dublin Joyce Symposium, Trinity College in June 2022.
From June to September 2022 Kelley is exhibiting 100 paintings based on James Joyce's Ulysses at the Rosenbach Collection in Philadelphia as part of the exhibition "18 Reasons to Read Ulysses."
Kelley's work based upon Finnegans Wake is in the collections of the New York Public Library's Berg Collection, The Harry Ransom Humanities Research Center at the University of Texas, University of Tulsa's McFarlin Library Cornell University, Notre Dame's Hesburgh Library, and the State University of New York at Buffalo's Poetry Collection. www.heatherryankelley.com
Wylie Garcia
Wylie Garcia investigates themes of identity and place through process and material-oriented projects. Using cross disciplinary mediums such as textiles, painting, drawing, sound, and performance, Garcia explores issues related to gender, devotion, and emotional spaces. Garcia has a BA from the University of Chicago and an MFA from the Massachusetts College of Art and Design. She is the 2019 winner of a Pollock-Krasner Foundation Grant and a Vermont Arts Council Creation Grant. She also won the 2016 Barbara Smail Fellowship and Award from Burlington City Arts and a 2016 Vermont Arts Council Creation Grant. Her work has been shown in solo and group shows across the U.S. and she has held residencies at the Fine Arts Work Center in Provincetown, Massachusetts and the Central Academy of Fine Arts in Beijing, among others. Garcia's studio is in Burlington, Vermont and she is represented by the Schoolhouse Gallery in Provincetown, Massachusetts. www.wyliegarcia.com
Christopher Kurts
Christopher Kurts is a storyteller, artist, and the Coordinator for Kolaj Institute. Kurts is also the co-founder Christopher Kurts is a storyteller and artist in New Orleans, Louisiana. He is the Coordinator for Kolaj Institute, where he has organized artist labs, residencies, workshops and forums which have often led to exhibitions and publications. In this role, Kurts acted as the Art Director for Kolaj Institute's Oh, Money! Money! by Eleanor H. Porter, illustrated and interpreted by contemporary collage artists. His own work recently appeared in the exhibition, "Empty Columns are a Place to Dream" which debuted in August 2021 during the 53rd Annual Birr Vintage Week & Arts Festival in Birr, County Offaly, Ireland. In January 2022, Kolaj Institute published a book about the project and the exhibition traveled to the Knoxville Museum of Art in Knoxville, Tennessee. Kurts is also the co-founder and lead organizer for The Mystic Krewe of Scissors and Glue, a group of creatives in New Orleans who meet monthly to collage, converse and foster community. Along with the Krewe, Kurts helped organize "Unfamiliar Vegetables", a group exhibition for Kolaj Fest New Orleans in July 2019, which was later published as a book. www.christopherkurts.com