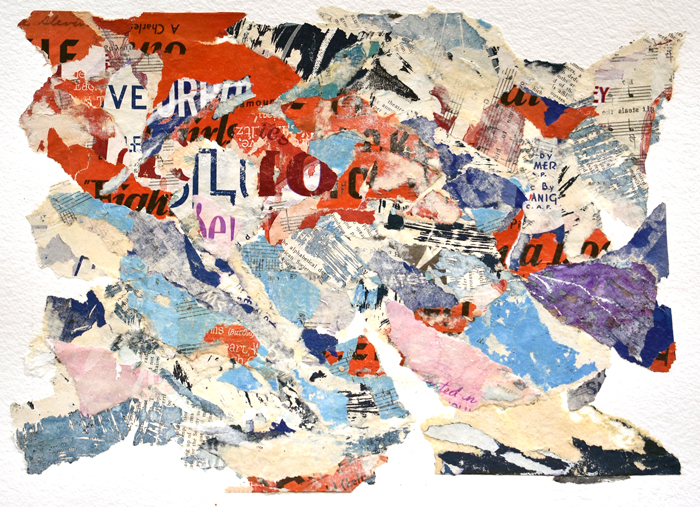 COLLAGE ARTIST TRADING CARD SPOTLIGHT
Spotlight on Collage Trading Card Artist Susan Reedy
Susan Reedy's multimedia works on canvas and paper explore and respond to urban and rural facades and walls that are in state of flux due to the passage of time, the elements, and neglect. This series of analogue collages is fabricated using ephemera such as segments of vintage dictionaries, musical scores, magazines, posters and newspapers that are used in combination with paint and various drawing media. The work is inspired by the innate beauty and intrinsic history of the source material as well as the sublime nature of the decaying beauty of walls that have accumulated their own sense of history over time.
Reedy's collage Inscription is featured in Collage Artist Trading Cards Pack 8.
Packs of Collage Artist Trading Cards are a tool for discovering contemporary, fine art collage. Each card is a full colour, 5.5" x 3.5" postcard with rounded corners. An example of an artist's work is on the front of the card and the artist's public contact information is on the back.
We asked Reedy some questions about her work.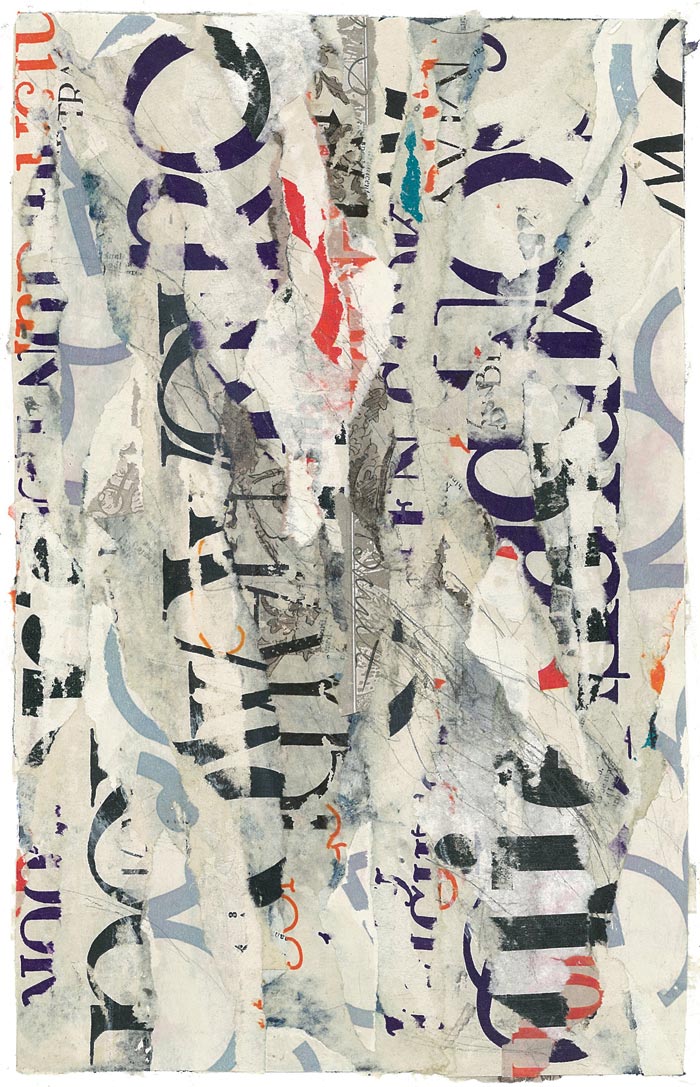 Who are you? How do you describe yourself?
I am a mixed media painter whose works on canvas and paper lie at the intersection of painting, drawing and collage. The work explores themes of temporality, memory, and language. My work speaks to my varied interests and attraction to vintage paper, typography, asemic writing, graffiti, and exterior surfaces that have accumulated layers of posters, fliers, tags, accidental mark making and graffiti.
Vintage and found papers form a large part of the concept and execution of the work. My interest in using these materials leads me to seek them out by sifting through boxes and shelves at flea markets, used bookstores, and estate sales. These materials are not difficult to come by as they are becoming devalued and discarded as we mark the shift from analogue to digital technology.
Can you explain the idea behind Inscription?
Inscription is a response to those exterior surfaces in which newly accumulated layers of paper and writing partially obscure and leave revealed portions of what lies beneath the surface, alluding to remnants of the past and the present tense simultaneously.
I am particularly drawn to those exterior surfaces in which text and imagery are not pristine. I prefer those that have qualities acquired through time, exposure to the elements, and neglect. These surfaces have an elusive quality of text and imagery that emerges and dissolves, creating a rich palimpsest visual record that evokes a sense of place, temporality, and memory. My intent is not to replicate but to reinterpret these visual recordings of times passage.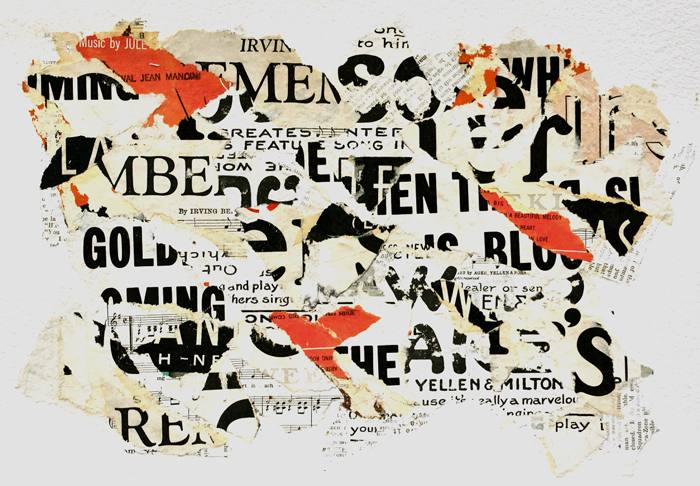 How did you make Inscription?
Inscription is a multi-layered work on Arches paper fabricated using acrylic paint, vintage papers, and graphite pencil. The surface was built up in layers of various vintage papers that were deconstructed through tearing, then reconfigured and applied. These newly formed surfaces were partially stripped off, revealing segments of prior layer(s), and then partially rebuilt. This additive and subtractive process results in fragmented and altered imagery in which new and sometimes unexpected form and context emerges. The final stage of the work was intuitive drawing across its surface. These graphite meanderings are left purposefully ambiguous and indecipherable thus leaving interpretation of their meaning open to the viewer.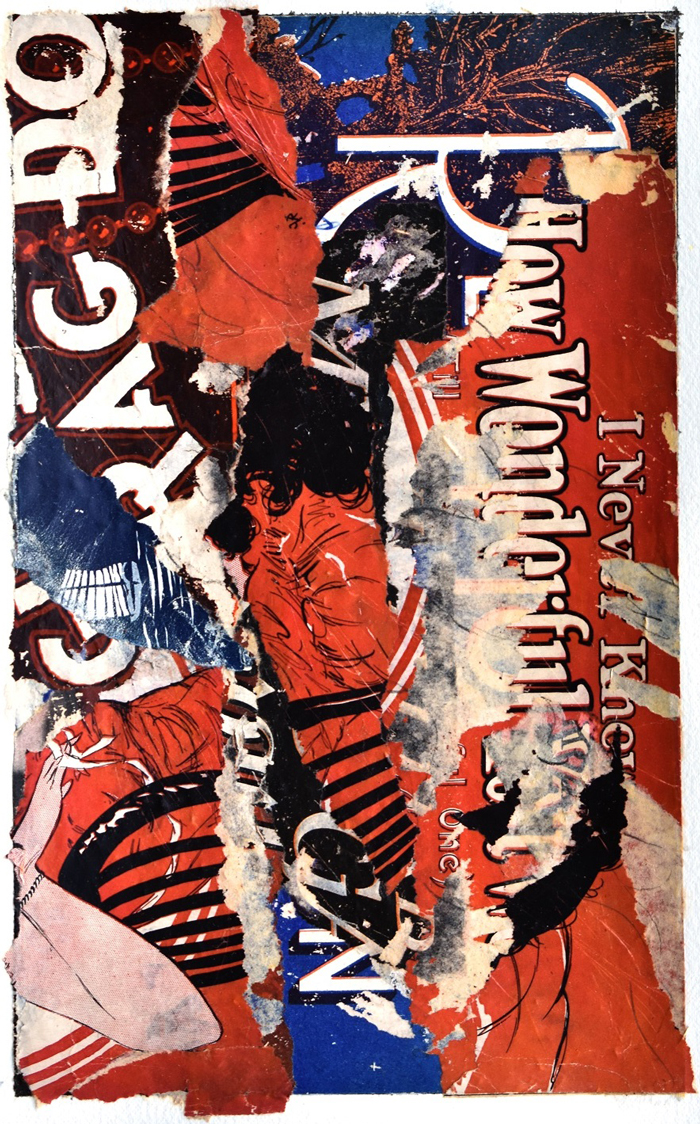 Why did you want to make this work?
Inscription is part of an ongoing series of intimately scaled (15″x11″) analogue collages I have been developing over the past few years. The concept was informed by my intuitive attraction to vintage paper, typography, language, and the palimpsest exterior surfaces common in urban landscapes.
I have an inherent attraction to the look and feel of source material that has a sense of history to it, particularly things that are perceived as being imperfect. Papers and books that are torn, marked on, held together with string or tape, anything that shows that it has had a history and a life of its own as it is passed from one hand to another is of interest to me.
Inscription's primary source material was the text from a vintage magazine cover. This text was deconstructed through tearing; a process that has much less precision and results in a softer edge than if it had been cut. Initial context is removed once these pieces have been separated from one another. These pieces are reconfigured on the format, overlapping and repeating in an altered form so that new meaning becomes ambiguous.
SEE COLLAGE ARTIST TRADING CARDS AT ARTSHOP
To see more of Susan Reedy's work, visit her website, www.susanreedy.com. Select works on paper and canvas are available through Pierogi in New York City, Anna Kaplan Contemporary in Buffalo, New York, and Museum Editions in New York City.
Images by Susan Reedy (top to bottom):
Vestige 4 (11″x15″; 2017)
Inscription (15″x11″; vintage paper, acrylic, graphite pencil on Arches; 2015)
Sojourn (15″x11″; 2015)
Vamp (15″x11″; 2016)
Lexicon 3 (11″x15″; 2017)