COLLAGE ON VIEW
Rutland: Real and Imagined
at The Alley Gallery in Rutland, Vermont, USA
31 January-9 March 2019
How do we understand a community? How do we construct a sense of place? Often when one wants to know a place, they start by looking at photographs of it. Photography can convey a feel for a place, relay a sense of intimacy, or bear its history and, possibly, its future. It can tell a story. In the hands of an artist, a photograph can do more than tell you what a place looks like. It can tell you how a place is. For "Rutland: Real and Imagined", curator Stephen Schaub invited eight internationally-recognized artists, all of whom work with the photographic image, to investigate Rutland's geography, history, and people to create artwork that tells a story about Rutland.
The remnants of its industrial past and a sense of urbanity make Rutland stand in stark contrast to the bucolic, rural village imagery that informs the narratives we often use to tell the story of Vermont. Rutland has its own story.
"I asked each of the artists in this show to explore the city of Rutland as an idea, a place, or a history, and tell a story from that foundation," said Schaub. "Real, imagined or someplace in the middle–as long as the narrative anchors itself in Rutland, everything is fair game."
Three artists in the exhibition are using collage: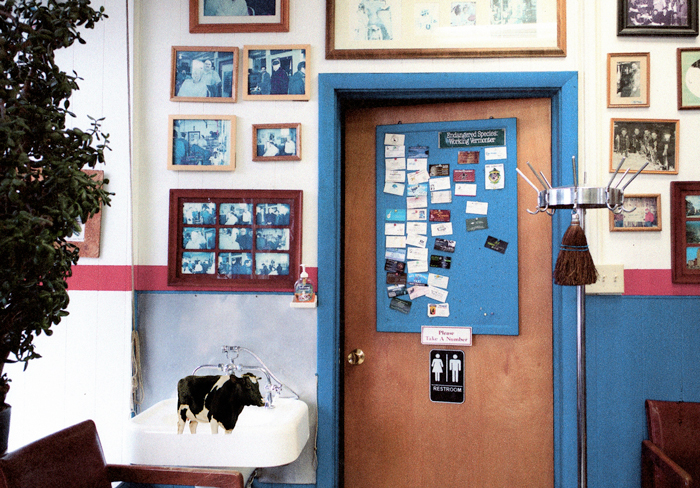 The photography of Susan Weiss (image above) focuses on the human condition and the world which we inhabit. Weiss created and distributed a series of postcards and asked people from Rutland to mail them to her with comments about what they liked or didn't like about Rutland. For the exhibition, she will install the postcards on the wall next to a rack of postcards. She writes, "What better way to introduce people to Rutland than with the vehicle of a postcard? Its two sides show two simultaneous realities, both the personal and the public. The postcard pinpoints at once the person and the place… defining a moment." Weiss splits her time between San Francisco and Dorset, Vermont.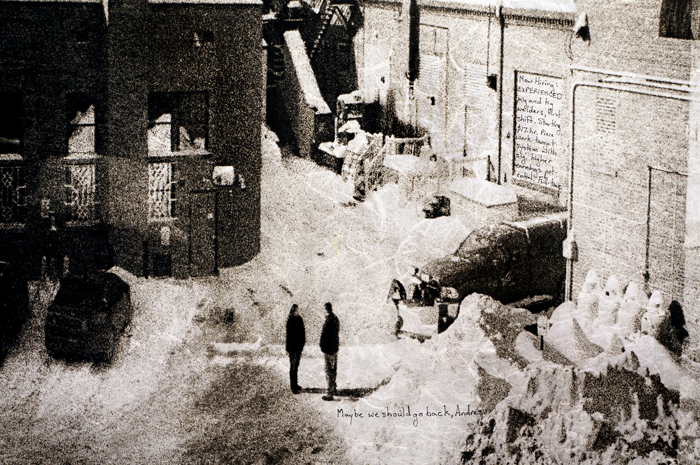 Stephen M. Schaub's works have been described as "art dreaming about itself." Rather than experiencing a literal place or a linear story, the viewer encounters something akin to the fragmentation of an emotional memory—or the illogic of a dream. Combining the tradition of film with cutting-edge technologies and rare and handmade materials from around the world, Schaub's resulting artworks belong to a hybrid medium of his own creation. Each piece is created as an in-camera collage using film as its foundation, and using cameras which in many cases he has had built or specially modified to his own unique specifications. In the creation of the negative, overlapping frames and multiple-exposures are used to evoke an almost cinematic sense of time and motion. Schaub lives and works in Pawlet, Vermont.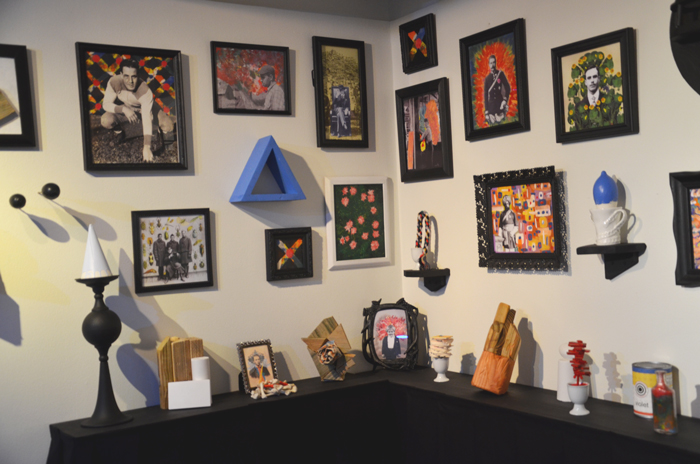 In "The Rutland Kunstkammer", Ric Kasini Kadour (image at the top) takes the history of the area and the people who lived there as a point of departure. Kadour converted a room of the gallery into an immersive installation using collaged and historic photographs, sculptural objects that invite viewers to imagine the greatness of Rutland, past and future. He writes, "We use our memories to imagine the potential of what may happen, but also what we can accomplish or achieve, to entertain what is possible. In creating a cabinet of curiosities, I hope the viewer will enter this theater of memory and consider the future of themselves and their community." Kadour lives in New Orleans, Louisiana and Montreal, Quebec.
Other artists in the show are Carol McGorry, Arthur Gilman, Don Ross, Eve O. Schaub and Bob Van Degna.
---
INFORMATION
The Alley Gallery
Center Street Alley
Rutland, Vermont 05701 USA
(603) 732-8606
Hours:
Thursday-Friday, Noon-5PM
Saturday, 11AM-3PM
Images: top to bottom
I Imagine the Future With All That I Know of the Past by Ric Kasini Kadour
10″x8″; acrylic, collage; 2018
Fantastical Postcard 2 by Susan Weiss
4″x6″; postcard; 2018
Rutland: Real and Imagined (detail) by Stephen Schaub
38″x244″; in-camera collage on film, handwritten text by Eve O. Schaub, carbon pigment on Japanese harukishi paper; 2019. Edition 1 of 1.
"Kunstkammer MMCXCIX" by Ric Kasini Kadour
installation view; 2019