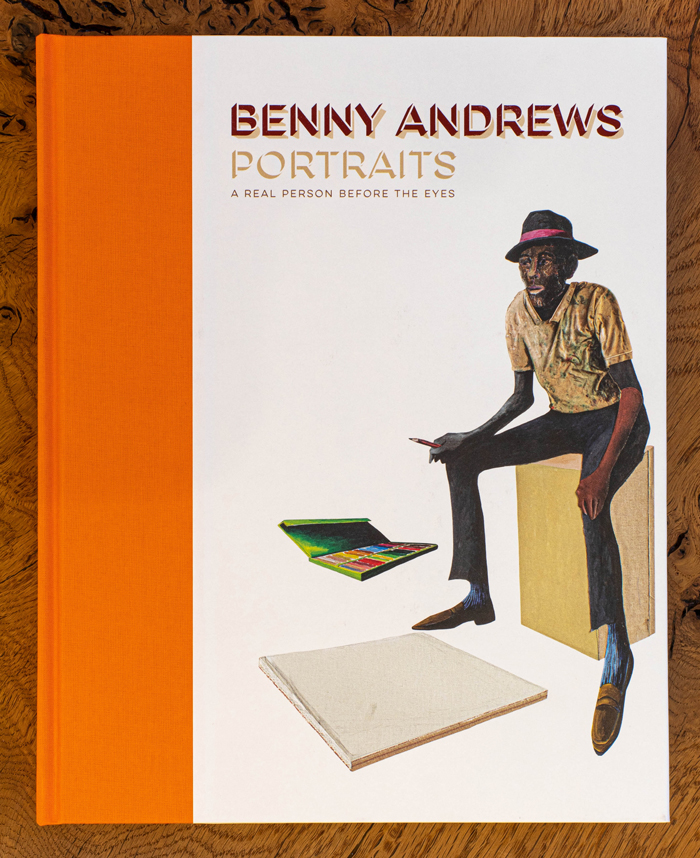 FROM KOLAJ 31
A New Book by Michael Rosenfeld Gallery
Benny Andrews: Portraits is a remarkable and well-documented collection of the artist's portraits accompanied by three essays and an annotated timeline of the artist's life. The book illustrates how Andrews' choice of portraiture at a time when abstraction reigned supreme was a natural byproduct of his personal history and commitment showing Black life in his work.
Benny Andrews: Portraits is everything we want in a book about collage: insightful research that deepens our understanding of the medium. The book goes beyond that, however, and speaks to how Black artists used collage to make space for themselves in Black American art.
A review of the book appears in Kolaj 31.
This collage book review appears in Kolaj #31. To read the entire review and see the rest of the issue, SUBSCRIBE to Kolaj Magazine or Get a Copy of the Issue.
Benny Andrews (1930-2006) was an African-American painter, printmaker, and collagist. Drawing from surrealism and Southern folk art, Andrews' work offers a social critique of 20th-century America and speaks with humanism to issues of injustice, militarism, sexism, and suffering. Andrews was also a steadfast advocate for artists of color. In 1969, Andrews co-founded the Black Emergency Cultural Coalition to protest an exhibition at the Metropolitan Museum of Art, "Harlem on My Mind: Cultural Capital of Black America, 1900-1968", which contained no art and in which no African-Americans had been involved in organizing. In the 2013 exhibition catalog, Benny Andrews: There Must Be a Heaven, Civil Rights leader and Congressman John Lewis wrote, "For Benny there was no line where his activism ended, and his art began." Benny Andrews: Portraits, A Real Person Before the Eyes was commissioned and published by Michael Rosenfeld Gallery in New York in conjunction with an exhibition of the same name, which opened on 26 September 2020. Michael Rosenfeld Gallery has represented the Benny Andrews Estate since 2008. Learn more at
www.michaelrosenfeldart.com and www.bennyandrews.com.
Benny Andrews: Portraits, A Real Person Before the Eyes
by Jessica Bell Brown, Connie H. Choi and Kyle Williams
14″x9.5″, hardcover
188 pages, including 35 color plates and 13 detail spreads
ISBN 978-1-930416-62-8
Edition of 1500
$75 US

Michael Rosenfeld Gallery, New York, New York, 2020.
Purchase the book HERE.