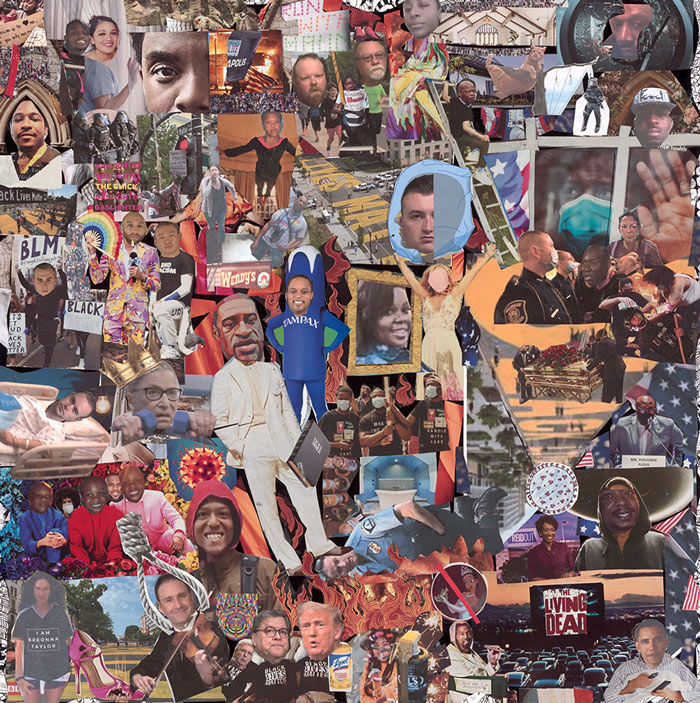 WORKSHOP REPORT
Say Their Names by Elaine Tassy
Rachel Monique Walker
Black lives matter. Pandemic. Like most of us, this was artist Elaine Tassy's 2020. Originally a reimagining of the circumstances of George Floyd's death (what if it had been the other way around and Floyd had had his foot on Derek Chauvin's neck?), the work grew as the stories of Black deaths at the hands of police and white supremacy were coming in thick and fast. Tassy could barely keep hold of one story when another would be broadcast on the news. Part conversation with herself during lockdown, part lament and part exercise in irony, Say Their Names is also a site for powerful reimagining. In one vignette, one of Breonna Taylor's murderers is playing violin for Elijah Mcclain while Jacob Blake's children watch. This work gives people a chance to see situations they won't see in real life.
About Elaine Tassy
Haitian-American artist Elaine Tassy has been making collage since the sixth grade and has been showing her work professionally since 1999. She has been artist-in-residence at several art centers in the US and at the Two Heads Institute in Bahia, Brazil. She studied encaustic with Lea Anderson at the New Mexico Arts League and printmaking with Lyn Pierre at Central New Mexico Community College. She has also studied surface design and ceramics. Tassy lives and works in Albuquerque, New Mexico. Learn more at elaine-tassy.pixpa.com.
About Rachel Monique Walker
Rachel Monique Walker is an early career artist based in Meanjin (Brisbane), Australia. Walker was introduced to collage as a child by a close family friend. She initially studied fashion design, but finds visual art the ideal discipline within which to explore formal questions of colour and composition while also engaging with anti-capitalist, anti-colonialist, feminist and queer standpoints. Her work has been featured in two group shows in Meanjin and her creative placemaking project for Northshore, Hamilton was selected for consideration and mentoring by Economic Development Queensland. She regularly designs and teaches collage workshops for people of all ages and abilities. Learn more at www.rachelmoniquewalker.com.
About the Curating Collage Workshop
The Curating Collage Workshop was a four-week, virtual/online workshop held in Fall 2020 with the University of Vermont's Fleming Museum of Art. The Workshop trained the twenty-one participating artists as curators. The group explored the fundamentals of curating, how to create critical context for collage, and various strategies for presenting collage to an audience. They also investigated art writing; gallery and museum issues; documenting artist practice; and working with art professionals. Each artist curated a collage from the collection of the University of Vermont's Fleming Museum of Art. They also curated each other's work to produce a statement of practice, biography and critical context for a body of work, which was developed into a proposal for an exhibition or book. To learn about upcoming workshops from Kolaj Institute, sign-up to the mailing list.