O! Tricky Cad & Other Jessoterica, edited by Michael Duncan
review by Cory W. Peeke
O! Tricky Cad & Other Jessoterica, published in 2012 by Siglio Press of Los Angeles, provides readers with unique insight into the work of the somewhat obscure, highly productive and witty artist, Jess. This 192-page, wonderfully designed soft-cover publication is an excellent introduction for those unfamiliar with his work. Even those who think they know Jess' body of work will be both surprised and delighted by what they'll discover between its covers.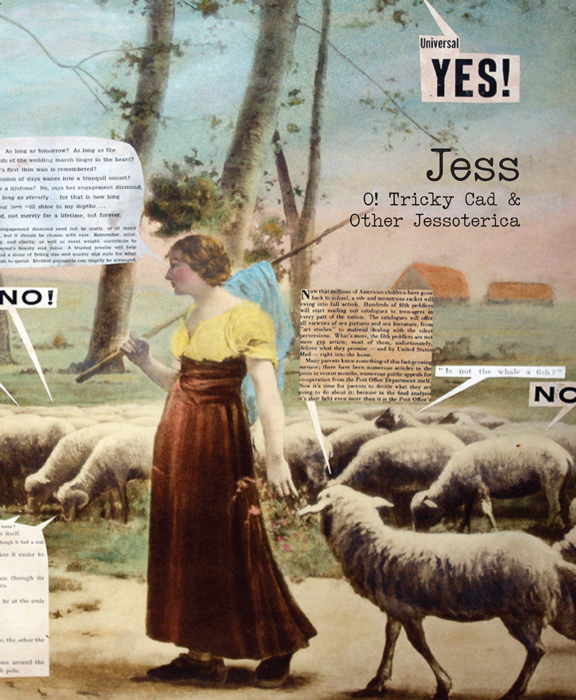 Editor Michael Duncan's essay in conjunction with several interspersed writings by the artist provides both context and insight into the Jess' life and motivations. Born Burgess Collins in 1923 and trained as a chemist, Jess abandoned a career in science and moved to San Francisco in 1949 to study art at the California School of Fine Arts. In San Francisco, soon after his arrival, Jess would meet the poet Robert Duncan who would become not only his life partner but also his creative collaborator. Duncan's influence on the artist is often evident in both the artist's writings and collages.
The paste-ups, Jess' term for his collages, are themselves mythology-obsessed visual poems. The compactly composed, complex images meld history and myth and often incorporate a lighthearted eroticism. The word play and visual puns in the works provide viewers with an intellectual as well as visual puzzle, creating a world in which it is easy for the viewer to lose themselves. The dense, elegantly constructed collages are visual enigmas that it is a pleasure to return to again and again, each time discovering something new.
While the book itself is relatively modest in scale, the numerous reproductions are superb and presented large on the page. They give the viewer a wonderful sense of the texture, colour and the meticulous craftsmanship evident in the artist's originals. One of the treasures of the book is the reproduction of extant works from Jess' "Tricky Cad" series. Published here for the first time, the works take Chester Gould's famous detective comic Dick Tracy and give several strips a visual and verbal reworking. The result is a collection of absurd, nonsensical narratives that are simultaneously amusing and slightly disquieting.
Not only are the artist's paste-ups reproduced in wonderful detail, the design of the book by Natalie Kraft is very much in keeping with the artists' aesthetic. Included in an interior pocket is a facsimile booklet of the 20-page collage work O!. Another delightful element of Kraft's design is the dust jacket that folds out into marvelous poster-size reproduction of Jess' 1967 collage Paste-Ups by Jess.
If you have never experienced Jess' work or are only familiar with his better known paste-ups, you'll enjoy delving into these joyful, seldom seen and elegantly designed works gaining new insight into the mind of the man who made them.
O! Tricky Cad & Other Jessoterica
Edited by Michael Duncan
92 colour and 58 black-and-white illustrations
10"x8.25", 192 pages, $47.50
ISBN: 978-1-938221-00-2
Siglio, Los Angeles, California, 2012
This Book Review originally appeared in Issue Five. To see other Reviews from the world of collage, SUBSCRIBE to Kolaj or PURCHASE ISSUE FIVE.