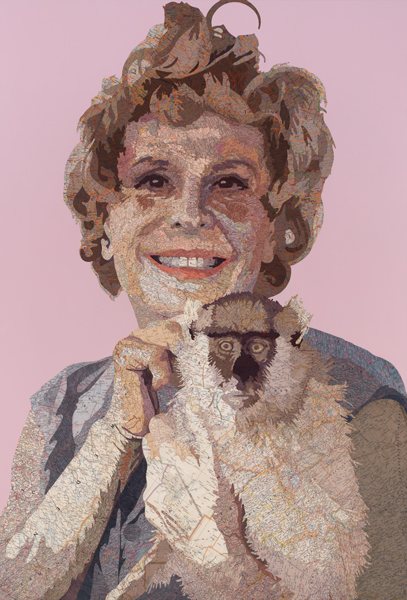 By Ric Kasini Kadour
Matthew Cusick presented a series of collage-paintings at Pavel Zoubok Gallery in New York that showcased the artist's use of maps in the creation of portraits of women and oceanic scenes. Cusick abstracts photographs by reducing them to layers of color. He then recreates each layer using old maps, matching not only hues and tones to the color, but the places on the map to the subject of the portrait. And finally, he assembles the collage-painting on a panel by cutting and inlaying each piece so as to produce a perfectly smooth final work. The result of this painstaking process are collages with multiple, interwoven sources synced together like instruments in a symphony.
Oceania recreates a familiar Polynesian postcard that shows a bare-breasted Tahitian woman in a crown of flowers reclining seductively in the surf. Maps which make her are of a variety of places: her left cheek is of Hawaii, her right cheek of Spain. Her lips are of Sweden; her breasts Paris and Aveyron. Polynesian islands float—Papeete, Moorea, Tahiti, etc.—above her in the acrylic washed background.
"The desire to explore the surface of each of Cusick's pictures, irrespective of subject matter, eroticizes them and makes them fascinating. Linking picture and method only intensives them," explains artist and writer Michael Corris in the exhibition's accompanying catalog.
Less erotic is the portrait of Leni Riefenstahl holding a monkey. Cusick puts the Italian town Cherie in her right pupil. Riefenstahl shot films in Northern Italy. The monkey's right ear is made of maps of Sudan and Ethiopia. She spent much of the 60's and 70's photographing the Nuba people in South Sudan. The German cities of Munich and Nuremburg are on her teeth. It is tempting to sift through Riefenstahl's biography in search of a greater significance of these places as if the maps were a grand cipher to decode the woman in the portrait. But I think to do so would be a misreading of Cusick's work.
By threading source material, subject, and final image so effectively, Cusick addresses some fundamental challenges of collage. Too often collage relies on the accidental catastrophe of smashing images together. In Cusick's earlier work, he was doing just that. His "Happy Endings" series combined magazine images of mid-20th century automobiles with lush flowers to create orgasmic bouquets of color. While these works were pretty and evocative, they played upon the disconnect between the subject of the final work and the source material. Their power was in the juxtaposition of the human and the natural. But in the works in "The Mind Is Its Own Place," he uses source material as one would use paint, inlaying the paper fragments as precisely as one would brush paint on a canvas. By doing this he liberates his source materials from the temporal, vintage, nostalgic trap that source materials often set. He takes old media and brings it into the now. He reinstates its relevancy to the contemporary viewer and brings with it, the original image, and ultimately the women in these portraits.
This Exhibition Review originally appeared in Issue Two. To see other Reviews from the world of collage, SUBSCRIBE to Kolaj or PURCHASE ISSUE TWO.
Image:
Leni
by Matthew Cusick
48″x32.5″
inlaid maps, acrylic on panel
2012
Courtesy Pavel Zoubok Gallery