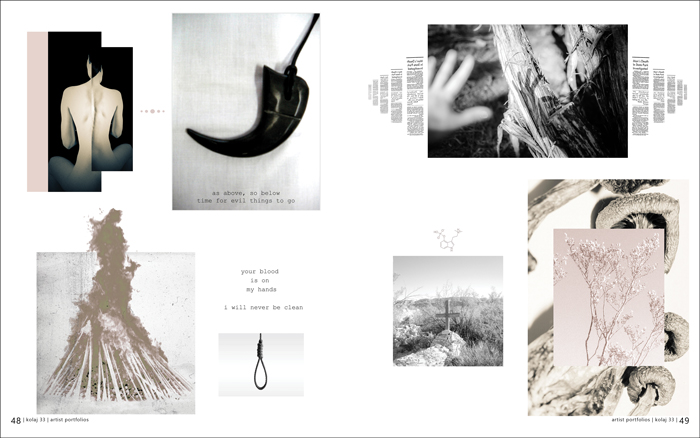 FROM KOLAJ 33
Michelle Concetta Parchini's Artist Portfolio
Curator iuri kothe
In the fall of 1966, at a gallery exhibition in London, one particular art piece is said to have sparked the relationship between Yoko Ono and John Lennon. Lennon arrived skeptical at Ono's exhibition, but his mood changed once he climbed a ladder leading up to a canvas and, with the use of a magnifying glass, read in tiny letters the word "yes". But what if it wasn't meant to be?
"I only wanted to dream" by Michelle Concetta Parchini is a narrative project inspired by a traumatic event, the murder of the artist's boyfriend. Curator iuri kothe proposes a conceptual installation that presents Parchini's collage and video work in a ritualistic space, where the viewer removes their shoes and enters a candlelit room. Sandalwood and valerian incense is burning. Two hundred white stones with the word "no" written on them form a pile on the floor, which, like Ono's "Yes" painting, trigger the audience's curiosity and prime them for the emotive overtones running through Parchini's work. Large collage prints lining the walls and a video installation playing in the rear of the room offer an intimate glimpse into the artist's personal journey in dealing with the traumatic experience.
Parchini and iuri kothe were part of Kolaj Institute's Curating Collage Workshop that took place in Fall 2020. During that workshop, artists curated each other's work. The result is this artist portfolio of Parchini's work which appears in Kolaj 33.
To see the complete Artist Portfolio, SUBSCRIBE to Kolaj Magazine or Get a Copy of the Issue.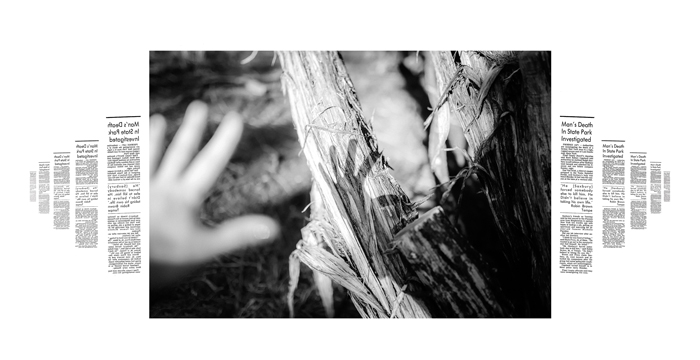 "It is unlikely that we will pass through life with only good and happy memories," writes kothe. "Michelle's confessional artworks offer a reflection about these experiences and raise the hope that we can overcome and learn from them. Elements of mysticism are used to further express this tragedy in metaphysical terms since base reality couldn't give her all the answers."
To see the complete Artist Portfolio, SUBSCRIBE to Kolaj Magazine or Get a Copy of the Issue.
Michelle Concetta Parchini, aka /DRI:M/ARTZ, is an artist from the United States currently based in Saudi Arabia. Prone to escapism from an early age, she finds comfort in the one thing that grounds her to the Real, creating art and shaping her world to fulfill her aesthetic yearnings. Self-taught, her talents cover a broad spectrum of the Arts, but of late contemporary collage has come front and center, refueling her passion for the medium. Her analogue and digital collages as well as her mixed-media photography have been featured in gallery showings, art publications and collectives in the US and internationally. Learn more in the Kolaj Magazine Artist Directory and www.drimartz.com.
Brazilian collage artist and photographer iuri kothe started making analogue collage in 2003 and switched to digital collage in 2015. His work has appeared in group shows in Brazil, Canada, Germany, Greece, Italy, New Zealand and the United States. Originally from São Paulo, the artist currently lives and works in Brasilia. Learn more at iuri.art.br.
About the Curating Collage Workshop
The Curating Collage Workshop was a four-week, virtual/online workshop held in Fall 2020 with the University of Vermont's Fleming Museum of Art. The Workshop trained the twenty-one participating artists as curators. The group explored the fundamentals of curating, how to create critical context for collage, and various strategies for presenting collage to an audience. They also investigated art writing; gallery and museum issues; documenting artist practice; and working with art professionals. Each artist curated a collage from the collection of the University of Vermont's Fleming Museum of Art. They also curated each other's work to produce a statement of practice, biography and critical context for a body of work, which was developed into a proposal for an exhibition or book. To learn about upcoming workshops from Kolaj Institute, sign-up to the mailing list.