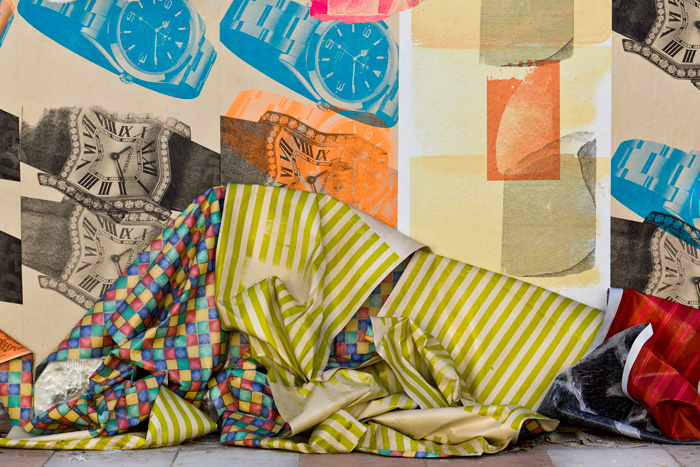 Ludovica Gioscia at Galleria Mangiabarche on Isola di Sant'Antioco, Italy
Exhibition Review by Luigi Galimberti Faussone
Ludovica Gioscia's latest giant decollage, Mineral Rush Flamingo Crush, originates from an industrial archaeological survey of the Italian region of Sardinia, to which the tiny island of Sant'Antioco belongs. There, in the middle of the Mediterranean Sea, closer to Tunis than to Rome, Ludovica staged her work in a former military outpost, which has kept the walls but not the ceilings of the original building and is now an open-air exhibition space.
The large-scale installation is composed of several layers of wallpapers, which have been torn off by hand and eventually hardened with an extra layer of glue in order to make them sculpture-like. Ludovica employs tons of wallpapers in each of her works, which she either buys ready-made or specifically produces by screen-printing. Even though she says that she treats the different wallpapers as paints on a palette, what emerges from her work, far from being a mere decorative juxtaposition of colours, is a rather complex texture of interlaced meanings. Indeed, aside an endlessly repeated reproduction of an old mineralogical map of Sardinia, which reminds one of the island's early industrial developments in the 19th century, Ludovica has applied wallpapers depicting luxury watches, exotic beaches and piles of empty soda cans. By mixing those elements she aims at showing analogies between consumerism in modern times — the title itself, Mineral Rush Flamingo Crush, is a mockery of the ever-more nonsensical names that the cosmetic industry gives to its products — and consumerism in the recent past. The abandoned mines, which are a legacy of the latter, go hand in hand with the piles of used cans, which are a legacy of our contemporary society.
Ludovica's installation was conceived and staged in a rather peculiar setting, which has influenced the outcome. For her there was no blank canvas to work on. The artists that preceded Ludovica at Galleria Mangiabarche left permanent traces on the gallery's walls and floors, such as rusted nails, marks of paint or textile shreds, making their more or less desirable legacy impossible to ignore. Ludovica treated those elements as one more layer of texture, as one more incongruity of the surface she would work upon. The visible and tangible signs of previous artistic interventions peep out from Ludovica's work, once more creating an interaction between past and present.
A further element that interacts with Ludovica's work is time and weather. Since the installation is not placed in the sterilized environment of a white cube, the hardened wallpapers' tears are exposed to the elements of nature, which can often be extreme in that sea-facing outpost. Sunlight, rain and strong winds continuously change Ludovica's installation. They fade it, they wear it, they shrink it. Thus, the installation becomes every day more and more similar to the dusty and rugged Mediterranean scrub that surrounds it. Nature reclaims the space that the artist has attempted to take away from it. This encounter keeps the artwork alive and does not let it be buried in some less remote but definitely more inaccessible gallery's basement.
This review appeared in Issue 7 of Kolaj Magazine. To get your own copy or to subscribe, visit http://kolajmagazine.com/content/subscribe.
---
INFORMATION
Galleria Mangiabarche
09011 Calasetta, Carbonia-Iglesias, Italy
39 (0781) 8872 19
Image:
Mineral Rush Flamingo Crush (details)
by Ludovica Gioscia
13.78'x32.8'x1.64′
found and custom-made screen-printed wallpapers
2013
Galleria Mangiabarche (Fondazione MACC), Calasetta.
Photo: Nelly Dietzel
Courtesy the artist and Galleria Riccardo Crespi, Milan