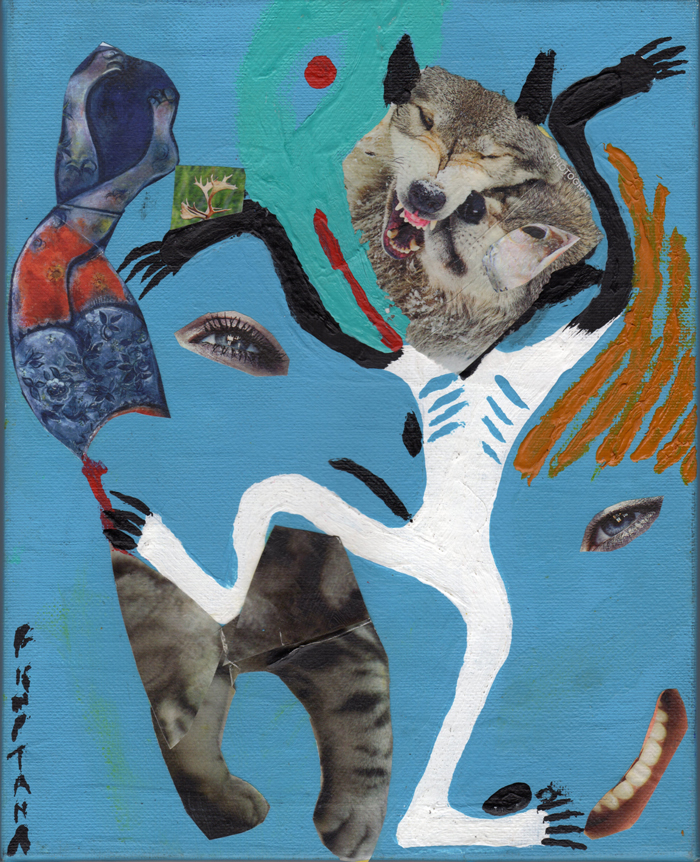 FROM KOLAJ 27
The Collages of Inuk Artist Floyd Kuptana
Floyd Kuptana is an Inuk artist from the Canadian Arctic who lives in Toronto, Ontario. In 2010, he added painting and, in 2012, collage to his ongoing, highly regarded body of work in stone. Richard D. Mohr introduces the Inuk artist's work and discusses how sinister portent pervades his work.
This article appeared in KOLAJ #27. To see the entire issue, SUBSCRIBE to Kolaj Magazine or Get a Copy of the Issue.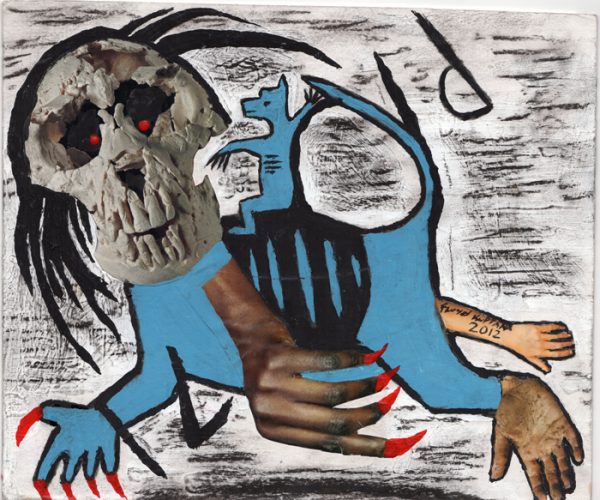 "Kuptana's spookiest use of collage is to cut out detailed facial features and make them appear to shine forth from within skulls which imprison them, and of these the most rattling have collaged eyes set on far less detailed acrylic grounds. The juxtaposition rouses textural pop and visual whiplash, while suspending the viewer over a bottomless crevasse of unease."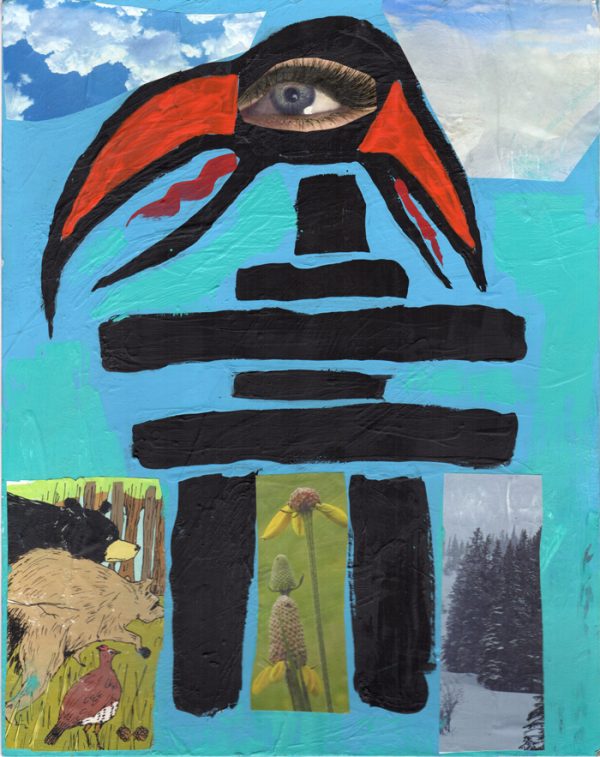 "He tweakingly appropriates white folks' popular culture, their distinctive ideas (like universal surveillance — an inukshuk comes to life as a panoptic guard tower), their social forms (like gender bending–the head and legs of the Creature from the Black Lagoon bracket a one-piece bathing suit to form a gender sandwich), and their art movements."
To see the entire issue, SUBSCRIBE to Kolaj Magazine or Get a Copy of the Issue.
Kuptana's collages are epicycles on collaging workshops hosted at Toronto's non-commercial Gallery Arcturus, where he collages with a small group of in-house artists. This group's work can regularly be seen at Arcturus' blog: www.dailyartblog.ca. Kuptana's solo work can be accessed through Facebook and a fair number of images are on the Internet. A 20-minute shamble, "Inuit Artist Floyd Kuptana," can be found on YouTube's ThatChannel. He is not an artist who could write an artist's statement. But his frenetic, majestic, haunting collages, just on their own, sufficiently communicate the pleasures and terrors of the spirit world's arrival in everyday life.