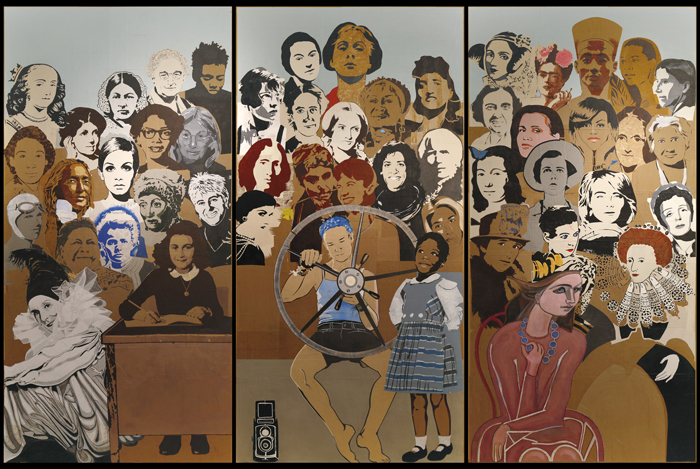 FROM KOLAJ 31
The Work in Progress Mural by Jann Haworth and Liberty Blake
In the 1960s, Jann Haworth was a leading figure in the British Pop Art scene. The Beatles asked her and her then-husband, Peter Blake, to make the album cover for Sgt. Pepper's Lonely Hearts Club Band, which won four Grammys in 1967. The cover became one of the most famous album covers of all time. Over time, Haworth came to see a problem. Of the seventy-five luminaries in the collage, only twelve were women. In 2016, Haworth teamed up with her daughter, collage artist Liberty Blake, to make The Work in Progress mural to correct the oversight. A community-driven effort, Haworth and Blake created workshops that taught people how to turn a photograph into a stencil. The women in the mural span time and geography. The iconic image of Rosa Parks holding her arrest number stands between Cleopatra and Queen Elizabeth I. Princess Diana peeks over the shoulder of Ruth Bader Ginsburg. Celebrities mingle with scientists and mathematicians. Yayoi Kusama appears in her polka dot dress.
An article about the mural appears in Kolaj #31. To see the complete article, SUBSCRIBE to Kolaj Magazine or Get a Copy of the Issue.
On Saturday, January 16th, 2PM EST (1900 UTC), Hawoth and Blake will join Ric Kasini Kadour for the Kolaj LIVE Online event, "Celebrating Women Past and Present." Kadour will interview Haworth & Blake about The Work in Progress mural; collage's role in the British Pop Art scene of the 1960s; making art as a mother-daughter team; and how art can teach us and help us remember our history. Learn more about the event and register HERE.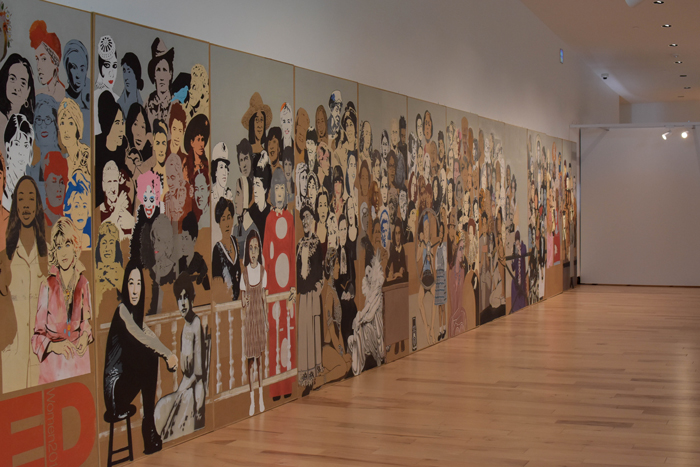 "We decided to call it Work in Progress so that it's something that goes on and on and on. It's not a finished piece ever. We're just researching the first wave of people that we think should be cited for small and large contributions to culture. So these women are catalysts for change."
An article about the mural appears in Kolaj #31. To see the complete article, SUBSCRIBE to Kolaj Magazine or Get a Copy of the Issue.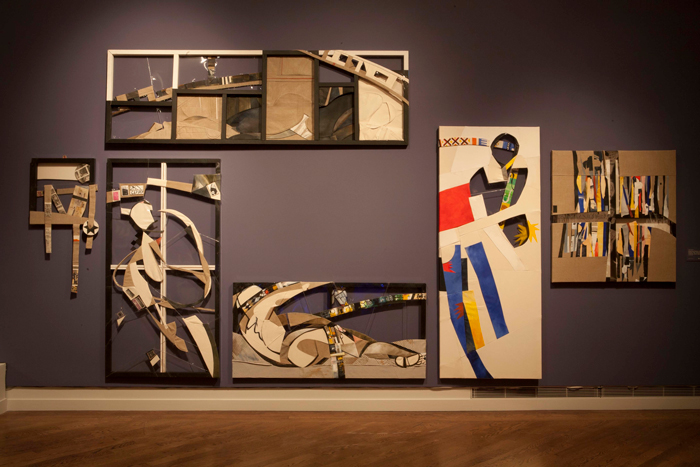 American Pop artist Jann Haworth is the daughter of ceramist, printmaker and painter Miriam Haworth and art director Ted Haworth. She studied art history at the Courtauld Institute of Art and studio art at the Slade School of Fine Art, both in London. Her first major exhibition was as part of "4 Young Artists" at London's Institute of Contemporary Arts in 1963. With her then-husband Peter Blake, she created the cover for The Beatles' Sgt. Pepper's Lonely Hearts Club Band, which earned them a Grammy. She opened The Looking Glass School near Bath, Somerset in 1979. During the 80s and 90s she established herself as a book illustrator: those of her husband, Richard Severy, and five covers for the 1981 Methuen Arden Shakespeare editions. She also wrote three how-to art books for children: Paint (1993), Collage (1994) and Painting and Sticking (with Miriam Haworth, 1995). She moved to Sundance, Utah in 1997, where she founded the Art Shack Studios and Glass Recycling Works and co-founded the Sundance Mountain Charter School. She began SLC PEPPER, which is ongoing, in 2004 in Salt Lake City. She continues to exhibit work and has been represented in many Pop art retrospectives since the early 00s. She lives and works in Utah. Learn more at www.jannhaworth.com.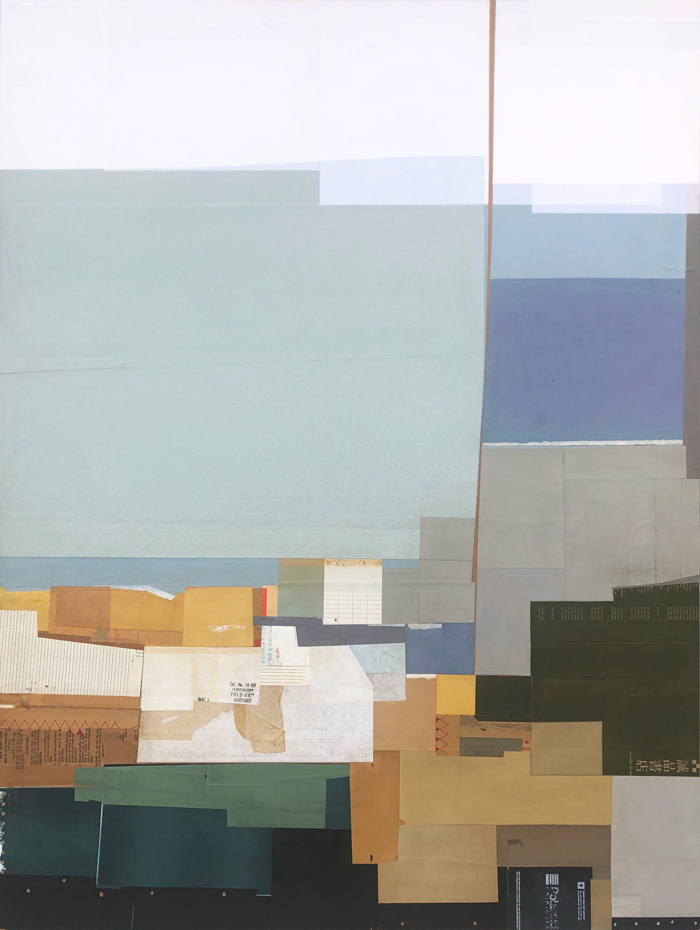 Liberty Blake is originally from London. She attended The Looking Glass School, founded by her mother, Jann Haworth. She also attended Sydney Place for art foundation and studied illustration at the Bath Academy of Art. The first of her many large-scale wall collages was exhibited in 2007 as part of the "337 Project" in Salt Lake City, with the most recent ones part of The Work in Progress. Her work is held in public and private collections in the United Kingdom and United States. She lives and works in Salt Lake City, Utah. Learn more in the Kolaj Magazine Artist Directory and at
www.libertyblakecollage.com.