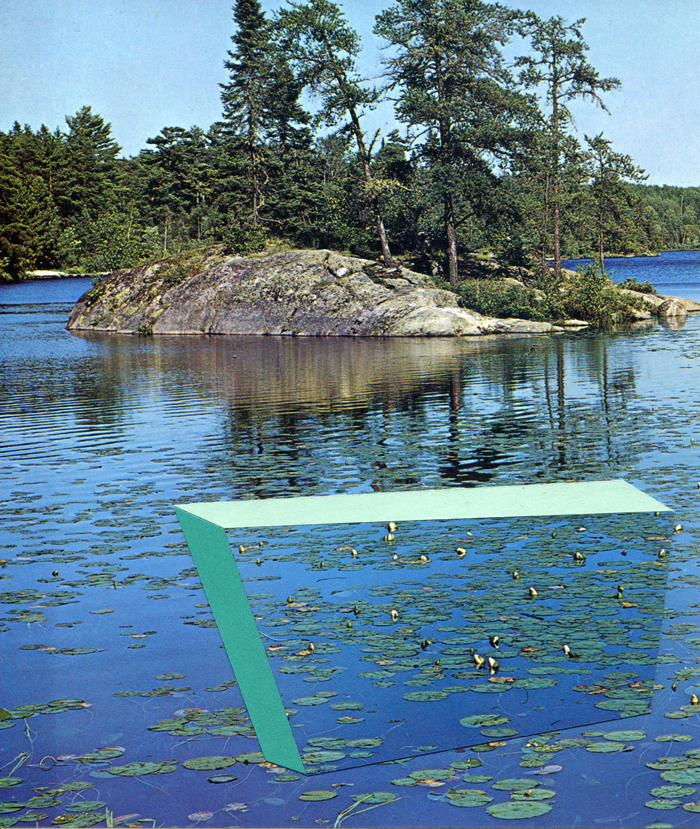 COLLAGE ARTIST TRADING CARD SPOTLIGHT
Tyler Beard in Collage Artist Trading Cards Pack 4
Tyler Beard's work explores the interaction of shape, flat colour, and dimensional space offered by found landscape images. He thinks of this visual language which combines geometric colour and spacial prints as a dimensional formalism. He often compares his work to a Haiku. It is through a concrete and seemingly simple structure that one can create a complicated idea/form.
Beard is one of the 15 artists featured in Collage Artist Trading Cards Pack #4. Collage Artist Trading Card packs are a tool for discovering contemporary, fine art collage. Each card is a full colour, 5.5" x 3.5" postcard with rounded corners. An example of an artist's work is on the front of the card and the artist's public contact information is on the back. We interviewed Beard about his work.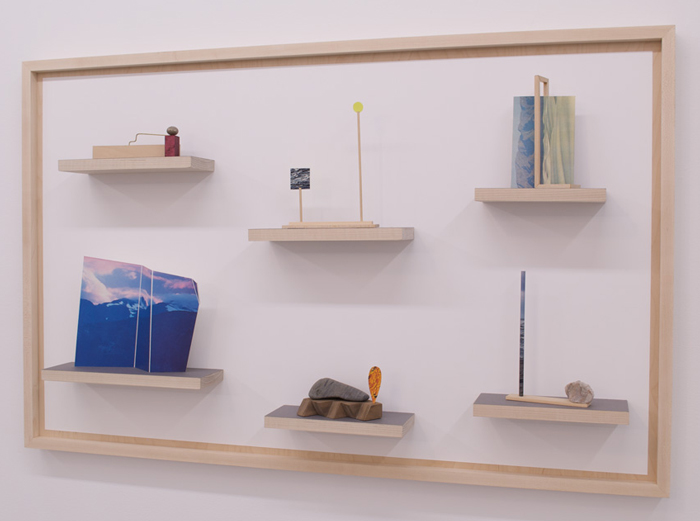 Who are you? How do you describe yourself?
I am an artist living and working in Denver, Colorado. Through sculpture, painting, and collage, I explore the formal and visual possibilities between the interaction of landscape, colour, material, and geometry.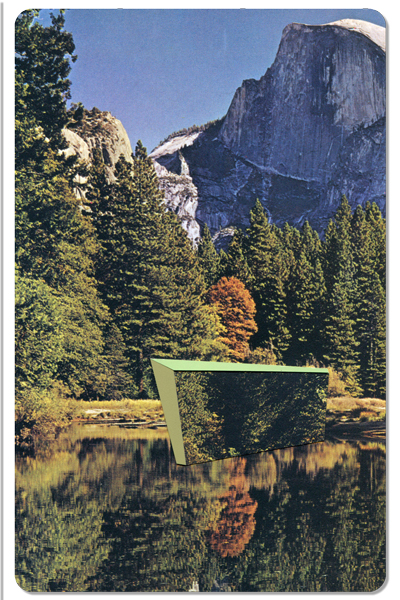 We included Otherscape 8 in Collage Artist Trading Card Pack #4. What were you exploring in this series?
In the series, I wanted to explore the way that people potientally look at or experience landscape. In subtly altering the original image, I challenge one's awareness of their surroundings and bring into question the dimensional space we all inhabit together or separate on this planet. The work is also about craftsmanship. These images are all constructed by me, although at first glance they may appear digitally altered. Through this effort, each "Otherscape" collage becomes a technical journal of my direct hand, colour choice, and compositional decisions.
What can you tell us about the source imagery for the "Otherscapes" series?
This series began one evening in my studio as I was experimenting with a 1950's book about National Parks. In this book, there were certain pages that displayed diptychs of National Parks. In playing with these two-page landscape images, I realized that I could extract parts of information out of one side of the image and relocate it into the other image. Then, in building out the cut shape with coloured sides, the flat plane transformed into a geometric object resting within a picturesque scene.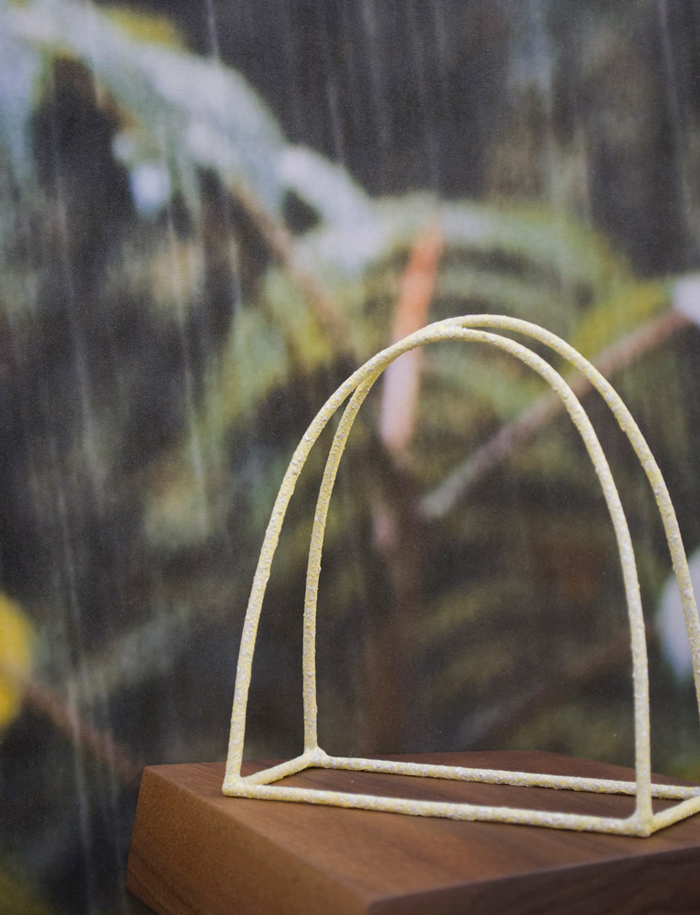 Why did you want to make this work?
The process within this series is one I enjoy. I find the cutting, placing, and building of each shape adds a new element to an existing or recognizable image. These works allow for one to consider the possibilities of perception, dimensionality, and rethink how one's reality is constructed/made. Each singular shape becomes a placeholder for form, a being, through a deliberate intervention of the selected image. I make "Otherscapes" because I admire the poetics of landscape, colour, perception, and form.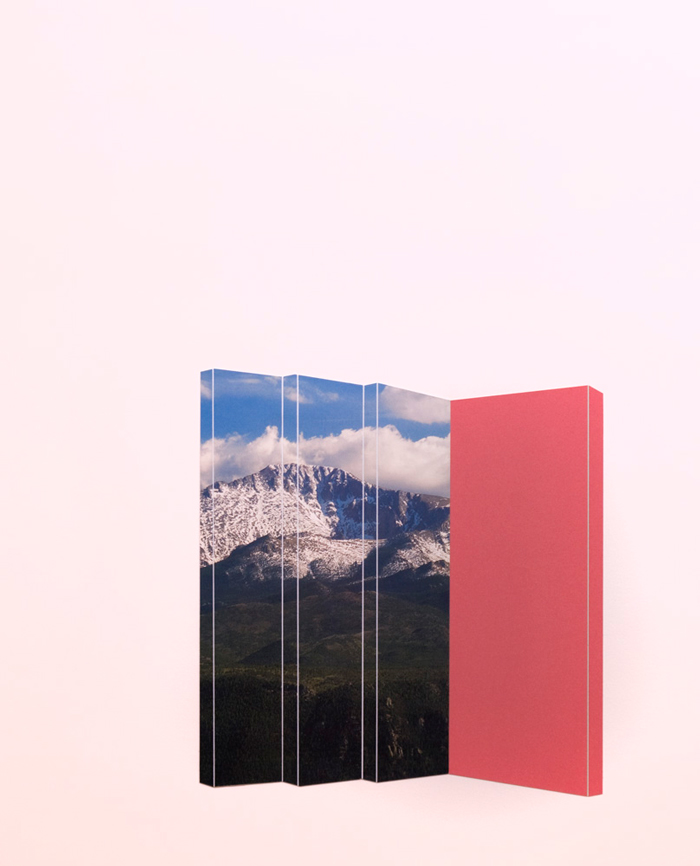 What are you working on these days?
Currently, I am utilizing a large format photo printer to reprint found images and work with collage methods on a larger more sculpturally-minded scale. What happens when a printed landscape can be veneered to a wood shape that leans against the wall or rests on the floor? Landscape imagery at a larger scale creates a portal-like effect allowing for a deeper more dimensional reality while colour and material contribute to a more flat abstract one. Through this combination of colour and image on selected materials, I look to create an object that simply "is", an object that whispers or speaks to the viewer but stands quietly in its beauty and elegance.
PURCHASE COLLAGE ARTIST TRADING CARDS
You can see more of Beard's work on his website, which has extensive documentation about his practice: exhibition images, projects, and writings. He is represented by Robischon Gallery in Denver and is in Flat Files at Pierogi Gallery in New York City.